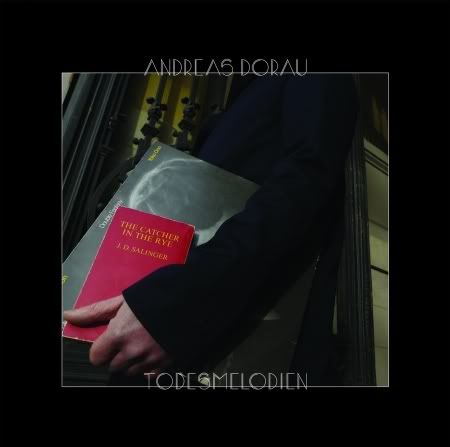 Yesterday was a brilliant day as Andreas Dorau's new album "Todesmelodien" dropped through the letter box and, today, I've had chance to give it quite a number of listens through in its entirety. As anybody who knows me will tell you, I've got a big thing about Andreas Dorau and have had for many years so the arrival of this, his eighth album depending on how you count, was very much highly anticipated and it hasn't disappointed in the least. In fact, I'd already stick my neck out and say that it's one of his very best.
The sound is, for the most part, the highly appealing, unadulterated and unashamed pop which anyone familiar with his work will have come to expect, unchallenging verse/chorus song structures, Dorau's instantly recognisable and slightly childish voice, elements of electro-pop and disco basslines on some tracks, backing vocals straight out of the seventies throughout and a seeming disregard for the fact that the outcome never quite fits in with current trends. However, compared to his last album "Ich bin der eine von uns beiden"(2005) the songs on "Todesmelodien" seem a lot more crafted, with plinking pianos playing quite a significant role where samples last time were at the heart of a number of tracks.
The album might at first appear light, but, as the title ("Deathmelodies") suggests, the lyrical content is quite dark, pulling in a very different direction to the poppy and sometimes breezy surface matter and this is most obvious on the songs where Dorau has provided the lyrics himself, which is the majority of them, although it's nice to see that he has collaborated with Der Plan's Moritz Rrrr on one track ("Neid") and that Wolfgang

Müller,

he of

Die Tödliche Doris fame, is still contributing lyrics as he has done for several of the last albums.
In fact, if we can read Dorau's words as autobiographical and if the level of my German hasn't led me to miss subtle ironies, he doesn't appear to be in a very happy place at all on this release as, besides songs about the unpleasant character traits of envy and egomania ("Neid" and "

Größenwahn")

, on another he repeatedly tells us about the indescribable pain he feels inside himself as he lies on the sofa with his hands locked together in front of him ("Es Tut So Weh"). Elsewhere, he sings of a house which once contained a bright light which didn't burn for very long, it presumably being the home of the family whose journey on the autobahn got interrupted by heavy rain, this then leading to their car hitting a tree at high speed ("Es war hell"). Then, in another he describes himself as being positioned on a precipice between words and action in a world where nobody seems to hear or understand, telling us that it's all too late anyway ("Und dann"), whilst in "Stimmen in der Nacht" he describes being haunted by the voices which awaken him in the night, these stemming from a departed person whose semi-darkened room, double-locked from the inside, is now empty apart from a photograph on a shelf and the wallpaper which they once found so pleasing. Presumably they are dead as he tells us that their life was all wrong. It all sounds a bit worrying, actually, the more I trawl through it, a bit like the spirit of Ian Curtis may have slipped into our Andreas.
As usual, there are quite a number of collaborators and contributors on this album as, besides those already mentioned, the majority of the music has been written with Tim Lorenz on some tracks and Mense Reents (Die Goldenen Zitronen) on others, both being new to the brew this time round, I believe.
Long-term collaborator Justus K

öhncke is also back, having co-written another,

whilst backing vocals on "Schwarz Rot Gold" come courtesy of Francoise Cactus from Stereo Total and Inga Humpe, once of Neonbabies and, more recently, 2Raumwohnung appears in the same role on quite a number of others. It's a bit of an old school party, it seems, albeit a rather solemn one.
As mentioned earlier, Moritz Rrrr features in the procedings which fits quite nicely because, as we all know, several of Dorau's earliest releases came out on Der Plan's Ata Tak label, something that's being referred to in some of the imagery that accompanies this album's release, the download single (
"

Größenwahn") having a "sleeve" which revisits Dorau's debut "Tulpen und Narzissen" from 1981 and I'm not entirely convinced that the "Todesmelodien" cover isn't an homage to Pyrolator's "Inland" which was released on the label in 1979- see what you think. (Talking of Pyrolator, he's got a new album out very soon, I've just heard.)
Well, there you go, some quick initial thoughts on another great Andreas Dorau album. To round things off, here's a couple of tasters which were put out prior to its release. I hope everyone reading this is as enthusiastic about them as I am.