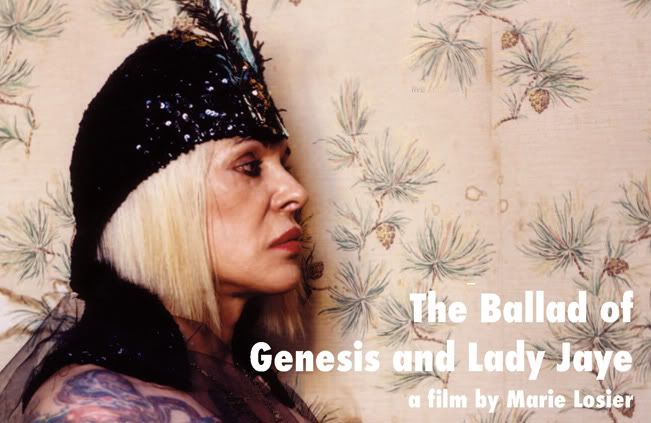 A few weeks ago, a good friend of mine who reads newspapers and cuts out articles and photographs for me

noticed that Marie Losier's film "The Ballad of Genesis and Lady Jaye" was to get its UK premiere at the Sheffield Doc/Fest this weekend. So, on-line we went to buy tickets and then, yesterday, we made the journey down the M1 to catch a teatime showing and, as with moreorless anything connected with Genesis Breyer P-Orridge, it proved to be very interesting and stimulating viewing.
Although largely about P-Orridge's relationship with h/er wife Lady Jaye, who died suddenly in October 2007, just twenty days after Psychic TV played a memorable but, sadly, poorly attended gig in Leeds, the main focus is on the former Throbbing Gristle/Psychic TV front person and, to some extent, the film acts as a kind of impressionistic biopic as snippets from h/er illustrious/notorious career pepper the proceedings.
Archive footage, therefore, features quite a bit so we get to see TG performing "Discipline" at their "final" show in San Francisco in 1981, as well as GPO's daughters being filmed on a Brighton funfair and at Derek Jarman's Dungeness cottage back in the late eighties for the video of PTV's "Are You Experienced?" - s/he tells us that the record got to number one in Italy and was used there as the theme for a top TV pop show for a while. Most interestingly for me, though, as I didn't know such a thing existed, we get to see black and white footage of h/er from the COUM Transmissions days, long-haired, sitting on the floor and naked from the waist down urinating copiously into a milk bottle and nonchalantly imbibing the contents of a used condom.
S/he also takes us through her personal archive, showing us the infamous "Wreckers of Civilisation" newspaper clipping, complete with accompanying photo of Siouxsie and Steve Severin, a newspaper hoarding reading "Sex Show Man's Amazing Free Tour" - "that's me", s/he grinningly declares - and a selection of 12" records spanning a recording career which dates back to the 1968 "Early Worm" album, from the back sleeve of which she reads proudly, "We have nothing to say and we are saying it."
As narrator of the tale, aspects of h/er philosophies and what shaped these also surface as, for example, we hear about a master brutally humiliating h/er in front of the entire school on h/er first day there, this ironically occuring in chapel below a giant painting of Jesus Christ. Although not stated overtly, h/er hatred of the British establishment and its conventions seems partly to stem from this moment which led to a prolonged period of violent bullying and misery at school. This anger seems still to be present, too, as evidenced when, dressed in a black leather mini skirt, matching shirt and stuck on Hitler moustache, and accompanied by Lady Jaye in similarly themed garb, s/he goes into a kind of Mel Brooks parody diatribe about refusing to be told what to wear, how to act and how to think. S/he also tells us about h/er father being a jazz drummer and this being the kind of music to which s/he was exposed prior to becoming enthusiastic about the likes of early Pink Floyd, The Doors and The Velvet Underground. An improvisational approach to music, we're told, was essential to Throbbing Gristle and extends to h/er present day violin duets with Tony Conrad which we see them performing in a bubble filled room. H/er friendships with William Burroughs and, later, Brion Gysin - who, s/he says always kept at least one packet of Cadbury's Chocolate Fingers in his Paris flat in case GPO hopped across The Channel to pay a call - also figure strongly and it is made clear how influential their cut-up technique and philosophy have been throughout h/er life.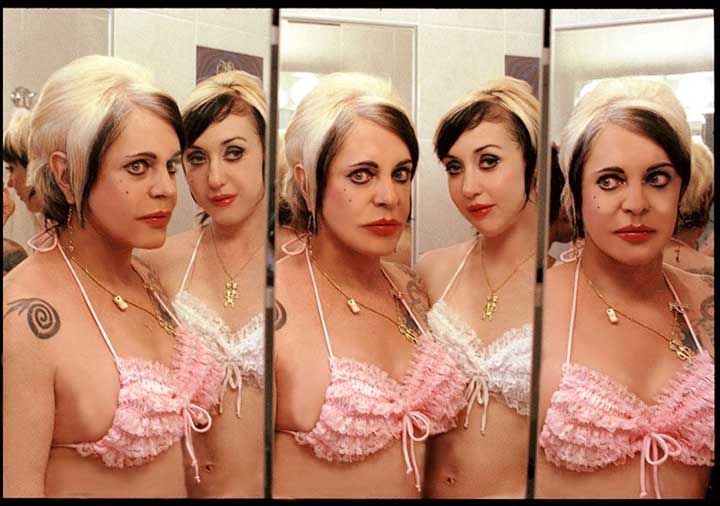 At one point, though, s/he says that s/he doesn't want to be ultimately remembered as "The Tampax Man" or for being exiled from Britain for being a destructive influence on society but, instead, for being part of an all-consuming, passionate love affair

and this is the over-riding theme of the film. As GPO remembers, it was love at first sight as, after a night out at New York's Jackie 60 club in the 1990s, s/he crashed out in the dungeon of a dominatrix friend and woke to see a beautiful young woman passing repeatedly across a doorway, dressed firstly in sixties attire and then fetish gear - "my two favourites" s/he recalls with relish - this being Lady Jaye Breyer dressing for the work she undertook alongside her involvement in performance art at the time.
From this point onwards, the aforementioned love affair and identification of each as being the other's second half developed to the point where, instead of having children, they decided to cement their relationship by undertaking their pandrogyne journey which involved combining their features in an attempt to become, as much as possible, a third entity. So, we see footage of them having their faces prepared for surgery and hear an account of them waking side-by-side after both simultaneously having breast implants. "Look. It's our angelic body", s/he recalls saying when first emerging from the anaesthetic.
We also get to see snippets of their seemingly inseparable lives together, riding the subway, attending a birthday barbecue, preparing food in their tiny kitchen, stepping out identically dressed, either for an afternoon in the park or a night on the town clad in matching dresses, tights, fur coats and facial bandages.
Their dual roles in the latter incarnation of Psychic TV also feature heavily, as Lady Jaye, whose worst nightmare was, apparently, to ever be part of a band, was eventually coaxed into becoming a member through her part-time provision of samples and ultimate inability to conceive being spearated from GPO during long periods of touring. So, we see them soundchecking at London's Astoria, walking around the streets of Amsterdam and eating collectively with other band members backstage and it is the accumulation of all this detail, the fondness with which Lady Jaye is spoken and the obvious pleasure the footage shows of them sharing in each other's company that makes it so tragic when it comes to the relating of her death, Lady Jaye breathing her last breaths into GPO's mouth as s/he tried to resuscitate her on their bathroom floor. Interestingly, from this point in the story onwards GPO refers to h/erself using the collective pronoun "we" which obviously provides some comfort.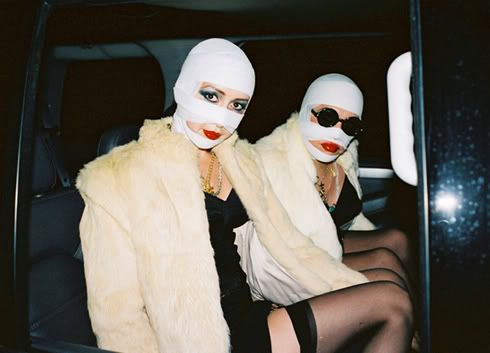 "The Ballad of Genesis and Lady Jaye" is an outstanding film for many reasons, not least because of the story it tells and the

incredible relationship detailed therein but also because it affords a seemingly honest insight into the day-to-day life of Genesis Breyer P-Orridge about whom so much mystery and myth has been created over the decades, also showing how much s/he has changed since those days of Industrial Music and Culture. What we see in h/er relationship with Lady Jaye is a playful, very loving and, actually, at times quite comically twee personality who does a Swedish chef impression whilst preparing ravioli at the stove and a sitting down charlston with h/er knees on the metro, talks on several occasions in baby speak, plays peepo between the shelving of h/er archive, makes tunes with h/er arse on the keyboard and seems to like being referred to as Genny in intimate surroundings. S/he also comes across as someone incredibly likeable and who is doing impressively well in remaining creative and productive whilst dealing with h/er profound grief.
I guess the film will get a more general release shortly and, ultimately, come out on DVD and it comes recommended by me to absolutely everybody in the world, even if only for the closing scene over which "The Orchids" from 1983's album "Dreams Less Sweet" finds a suitable home. Here are a couple of trailers I found knocking about.