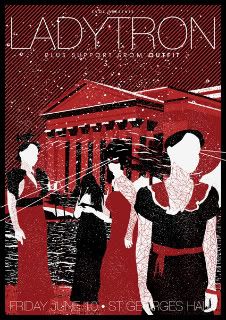 Ladytron played what was apparently a special gig last night in order to mark the occasion of it being ten years since the release of their debut album "604" and I was so pleased that I made the treck across The Pennines to be there as it was a totally fantastic occasion.

Going to Liverpool is always a treat, anyway, because it's one of my favourite places and arriving early and, therefore, managing to fit in a quick drink at The Lisbon, a semi-subterranean pub on Victoria Street with a superbly preserved and impressive interior - busy stuccoed ceiling, wood-panelled walls and Art Nouveau sign - certainly set the tone for what was to come when we arrived at the venue.
Even from the outside, St. George's Hall is magnificant, elevated grandly above the traffic on Lime Street like a giant temple preserved from Classical times. In fact, this Grade 1 listed building, dating from the mid-Victorian period, was described by the expert on all such matters Nikolaus Pevsner as the greatest Neo-Grecian building in the world. It provided the perfect setting for what was to come, too, as the inside is equally impressive, giving off a sense of the bygone grandeur I'm sure we've all at times romantically associated with cities like Berlin and Vienna. Add a bit of dry ice and one could easily imagine a pompous Midge Ure striding seriously and purposefully from between a potted palm and a Doric column and out across a Byzantine-style tiled floor before stopping to turn meaningfully to look into the camera. The band played in what was once called The Golden Concert Room and, Wilton's Music Hall in London aside, it is easily the best place I've ever seen a gig, with its columned and mirror-backed stage, ornamental balcony supported by caryatids and lavish decorative detail wherever the eye might land. Compared to the hangar-like venues where I've seen Ladytron play previously, it provided quite an intimate setting, too, almost like being at a party or, without wanting to cheapen things here, on the set of "The Roxy", ITV's short-lived attempt to rival "Top of the Pops" in the mid-eighties, for those that don't remember.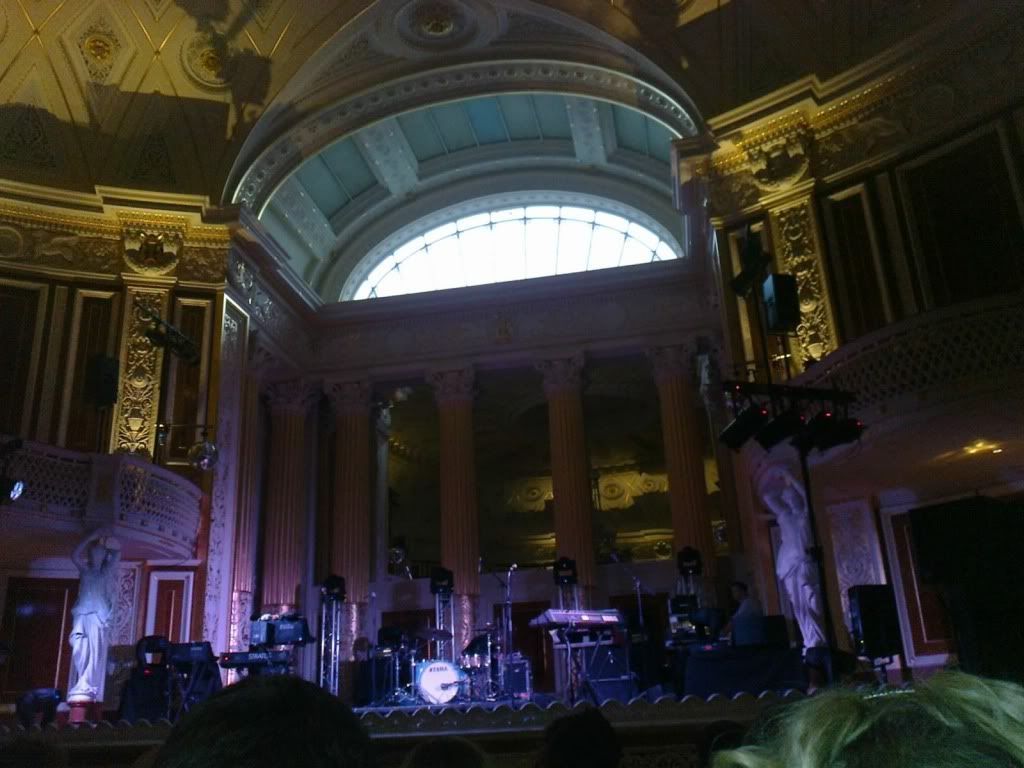 Anyway, I digress so onto the music. Support group, Outfit, who were fronted by dual vocalists, one mainly providing synth and the other guitar, keyboard and hip wiggles, may or may not have been local and provided quite an interesting proposition. As my co-star in this adventure pointed out, they were a bit all over the place but, this and one terrible Rock School-style reggaefied number aside

, I found them to be quite appealing in a number of ways, not least that, for me, they had the years 1982/1983 stamped across them. Maybe it was the setting but, as their short set unfolded, a number of Liverpool bands from this era passed across my mind, not least The Pale Fountains, The Wild Swans and Care in their foppishness and seeming attempts to craft a kind of intelligent, dramatic and slightly sophisticated pop which goes against the grain in the current climate. Apart from the final stand-out number, which also had me thinking of Aztec Camera and the poppier moments of Postcard Records, they're still a bit embarrassingly clunky at present but definitely a name I'll keep an eye out for in the future.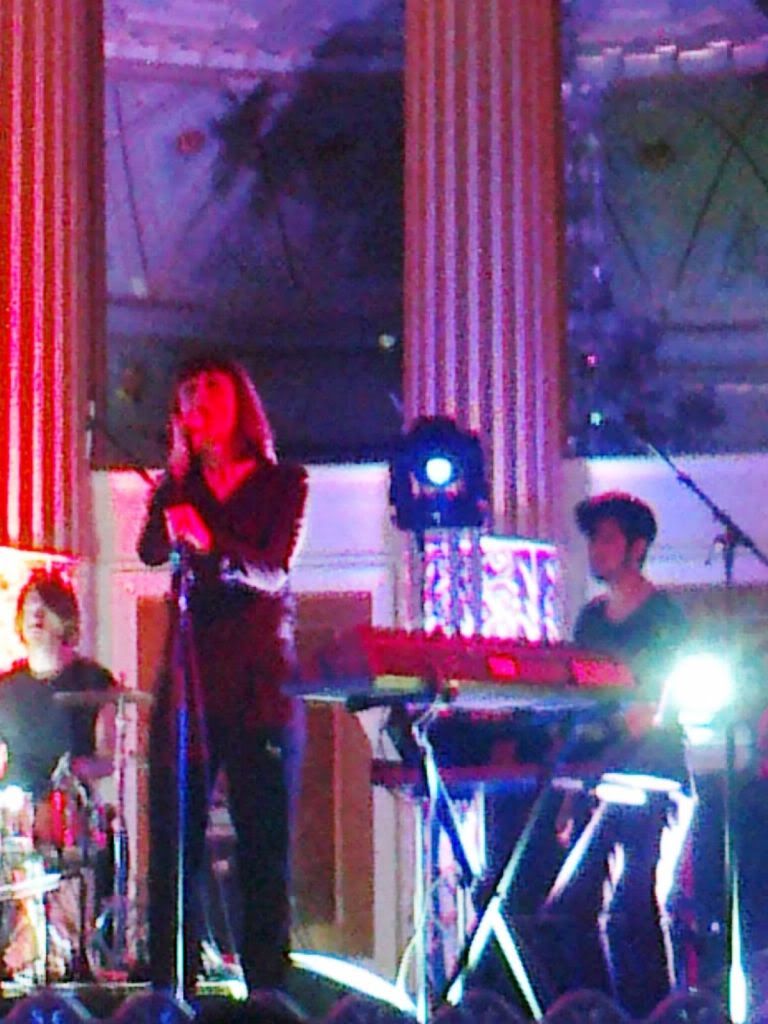 Ladytron took the stage, as scheduled, at quarter past nine, the last remnants of daylight, therefore, still creeping in above them and were absolutely superb, playing a set which stretched across their entire career and seemingly tied in with their recently released "Best Of 00-10" album. Opening in tried and tested, but highly effective, style with "Black Cat", "Runaway" and "Ghosts" it was one favourite after another for an hour and a half and hearing so many brilliant, luscious and memorable pop songs which such an enormous number of people, based on the evidence here and the other occasions I've seen them live, clearly love so much, it beggars belief that they've never had even a medium-sized hit. In an ideal world they'd have had a string of number ones that would make ABBA blush and would currently be giving the likes of Ms. Gaga and Rihanna a run for their money. I blame it on distribution myself. Has anyone else noticed how poorly stocked even high street shops in Britain are with Ladytron product, maybe one of two copies of the odd album tucked away in the Dance Music section rather than stuffed invitingly into the mainstream area where most people browse? "Discotraxx", "Seventeen" (which had one elegantly dressed lady dancing like royalty in private reverie up on the balcony - an image I'll have cemented in my mind for a long time to come, I hope), "International Dateline", "Season of Illusions" - it was a continuous string of gems, leading to a euphoric encore of perennial crowd-pleasers "Playgirl" and "Destroy Everything You Touch".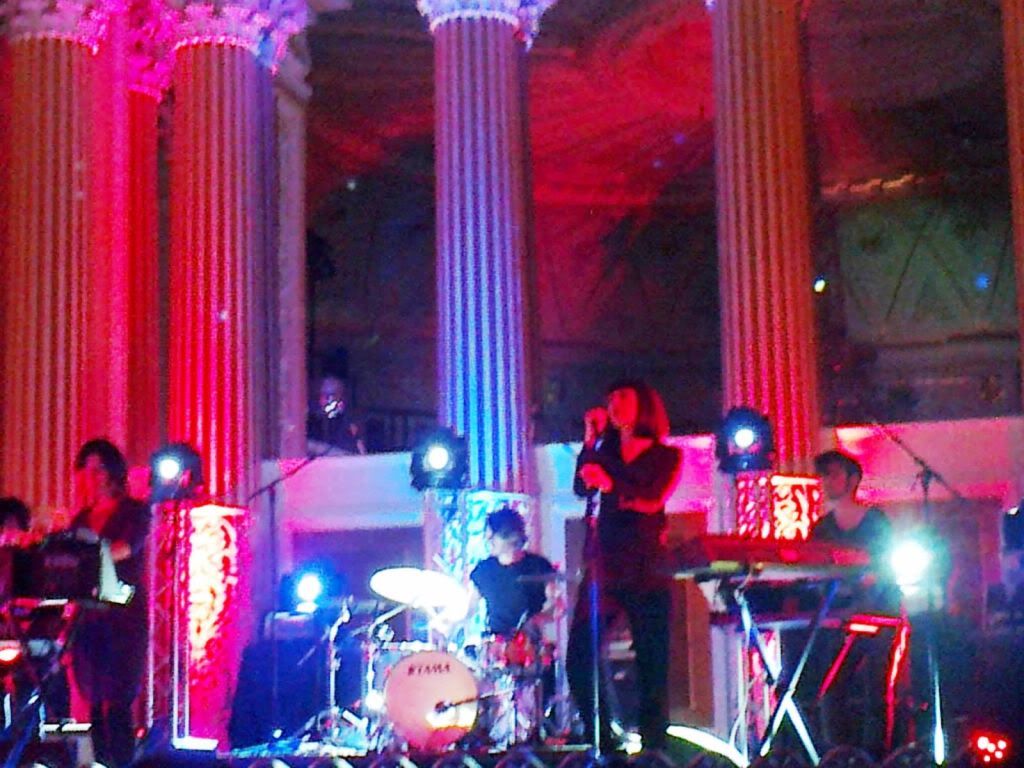 The fact that some of my own personal favourites like "Sugar", "Burning Up", "I'm Not Scared" and "Evil" could not be squeezed into the set serves as further evidence as to why they have become such an essential and cherished band, at least in these quarters, over the last decade. It's far from over yet, too, by the looks of things as they played three new songs - their danced -up cover version of Death in June's "Little Black Angel" and two fantastic tasters from their forthcoming album "Gravity The Seducer" which is due in September. One of these, "White Elephant", is available already as a download (personally I prefer a nice 7" single but you can't have everything) and here it is for your delectation.

As always, some kind souls were on hand filming it and, although the histrionic, rockist drum finale in this clip probably represents the gig's nadir, it does provide a better sense of the setting than my comparatively weedy photos. The one afterwards is more better for the music.