Blink and you'll miss it but Leeds has gone a bit Henri Gaudier-Brzeska mad of late, this stemming from The Henry Moore Institute's joint project with Kettle's Yard in Cambridge to republish "Savage Messiah", H.S.Ede's 1931 biography of the sculptor. Gaudier had been killed sixteen years prior to its publication, when fighting in the WW1 trenches at The Somme, and still lay in relative obscurity when, apparently, the author found a number of his works gathering dust in a store room at the Tate Gallery when he was looking for some picture frames.

To tie in, the Institute is also staging a small exhibition - on until the end of July - which includes Ede's original manuscript, various other books written about the sculptor over the decades, including one by Ezra Pound who is also represented by one of Gaudier's busts - you'd be forgiven for mistaking it for a work by Jacob Epstein, in my view, though - and various bits of ephemera relating to Ken Russell's 1972 film which he based on the book. Last Thursday, they also hosted a one day study symposium on the sculptor's life and work and, that evening, this tied in with a rare showing of the film at The Hyde Park Picture House. As it's an old favourite of mine from the days it was never off the TNT movie channel, I went along with a fellow admirer for whom I bought a ticket as a birthday treat.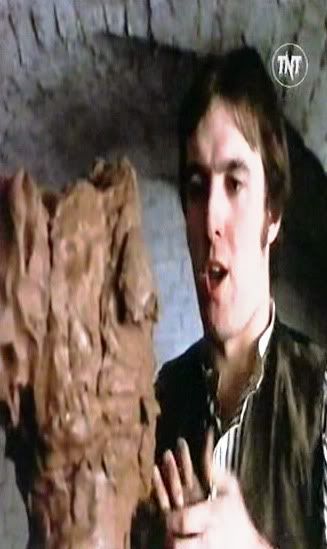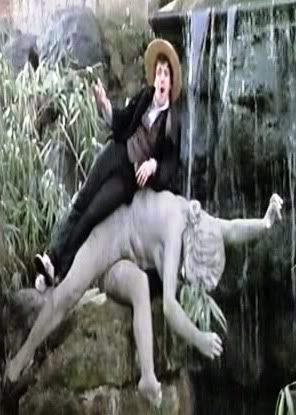 Now, Ken Russell was supposed to be in attendance to introduce his work,
which really would have been quite something, but, unfortunately, having recently suffered a stroke, he was under strict orders from his doctor not to make the journey from Hampshire, sending instead a dictated introduction which was read out by Michael Bradsell who worked as film editor on this and quite a number of other Russell productions. And, in amongst various other snippets of information, it was very nice to hear that he holds this as his very favourite piece from amongst his oeuvre, a view with which Bradsell also concurred. A bit of further research - dipping into Russell's 1989 autobiography "A British Picture" - offers some evidence as to why this may be the case, the most obvious being the inspiration the director had drawn from the sculptor's determination to express himself and forge new ground in spite of prevailing popular trends ("...I felt I owed Gaudier something. It would have been so easy to have gone into my father's business and opted for the easy life but Gaudier taught me that there was a life outside commerce and that it was worth struggling for. Long live Gaudier!" / "Savage Messiah was about passion and sweat, it was about a poverty-stricken artist who stole a tombstone from a cemetery, sculpted it into a nude and, when the dealer who commissioned it refused to pay, threw it through the window of his Bond Street gallery. It was about revolution and fuck the art dealers of Bond Street and Madison Avenue and fuck Pinewood and Hollywood, who have never made a proper film on an artist yet!"). Secondly, "Savage Messiah" represented the grand climax of a series of television films he'd made during the previous decade or so about other artists: "Two Scottish Painters" (Robert MacBryde and Robert Colquhoun), "Pop Goes The Easel" (Peter Blake, Peter Phillips, Derek Boshier and Pauline Boty), "Always on a Sunday" (Henri Rousseau), "The Biggest Dancer in the World" (Isadora Duncan) and "Dante's Inferno" (The Pre-Raphaelite Brotherhood). He so believed in the project that he double mortgaged his house in order to help finance it. I'm very glad he did, too, as it's truly marvellous.
Although being about the sculptor (played by Scott Antony - who seems to have appeared in little else film-wise, although he had a part in "The Mutations" which is another favourite chez moi), the main focus is his relationship with the Polish writer, twenty years his senior, Sophie Brzeska (played by the late Dorothy Tutin

who is otherwise best known to me for her role as Cecily Cardew in the 1952 film of "The Importance of Being Earnest", as well as the rather thespy appearance she made on "This is Your Life" somewhere in the blur that was the 1990s). At the beginning of the film, we see the pair meet in a Parisian library where he sketches and she writes and, from this point, a platonic love affair develops, as they visit The Louvre together, he helps her scour the ground for discarded vegetables for her stews and they travel to the country to visit his family who, along with the local residents, are scandalised by their unconventional relationship. Banished from the neighbourgood but undeterred, they decide to combine their names in an act of unity and to emigrate across the channel to London where he works by day and sculpts by night, sketches prostitutes for which she has paid, believing him to be relieving troublesome urges, and slowly begins to make connections in the art world. The most supportive of these is the dealer Angus Corky who is played in deliciously camp fashion by Lindsay Kemp, who is always extremely good value whatever he does and certainly doesn't disappoint here as he rather ineffectually assists with the aforementioned theft, chokes politely on a revolting bowl of stew, is pulled forward and backward like a rag doll on the end of a two person saw being controlled by the driven Gaudier and tries to calm the tension between our hero and heroine and the snobbish Bloomsbury inspired clientele at one of his dinner parties by offering "more cider". Oh, it's all such good stuff! I could go and watch it again, right now!
Another absolute star of the film is Helen Mirren who plays Gosh Boyle, an aristocratic Suffragette whom he meets during a period of separation from Sophie - she has gone elsewhere to work as a governess. Walking along the street at night, she asks him for a light which he then unwittingly applies to a fizzing bomb which, for reasons best known to herself, she throws at a postbox. Her then accompanies her to The Vortex nightclub (presumably based on The Cave of the Golden Calf which opened just off Regent Street in 1912 and was decorated in a "Ballet Russes" / Vorticist style by people like Spencer Gore, Jacob Epstein, Wyndham Lewis and Eric Gill) where she takes the stage and performs a routine that ranks amongst one of my favourite scenes ever in a film. Amongst a gloriously coloured set (designed by none other than Derek Jarman, as were all the film's sets), she begins by slashing away at a talking canvas resembling Goya's "Naked Maja", shouts "Old masters exploit young mistresses" and then launches into a hilariously badly sung ditty, the chorus of which repeats the words "Votes for women! Votes for women! Tra-la la-la la-la lee". The guests from the aforementioned dinner party are all in attendance, dressed and acting suitably outre for the occasion, whilst Gaudier roars his appreciation - "show us your knickers!" Unfortunately, there isn't a clip of this on You Tube to share so here are some stills I managed to capture as a poor substitute.
As the film draws to a close, Henri and Sophie are re-united after he visits her by train and they rekindle their passions amongst Portland stone, he telling her that his first solo show is due to take place and she later agreeing to marry him after the exhibition. However, fate has a cruel part to play in proceedings, as Gaudier, who had at first dismissed going to war, sees a picture of Rheims Cathedral damaged by the advancing Germans and decides to enlist. Then, back at The Vortex, where the face of a wildly metallic looking performer is thrust repeatedly into the camera in order to evoke the violent idiocy of the war, Corky reads out a letter received from the trenches in which Gaudier tells of sculpting using found rifle butts and his delight at going out at night and killing the enemy. The response of one of the Boho crowd

is "Whoever wrote that should be shot", to which comes the reply, "He was. Last Thursday," and the film ends beautifully and poignantly, cutting between shots of the grieving Sophie, photos from the trenches and actual pieces of Gaudier's sculpture at the now posthumous exhibition, his Modernist style causing stifled amusement amongst several of those attending. Then the tragic loss is rammed further home as she solitarily views an unfinished piece whilst in the background others celebrate the end of the war.
As with a lot of Ken Russell films, "Savage Messiah" is a bit of a romp and a good deal of irreverent anarchy propels the film through its ninety minutes or so, as he avoids the slavish adherence to fact which stifles more stereotypical and cliched biopics. However, at the same time, all the powerful ingredients remain steadfastly at the core: Gaudier's obvious talent and conviction; the incredible relationship he shared with the remarkable Brzeska; a sense of the milieu in which he operated; and the terrible loss and devastation brought about by WW1. Along with John Maybury's "Love is the Devil" and Derek Jarman's "Caravaggio", "Savage Messiah" is my favourite film about an artist and, let me think now, I'm sure there's a continuous link which connects the three, I believe.
Here is a ghastly American trailer which adds a gravelly voice and equally dramatic music to make the film look melodramatic and crassly worthy which, to me, competely misses the point. Turn down the sound and enjoy!