Here's an article about Oskar Schlemmer which was in the first issue of my magazine "German Bite".
When the Bauhaus first opened its doors in April 1919, its founder, Walter Gropius, stated its aim as being to unify all of the artistic forms in a "Cathedral of Socialism" and a number of workshops then emerged, specialising in areas such as metalwork, weaving, painting, cabinet making and so on. Shortly afterwards, a stage workshop was initiated, apparently the first ever at an art school, under the leadership of Lothar Schreyer and performance became an integral part of life at the Bauhaus, then situated in the German city of Weimar. However, in contrast to the progressive approach of the rest of the school, Schreyer's was somewhat dated and still owed a great debt to the Expressionist style of the previous generation, exaggerated gesture and vocal delivery being key techniques in conveying strong emotions in compositions with titles such as "Crucifixion" and "Kindsterben" (Child Death). Then, in 1923, when the establishment staged its first major exhibition, under the title "Art and Technology – A New Unity", the extent to which the theatre workshop was out of step with the rest of the school became glaringly obvious and the calls being made by staff and students for Schreyer's resignation had to be answered. Directorship of the Theatre Workshop now passed to Oskar Schlemmer, who had already been at the school for about three years, overseeing sculpture and mural painting activities, but who also had a background in ballet in his home town of Stuttgart.
A revolution then took place over night, it seems, as Schlemmer began to put into practice the theories which he articulated in his essay "Man and Art Figure" which appeared in Walter Gropius' book "The Theatre of the Bauhaus" a year later. "The history of the theatre is the transfiguration of the human form," he wrote. "The materials involved in this transfiguration are form and colour, the materials of the painter and sculptor. The arena for this transfiguration is found in the constructive fusion of space and building, the realm of the architect. The manipulation of these materials, the role of the artist, the synthesizer of these elements, is determined." This approach was, therefore, a lot more akin to Gropius' proposal of a cross-fertilisation across artistic disciplines and workshops, all under one unifying ideology of exploring the essential elements of design. In the same essay, Schlemmer went on to write, "One of the emblems of our time is abstraction. It functions, on the one hand, to disconnect components from existing and persisting wholes, either to lead them individually ad absurdum or to elevate them to their greatest potential. On the other hand, abstraction can result in generalisation and summation, in the construction of bold outline in a new totality...a further emblem of our time is mechanisation, the inexorable process which now lays claim to every sphere of life and art...and last, but not least, among the emblems of our time are the new potentials of technology and invention which we can use to create altogether new hypotheses and which can thus engender, or at least give promise of, the boldest fantasies. The theatre, which should be the image of our time and perhaps the one art form most peculiarly conditioned by it, must not ignore these signs." Thus, in August 1923, the tone was set when Schlemmer and his students presented "The Figural Cabinet 1" which, strangely enough, parodied "faith in progress", using cabaret techniques to create what has been described as "a medley of sense and nonsense characterised by 'Colour, Form, Nature and Art; Man and Machine, Acoustics and Mechanics" and in which flat, colourful figures on a travelator, operated by invisible hands, would "walk, stand, float, slide, roll or rollick for a quarter of an hour".
As a painter and a sculptor, like his Bauhaus colleagues, Schlemmer was very much concerned with an investigation of space, form and colour and, whilst his paintings explored this line of enquiry in two-dimensions, his sculpture and theatrical experiments allowed an opportunity to experiment with the plastic. The "Gesture Dance" of 1926-7, for example, was one of his more theoretical pieces and sounds pure Bauhaus, as three figures dressed in the primary colours of red, blue and yellow followed paths of motion which Schlemmer had prepared in advance in the form of a mathematical graph, the resulting complex geometric gestures being mixed with banal counterpoints such as "pointed sneezing, broad laughing and soft listening." Similarly, lessons given by Schlemmer involved stretching taut wires across an empty stage in order to describe the cubic dimensions of the space. Dancers would then move through this web with specially designed costumes which would emphasise particular parts of the body and employ chosen colour combinations. However, not all that Schlemmer and his students undertook was so academic and dry, as parties or "festivities", were also an important part of life at the Bauhaus, both in Weimar and in Dessau, where the school was forced to move in 1925, the theatre workshop usually being at their core. At one of these, "The White Festival", guests were required to wear costumes dotted, chequered and striped and at the Metallic Festival of February 1929 the school was decked out in metallic colour and substances. Guests accepting their invitations, which had been printed on metallic card, then entered on a miniature train along a metallic chute and were finally greeted by tinkling bells and a flourish performed by a four-piece band.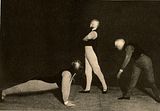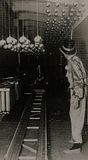 It's for the amazing costumes and the striking visual appearance of his performances, though, that "German Bite" most appreciates Schlemmer, photographs of these still seeming modern and shockingly avant-garde nearly a century after they were first envisaged. In fact, of all the Bauhaus masters, Schlemmer was the one for whom the human form was most central. He actually went on to teach a course at the school titled "The Human Being" and, writing in his diary in 1915, he put forward his views regarding the elemental geometry of the human form which he then went on to explore in his later work: "the square of the chest, the circle of the belly, cylinder of the neck, cylinders of arms and thighs, sphere of the joints at elbow, knee, armpit and knuckle, sphere of the head, the eyes, triangle of the nose. The line that links heart and brain, the line that links sight with what is seen, the ornament formed between body and outside world, its relationship to it symbolised." In "Glass Dance" which was performed by Carla Grosch in 1929, for example, the dancer wore a skirt hooped round with suspended glass rods, whilst her head was covered by a glass globe and she carried glass spheres in her hands. This costume, which obviously severely restricted her movements, then resulted in her moving in a necessarily mechanical fashion. Similarly, Schlemmer's pantomime "Treppenwitz"(Staircase Joke) was performed on a staircase and included a Musical Clown in a huge padded costume, the left leg of which was dramatically transformed by a huge funnel-like sleeve. His right leg then had a violin hanging from it and his arms were impeded by him carrying an accordion, a paper shaker and an umbrella reduced just to its spokes. Colleagues in the dance wore face-covering metal helmets and carried large sword-like instruments and batons so that they appear more sculptural than agile in their demeanour.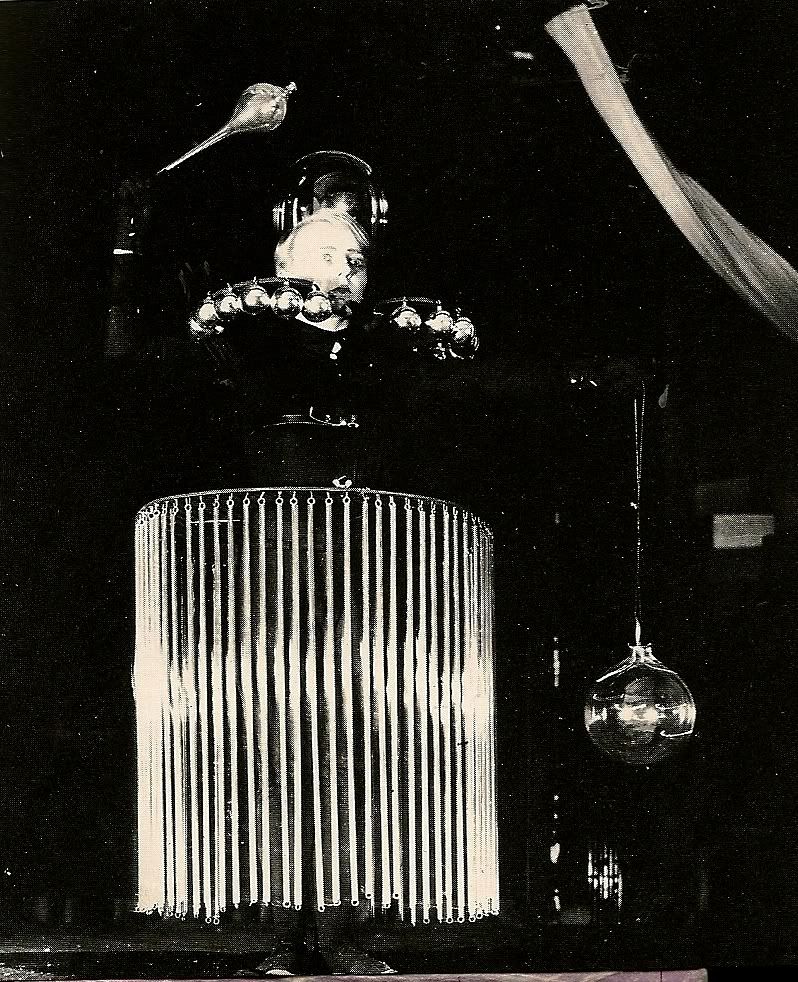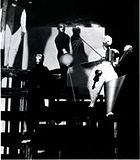 A review of another piece, "Metal Dance", when it was performed in Basle, Switzerland in April 1929 reported thus: "The curtain rises. Black backdrop and black stage floor. Deep down stage, a cave lights up, not much larger than a door. The cave is made of highly reflecting corrugated tin plate set on edge. A female figure steps out from inside. She is wearing white tights. Head and hands are enclosed by shiny, silvery spheres. Metallically crisp, smooth and shining music sets the figure to performing crisp movements...the whole thing is very brief, fading away like an apparition." It could be Hot Gossip or Legs & Co. dancing to Kraftwerk, or even Dee D. Jackson, couldn't it? Très modern! Finally, in a dance called "Game With Building Blocks", three figures dismantled a wall from behind which they had crawled, throwing the discarded bricks in a chain formation across the stage. Having eventually built a small tower in the centre of the stage, the abstract performance then took place around their creation. Judging by the photographs, I think many of the more outré late seventies/early eighties pop stars learnt one or two of their poses from here.
However, the piece for which Schlemmer is most famous is his "Triadic Ballet" which was actually first performed at the Württembergisches Landestheater, Stuttgart on September 30th 1922, although it has now become synonymous with the Bauhaus. Over a period of about a decade, the ballet which has been described as "a combination of dance, costume, pantomime and music" was performed on only a small number of occasions, both in Germany and a few other cities in continental Europe, and was seen by only a thousand or so people in total. However, it has become the stuff of legends with many of the costumes now being on permanent display at the Staatsgalerie in Stuttgart (Some of them even crept over to London in 2006, too, for the V&A's wonderful "Modernism 1914-1939 : Designing a New World" exhibition). The

"Triadic" element of the ballet stems from the fact that it comprises three sequences, made up of twelve dances, which were performed by three dancers (one female and two male) who worked their way through eighteen costumes which were riveted, soldered and reinforced with papier-mâché. It was Schlemmer's belief that his dancers, or "figurines" as he referred to them, should be geometrised abstractions of the human form and that attempts to achieve verisimilitude were not at all what the theatre should be aiming towards. However, the triadic aspect also relates to: the three basic elements of form, colour and space; the three dimensions of space – height, depth

and breadth; the three basic geometric forms – the ball, the cube and the pyramid; the three primary colours; and three components of dance, costume and music. As the ballet, which lasted about an hour and has no plot, moved through its three sequences, it also developed atmospherically, progressing from the jokey to the serious. The opening sequence, for example, was performed against a yellow background and was intended to portray a "cheerful, burlesque" ambience. This was then followed by the "festive and solemn" second segment which was performed against a pink background and then proceedings culminated with the final scenes, performed against a black background, the intention being to convey an atmosphere both "mystical and fantastic." A film of the "Triadic Ballet" floats around on the internet and what is described above is wonderfully evident, as you can see the dancers, who also represent types such as The Diver and The Turk, following geometrically plotted trajectories in just such a manner. Apparently, the ballet is occasionally re-staged today.
Even though The Theatre Workshop closed its doors in 1932 and Schlemmer died just over a decade later, his legacy and influence is massively tangible beyond the confines of the Bauhaus. Casting aside roughly contemporary pieces, such as Fritz Lang's "Metropolis"(1927) and Charlie Chaplin's "Modern Times"(1936) which must owe a direct debt to his work in places, would Kraftwerk's "Man Machine" have been quite the same thing without his having pathed such a route before them?

Similarly, Grace Jones has owed a huge debt to Oskar Schlemmer and Bauhaus imagery in her time, most notably during the Jean-Paul Goude era of the late seventies and early eighties. In fact, when she played in Manchester early in 2009, she was still crashing across the stage with a huge cymbal strapped to each hand, highly reminiscent of the Türke character from "The Triadic Ballet." And, did Leigh Bowery really stumble across his enlarged padded limbs and figure-altering costumes intuitively or was Oskar Schlemmer floating somewhere in his consciousness as he chopped away at blocks of foam in his council flat. I dare say Bono Vox even goes around saying Oskar Schlemmer has been an important influence on himself and that band of his, as he seems to do with everybody else, in an attempt to curry some degree of credibility and detract from the sorry reality of the "heroic" shit-rock he churns out. Anyway, that cretin aside, Oskar Schlemmer's paintings and sculptures are very nice, too, and worth exploring if you don't know them already and if you're ever in Germany visiting the Bauhaus building in Dessau, a short walk round the corner will bring you to the Masters' Houses where you can have a bit of a wander around Schlemmer's old living quarters, as well as those of Wassily Kandinsky, Paul Klee, Lyonel Feininger and Georg Muche. So, there you have him – Oskar Schlemmer. Wasn't he brilliant?