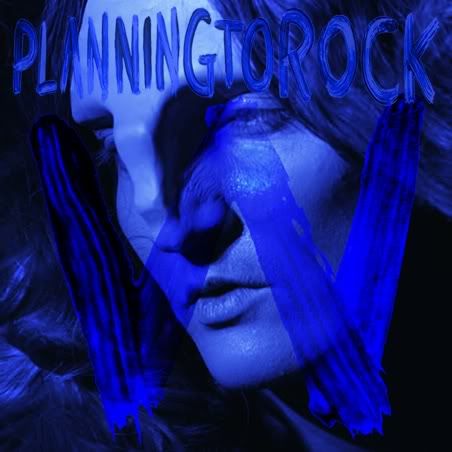 Seeing as this was released a little over three months ago, it seems a bit strange writing about it now, especially as I intended doing so at the time but somehow never got round to it. However, the second album by Planningtorock (ex-Bolton resident and video artist/musician Janine Roston who has been living and working in Berlin for the past decade) has been such a highlight and constant companion over my summer months, alongside the new Andreas Dorau and Horrors albums and the recently released Ladytron and Depeche Mode compilation sets, that it doesn't seem right to let the moment pass and not include it amongst everything else on here that I've been enthusing about. In fact, it's such a powerful collection of songs that it stands head and shoulders above much that has been released in recent years so to miss it out would be very stupid and unrepresentative indeed.
In case anybody doesn't know, "W" is the follow-up 2006's "Have It All" which was released on Chicks on Speed's label and was supported by quite extensive touring around the world with the likes of Peaches, The Knife and LCD Soundsystem. It was around this time that I saw Planningtorock performing in Leeds when she and Kevin Blechdom rolled into town, her all white outift, including top hat and painted on white beard, assortment of masks and helmets, caveman bone which she shook in time to the beat and video accompaniment creating quite a memorable spectacle. In the meantime, as well as all this live work and the odd bit of remixing, Roston has also collaborated with The Knife and Mount Sims on "Tomorrow, in a Year" an electro-opera based on Darwin's "The Origin of the Species" which was first performed in Copenhagen in September 2009 and then in other European cities before being made available as a recording last year.
From what I've been reading, "W" had quite a long gestation period, stretching across the four years or so prior to its release and is the product of recording sessions at home in JR's own studio in Berlin
, as well as collaborations in Iceland with percussionist Hjörleifur Jónsson and in New York with DFA's Pat Mahoney and, much as I enjoyed the last album and its sister release "Have It All Stringed Up", this one certainly taken things to a different level.
Many of the old elements are still recognisable, such as the textured electronics, treated vocals and plucked strings which create an atmosphere which is paradoxically both warm and unsettling at the same time - listen to "Changes" or "Think That Thought" on the last album or almost any track on the new one. Also evident is the sense of tongue-in-cheek comedy which was found on tracks such as "I Wanna Bite Ya" or "Bolton Wanderer" which is perhaps best exemplified now on the Hi-NRG stomper "Living It Out" (guaranteed to blow away the cobwebs on any early morning journey to work, trust me!) which is beautifully orchestrated and structured and has lyrics possessed of some degree of profundity whilst seeming to simultaneously poke fun at age-old disco cliches ("We're living it up, we're living it down. We're living it in, I'm living it out") all this accompanied by occasional grunts and similar exhalations which further add to a sense of partial pastiche.
However, there's a new level of drama and powerful emotional expression and appeal running through this album which was lacking on the last, this coming across most on a track like "The One" which has a Michael Nymanesque intensity, a smooth but not at all stomach churning saxophone break and lyrics which repeatedly claim "You are meaning a lot to me" or the album's closing track "#9" which is possessed of a perky melancholy courtesy of its thunderous drumming, electronic nips and lyrics which are both reassuring and vaguely threatening at one and the same time. Elsewhere, the instrumental "Black Thumber" has a sophisticated classical grace and lushness to it, as does "Milky Blau", the music of which has the repetitive immediacy of something from one of the soundtracks to a Peter Greenaway film, whilst "I'm Your Man" has an electro-pop potency whilst also being the most obvious example of the recurrent theme of gender identity and individual duality which seems to lie at the core of this work, as well as much of the last album, such as on a track like "Local Foreigner" - see also the album's title ("double you"), the gloriously rich blue artwork and accompanying videos where Roston has used theatical putty to reshape her nose and brow to appear more gender ambiguous, as well as her treated vocals throughout which achieve the same effect.
Two of the album's stand out tracks were released slightly preceding it in the form of a blue vinyl 11" single and with it came a video for each which I am now including for your delectation: the stately and slightly sinister, creeper "Doorway" on which Roston has been quoted as saying she unleashes her "inner trannie" and the highly accomplished "The Breaks" which has pizzicato strings and saxophone honks subtly layered over lush chords, this all combined with lyrics both cautionary and seductive. This latter is for me a perfect crystalisation of all that the album offers.

She's got quite a few gigs lined up over the coming months, too, including a couple in the UK, I see. Hopefully, she'll add a few more including one in Manchester or Leeds as I'd love to hear all of this in a live context.