Exciting times are finally upon us in Leeds after what seems like an eternity of having no local bands about whom to become even vaguely enthusiastic. I've lived here for over two decades now and, in my view, those who can even be included in the marginally passable bracket are probably countable on the fingers of one hand ( I quite liked Mr. Peculiar, Sharron and Burgers if anyone remembers any of them and The Real Losers and Sexy Burglars were good, too, while they lasted). On this, like every other level, Manchester, Glasgow or Liverpool Leeds is not and never will be, even though it foolishly likes to think it's in the running from time to time.
Anyway, it's with great pleasure and pride that we can now shout from the rooftops about the adrenalin rush which is Rent Boys (more of whom very, very soon when they release their new single "Shoot Your Shot" on German Bite Records) and the more recently formed Sniffs who, after only two gigs, the most recent at The Hide and Seek Club last Saturday and their debut only a few weeks prior to that, have already got all the right tongues wagging. An extremely elegant duo who formed less than a year ago and who have only just recorded their first demos, they're no doubt set to cause quite a sensation over the coming months as word spreads and their following grows.
Their sound is very sixties inspired - think girl groups like The Shangri Las at their most ballsy or The Whyte Boots' "Nightmare" or the tougher end of Lori Burton's solo output - but this is then refracted through all manner of clever gadgetry such as Kaoscillator, vocoder, occasional drum machine and a beautifully compact Roland SH-101 to give it an avant garde, space age and other--worldly edge. Meanwhile, layers of brittle guitar are looped through numerous pedals so that they build and repeat throughout to provide a foundation which smultaneously gestures towards both surf and someone like PIL whilst never aping either. Last Saturday, I overheard two youngsters talking earnestly behind me and, having seen two people using electronics, they were rather glibly likening what they were hearing to Suicide and Silver Apples but, although I'm sure it's all in there in the brew somewhere, to make a direct comparison of this kind would be very misleading indeed. Someone else said they brought The Fall to mind and there is a bit of "Kicker Conspiracy" somewhere in the vocal delivery, I concede, but that's about as far as it extends. In actual fact, I think I can safely stick my neck out and say that their, as yet still rather chaotic, swoosh is truly unique and this is why it's so obviously going to have to catch on.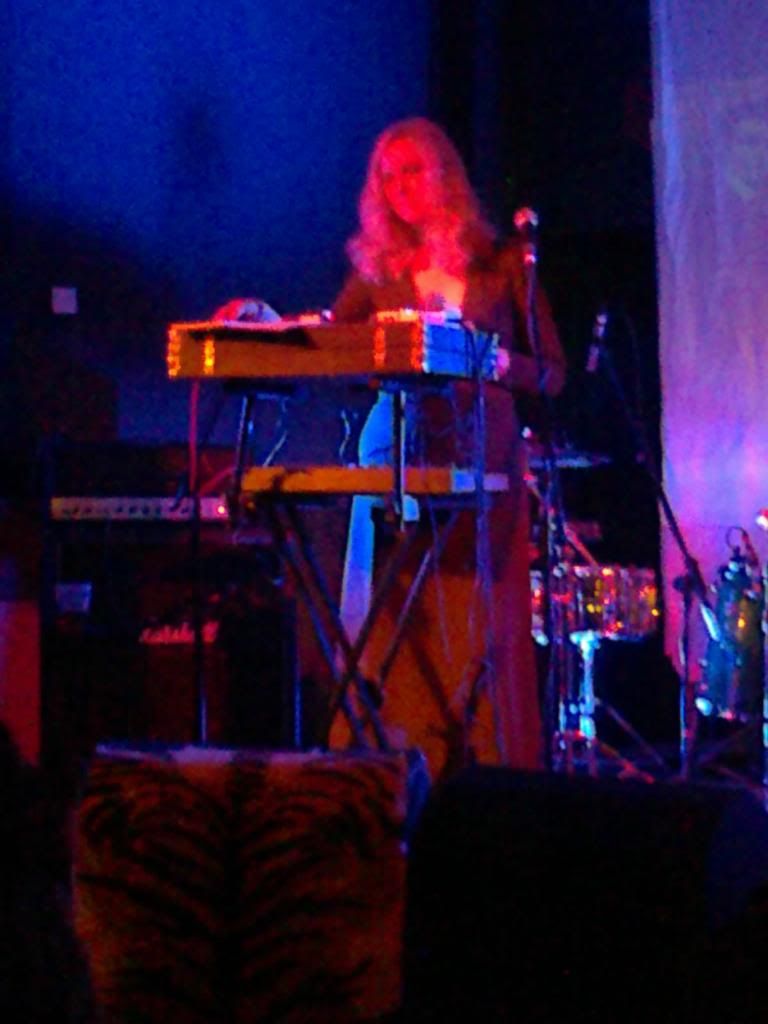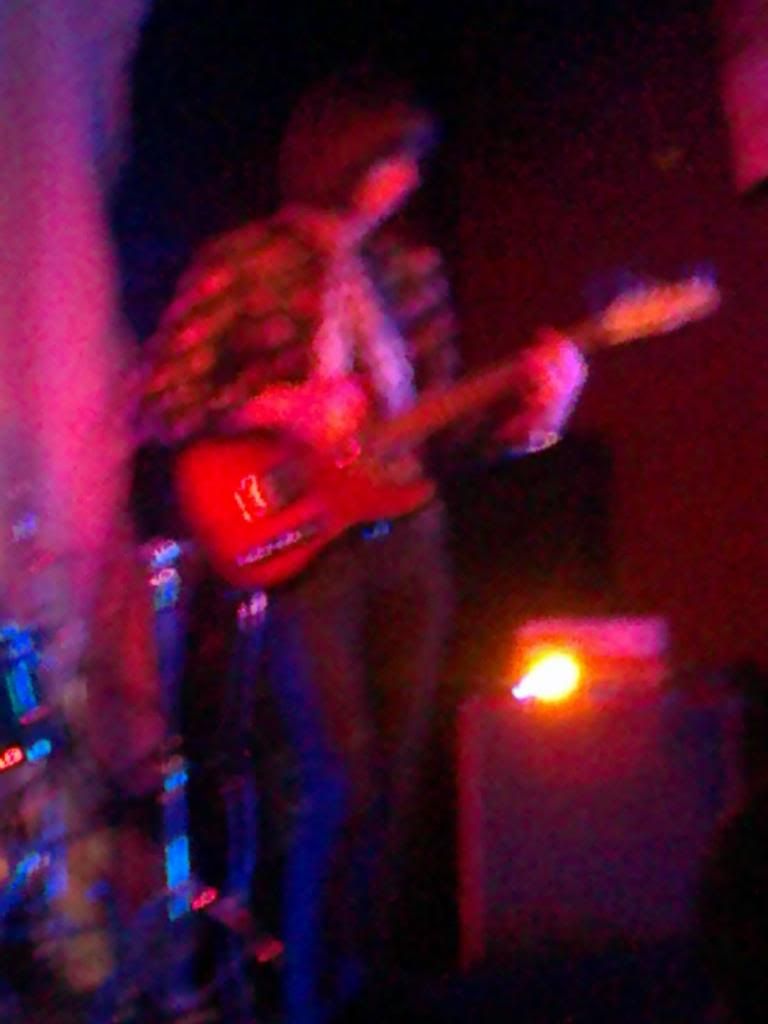 Exciting indeed! Next weekend they'll be up on stage again playing songs from their repertoire with titles like "Nous Sommes (Les Sniffs)", "White Jaguar", "Macho Bravo", "Good Girl", "Black Glass Floor" and "Big Bastard Biker Boys". This time they'll be in Newcastle, though, supporting the brilliant Monochrome Set at The Star and Shadow Cinema and I for one shall be there. May I recommend that you are, too.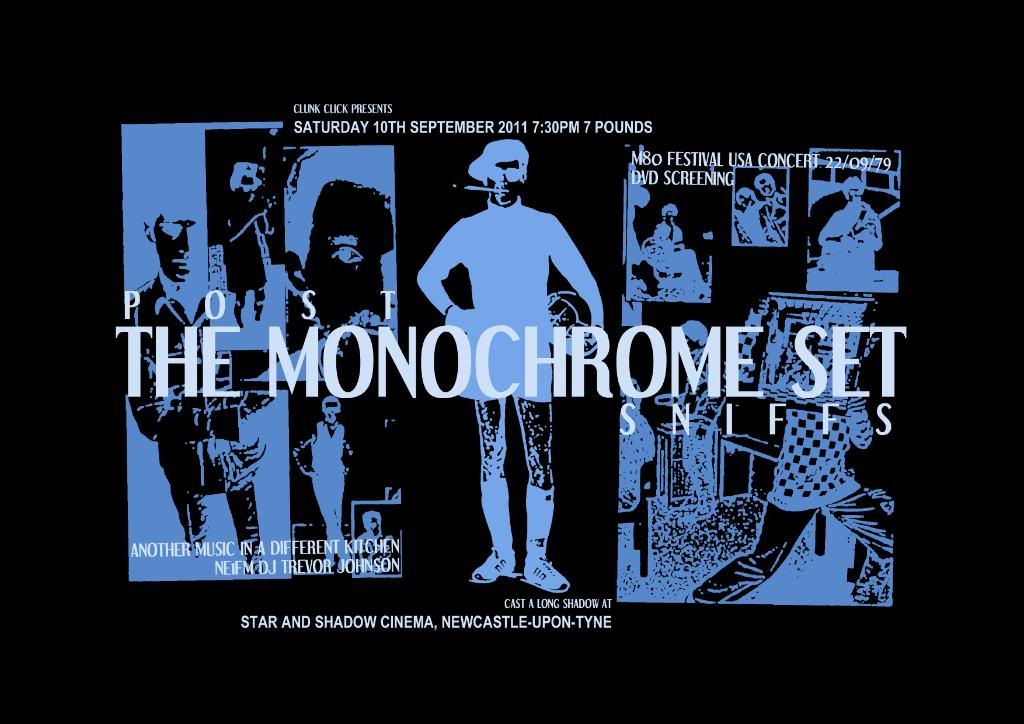 STOP PRESS: I've just been sent a link to where you can listen to a couple of their recordings. Plus, I found another photograph of them, this one from their Hide & Seek Club gig last weekend.