Issue 1 of my fanzine "German Bite" included quite a long article about my favourite film director Rainer Werner Fassbinder. Here's the first part of it. I'll post the rest of it as and when I get a chance, hopefully over the next few days.
RAINER WERNER FASSBINDER(1945-1982)
"Back to Nature"; "X, Y and Zee"; Sylvester; "Cabaret"; Throbbing Gristle; "The Abominable Dr. Phibes"; Siouxsie and the Banshees; "Down in the Park"/"Are Friends Electric?"; "Sebastiane"/"Jubilee"; "The Marble Index"/"Desertshore"; Sparks; Malcolm McLaren, Vivienne Westwood and The Bromley Contingent; Suicide; "Here Come the Warm Jets"; Swell Maps; "Pink Flamingoes"/"Female Trouble"/"Desperate Living"; Amanda Lear; Wire; "Yes, Sir I Can Boogie"; "Nag Nag Nag"; "The Blood on Satan's Claw"; "Ca Plane Pour Moi"; "Plastic Ono Band"/"Fly"/"Approximately Infinite Universe"; Kraftwerk; "A Clockwork Orange"; T.Rex; The B52's; X-Ray Spex; "No G.D.M."; "Red Dress"; The Sex Pistols; The Village People; Patty Hearst; Chic; "Je T'aime Moi...Non Plus"; "Psychomania"; Devo; "Nearest and Dearest"/"Not on Your Nellie"; "Groovin' with Mr. Bloe"; Blondie; "Christopher and his Kind"; The Ramones; "Supernature"; "Bouquet of Barbed Wire"; Pete Walker; "T.V.O.D."/"Warm Leatherette"; Bowie in his many guises; "The Night Porter"; Essential Logic; many a fantastic Beryl Bainbridge novel; Sheila B. Devotion; "Barfuß im Regen"; The Modern Lovers; Larry Grayson's Generation Game"; "Being Boiled"/"Reproduction"; "Trash"/"Heat"/"Women in Revolt/Bad"; Giorgio Moroder/Munich Machine/Donna Summer; "Spiral Scratch"/"What Do I Get?"; "Tokyo Joe"; The Red Army Faction; "Daughters of Darkness"; Vice Versa; "Salo"; "Live at the Witch Trials"; "Paris 1919"/"Vintage Violence"/"Fear"; "Death Line"; "The Idiot"; "Mind Your Own Business" ; "Blind Terror"; The New York Dolls/Heartbreakers; "Deep End"; Patrick Hernandez; Zoo Records; The Residents; "Billy Porter"; Chicory Tip; Metal Urbain; Wayne/Jayne County; Noosha Fox; "Cakes in the Home"; "Big Red Balloon"; Subway Sect; "The Philosophy of Andy Warhol : From A to B & Back Again"; File Under Pop/AK Process/AK47; "Black Christmas"; "Disco Clone"; "Produkt der Deutsch Amerikanischen Freundschaft"; "Love Hangover"; "Rock Follies"; "Whoever Slew Auntie Roo?"; The Flying Lizards; "French Boy"; The Runaways; The big 5 Roxy Music albums; The Slits; "Rock and Roll Pts. 1 & 2"; "Transformer"/"Berlin"; "Automatic Lover"; Grace Jones' disco period; Kleenex; Thomas Leer & Robert Rental; "Mouldy Old Dough"; Lori and the Chameleons; Mott the Hoople; "Er Hat Ein Knallrotes Gummiboot"; "Sid Did It"; "Electricity"; "Fairytale in the Supermarket"; "Better Scream"; "See My Baby Jive"; "The Possession of Joel Delaney"; "Let's All Chant"; "Myra Breckenridge"; "Trog"!! The list could go on forever.
The 1970s were an absolute treasure trove. However, another reason why it was an extremely important decade is because it was the one in which Rainer Werner Fassbinder, German Bite's favourite director by an absolute mile, made 33 of his 43 films, before his life was tragically shortened as a result of an overdose in 1982. Now, like the above list, there's so much to say about Fassbinder that this article could go on forever. So, GB has decided to give just a small insight by focusing on four of his films from different stages in his career and, who knows, if we run to future issues there could possibly be even more on the way. But, first, some biography for those who don't know a great deal about this "drug-crazed German faggot" as the "Time Out Film Guide" so homophobically refer to him in their overview of "Querelle". Naughty, Naughty, Time Out Film Guide!! While we're on the topic, too, they could have also been a little more careful with their phrasing when talking about our very favourite film, "X, Y and Zee". People can be terrible parrots, you know, especially when aping snippets of American English to impress the gang.
Rainer Werner Fassbinder was born on 31st May 1945, directly at the end of WW2, give or take a few weeks, into a middle class, semi-intellectual family living in Bad Wörishofen, a spa town in southern Bavaria. His father, Hellmuth, was a medical practitioner, and would-be poet, and his mother, Lieselotte, who went on to star in several of his films, worked as a translator. They named their son after the poet Rainer Maria Rilke and brought him up in a household where toys and comics were, apparently, forbidden and where paying guests also lived on the premises. However, all this changed when Fassbinder was six years old and his father left home, the young Rainer and his mother relocating to Munich, the city with which he is most associated. Here, living in an area which at that time was known for its prostitutes, pimps and immigrant workers, Fassbinder's worldview, aesthetic and sexuality began to take shape, American films from the 1930s and 40s also having a significant influence upon his development, as his mother sent him off to the cinema regularly so that she could spend time alone with her younger boyfriend. She was also absent for quite long periods due to her suffering from tuberculosis and, if stories are correct, Fassbinder was for much of the time a street child, responsible for his own well-being and development. He ended up going to a Steiner school, too.
By the time he had left school, minus his diploma, Fassbinder was writing poetry, plays and short stories, as well as mixing and doing odd-jobs in related circles and, as a result, the original core of what has been called "The Fassbinder Group" began to form, starting with Irm Hermann (the first of "Fassbinder's Women", star of his first short film "The City Tramp" and someone who would go on to appear in a good proportion of his films over the next ten years or so). Three other important figures also appeared around this time, Hanna Schygulla, who he chose for the lead part in his second short "A Little Chaos"(1966) and with whom he worked on and off throughout his career, Peer Raben who acted in many of Fassbinder's films, as well as composing the music for the majority of his oeuvre, and Kurt Raab who worked on 31 of his films, either as an actor or production manager, often as both.
And so it was in this milieu and with this coalescing group of people that Fassbinder began to direct for the theatre, some radical reworkings of plays by Brecht, Sophocoles and Büchner and some compositions of his own, including one Artaudian piece which dealt with the actions of Ian Brady and Myra Hindley, "Preparadise Sorry Now(1968)", all performed in the run-down Action Theater on Munich's Müllerstrasse. Interestingly, a regular audience member at the time was Andreas Baader whose sidekick, Horst Söhnlein, was using the theatre's back room as a bomb factory and, as the two left equipped to burn down department stores in Frankfurt and to kickstart the activities of the Red Army Faction, they smashed up the place, in turn providing the impetus for the next stage of Fassbinder's career, his own theatre company, The Antitheater, München, who went on to serve as production company for his first feature length film "Love is Colder Than Death" in early 1969.
Over the next twelve months, Fassbinder would write and direct nine full-length films, setting a precedent for the next decade or so, during which he was almost superhuman in his prolific creativity and during which he became one of the stars of the New German Cinema (see also Wim Wenders, Werner Herzog et al), as well as one of the most respected and, ultimately, successful directors of the period, achieving many accolades en route. At the time of his death, having just won The Golden Bear at The Berlin Film Festival for "Veronika Voss" and with probably his most known and successful film "Querelle" about to be released, he stood poised for major international success. However, the personality which was to produce so many films of such intensity and at such an intense pace was also to be the one which would lead to his untimely end. Fuelled by years of cocaine, alcohol and sleeping tablet abuse, stories abound of Fassbinder smashing up motor vehicles, treating hotel rooms with the same kind of disregard as hedonistic rock stars of the period and becoming a well-known habitué of New York's notorious leather bars such as The Anvil, The Spike and The Mine Shaft – his leather jacketed look, mirrored aviator shades and faded jeans from the latter part of his life certainly bring Robert Mapplethorpe and his gang to mind. His career was also peppered with a series of tempestuous love affairs, mainly with men (including two who committed suicide) but others with women in his circle – he married one of his leading ladies, Ingrid Caven, in 1970 – such that his biography has become almost synonymous with his output. He was even absent from his own funeral, by the way, his body still being examined for traces of narcotics at Munich's city morgue, as mourners accompanied his empty coffin to the grave.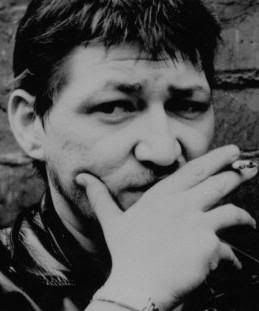 But, now we're descending into gossip so let's look at those four films, as promised, shall we?
Katzelmacher(1969) – Fassbinder's second feature length film, arriving pretty hot on the heels of "Love is Colder Than Death", was a development of an earlier stage play that he had written for his Antitheater group and this is highly evident in the stylised, often static tableaux-like scenes which make up the film. For the title, meaning "the little cat maker", he adopted a derogatory term which was applied to immigrant guest workers in Germany at the time, supposedly as a result of their uncontrollable and indiscriminate breeding habits and their ability to sire larger litters of children than the average domestic male, and the film, consequently, represents Fassbinder's first attempt at tackling the theme of racism, which he then did most famously in "Ali : Fear Eats The Soul"(1974) and also in the less well-known "Whity" of three years earlier.

In the opening scenes, we meet a cast of characters who live and socialise in a block of flats in a lower middle class neighbourhood of Munich but who don't really seem to like one another very much or have a great deal to do during their leisure time, apart from stand around in silence, gossip maliciously, turn on one another from time to time or sleep with people behind (or in front of) each other's backs. First, we see Marie, played by Hanna Schygulla who sports a mini-dress and bubble perm, being picked up from the shop where she works by her boyfriend, Erich. Then, we cut to a passionless bedroom scene where a bored looking Paul and Helga undress unexcitedly and perfunctorily, helping one another with the more tricky bits, as if this is a worn-out, meaningless routine. A few scenes later, we return to the bedroom where Helga now clings onto Paul's leg whilst he dispassionately gets redressed. He knocks her face with his knee, as he slips into his shoes, before violently pushing it away and rushing out the door saying, "Put it on the bill, baby!" Meanwhile, in another apartment, Elisabeth and her man, Peter, are eating a tense, practically silent meal. When we cut back to them a minute or two later, she has left the table and, as she exits the room, she tells him that he must sleep on his own from now on. "Let's talk it over. Please," he says and she replies, "Don't touch me." Their dialogue is wooden and impotent like so much in the lives and interactions of these people. Tensions might be high but their expression is stilted and ineffective, to say the least, almost as if Fassbinder is doing a bit of a Brecht on us here and we're watching an emblematic demonstration of their lives rather than the real thing, the point also being that their existences and aspirations are bland in the extreme.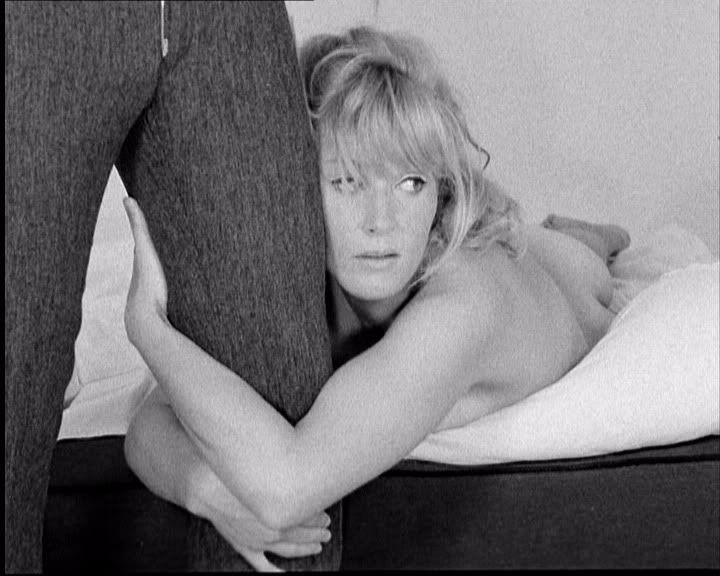 Over the next half an hour or so, we find out more about the gang through the playing out of a series of recurrent set pieces. In one of these, different combinations of characters lean against a railing by their flats, often in silence or occasionally uttering words of spite or mischief making. At other times, they go to the local tavern where they play cards, for the most part, in silence and, every now and again, a different pairing walks the same stretch of car park, always at the same pace, engaged in some form of catty or dissembling dialogue. The camera never moves during any of these scenes, which, combined with the cold contrast of the film's grey tones, gives a sense of dull yet claustrophobic boredom.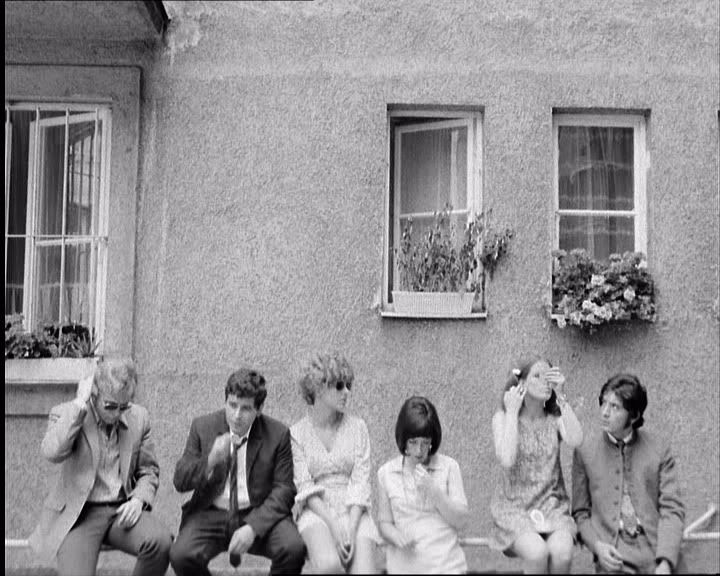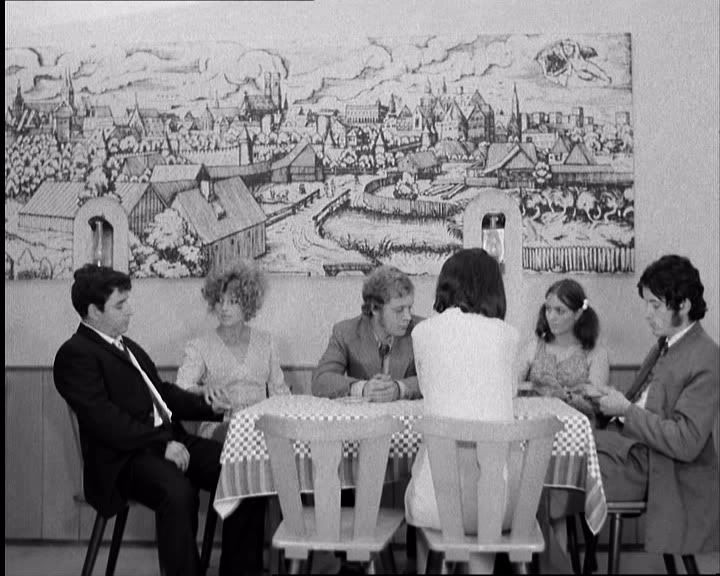 What also emerges during these scenes is the latent violence which lies beneath all that they do, most noticeably in the way that the men view and treat their women. Very early on, we hear Erich state, "I'm damn thirsty. Bring me a beer," whereupon Marie resignedly holds out her hand for the money she will need to go and get it. Soon afterwards, Helga says to Paul, ""Why do you have to go around with that guy? It'll come to no good." His response, other than to first tell her to "shut your trap" is to whack her on the head, a blow she accepts with barely a wince. Similarly, when Marie is non-committal to Erich's cool suggestion that they marry, as she lies naked on the bed, she is served several blows to the head so that she can think better in future. He later tells her that "I'm important in your life and no-one else." Most shocking, though, is the advice that he gives on occasion to Paul regarding Helga. When Paul claims that, "All we ever talk about is marriage," Erich's solution is to "Punch her in the face and then she'll soon shut up." Later on, when she declares herself three months pregnant, Erich, who is also screwing Helga on the side, declares, "Punch her in the belly or throw her in the Isar." Meanwhile, the women compete with one another in pretending to have the perfect relationship, as Marie asks Helga, "How's your guy?" before going on to state, "Mine's sweet. When he touches me, I really feel something." Not to be outdone, Helga lies, "It's the same with me and my one." Oh, really, my dears?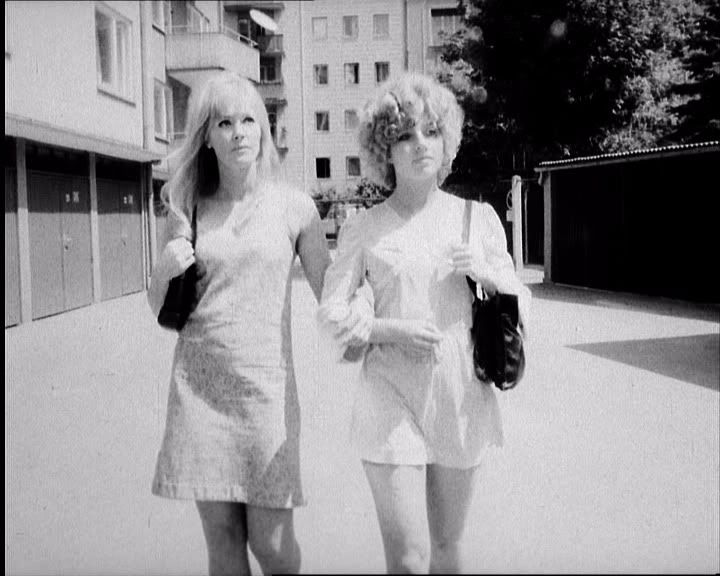 The sex they all have is as stilted, meaningless and unsatisfying as their social intercourse, an element played out by the inclusion of the film's first outsider character, Rosy, who seems to stay perpetually in her flat, alone and dreaming of entering into a career in modelling or film. That is, unless she has visitors, female members of the group, round to snoop and bitch, or the men who place money on her table, either a loan or a gift, for which she exchanges a sexual response. Her main "client" seems to be Franz who leans against her naked yet unmoving in one scene. He asks her, "You do enjoy it, don't you?" To which she replies, "I don't understand anything about that. I have to live, that's all." Sex as a transaction seems to be something that's completely everyday amongst these men as, in addition to his visits to Rosy, Paul also has Klaus on the go. Every time they part and a future rendezvous is planned, Klaus dips his hand into his inside pocket for cash.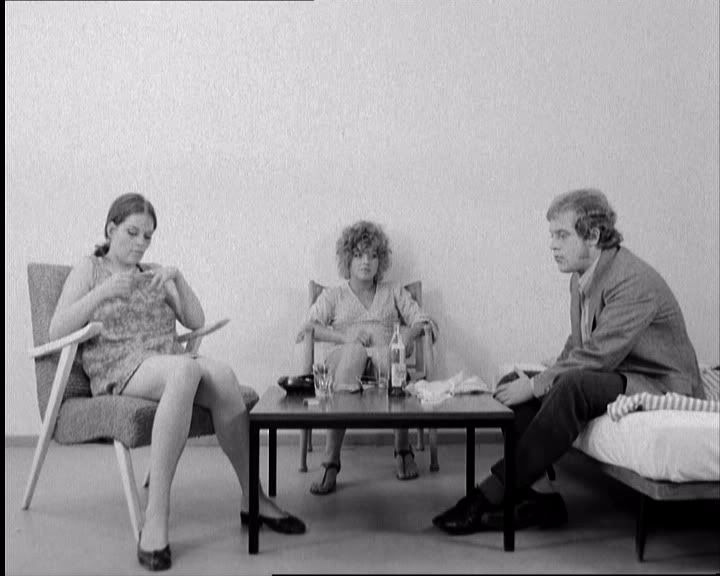 Although she has her uses, Rosy's non-conformity poses a threat to the group and they view her with contempt. Erich says to Paul, for example, "She has a mind of her own. That's not good," whilst the women for whom she, perhaps, poses the greater threat are more severely censorious. Gunda's evaluation of the situation is that, "It ought to be reported. A person like that shouldn't be free to mix with us." However, the heat is taken off Rosy by the arrival of Jorgos, played by Fassbinder himself, who the group instantly recognise as a foreign gastarbeiter. He is renting a room from Elisabeth who gets him to temporarily double-up with Peter whilst his own room is being decorated and this is where his troubles begin when Peter sees him naked and reports back to the others. He has a better build than any of the German men, he tells them, and his extends down to his Schwanz (use your imagination), as well. As these men, who are impotent on all levels, even including planning lucrative futures, hear the news, they look crest-fallen and angry, whilst the women's curiosity is piqued.
Passing him in a children's playground one day soon afterwards, Gunda now asks him how he likes Germany and then speculatively, we guess, asks him if he has found love yet. Unable to fully understand, he eventually grasps that she means "fucky-fucky" before mournfully conceding that he has, in fact, not. The two part politely, although Gunda then runs to the gang and tells them that he has thrown her to the ground, shouting "fucky-fucky" at her and that she has been lucky to escape. Within minutes, the story is that he has raped her in a children's playground. Rumours also fly about his landlady, as we hear that she apparently stripped herself naked and called for him to go to her one night, Jorgos returning to his own room three hours later looking completely exhausted. There are even rumours that he is a communist as Greece, apparently, is full of them.
The final straw, though, comes when Marie, now split from Erich, begins to pal-on with Jorgos. Even though he cannot speak German as well as the other men, he can use what little he does understand to make poetic phrases, such as "Eyes like stars." She also says that, "He always looks you straight in the eye," something she could never expect from the others. This is all too much, though, and it is Erich who decides, "It ought to be forbidden. Something must be done," before the men, like a group of Hitler's Brown Shirts, give him the good hiding they feel he so richly deserves. In an echo of events from thirty years or so earlier, Gunda then says, "It had to happen. He was walking around as if he belonged here...We need a bit of order here." Whilst Elisabeth, who has borne the brunt of their social exclusion, is double-edged when berating her partner for his involvement: "You didn't have to take part. That wasn't necessary. If you hadn't done anything to help, OK...but taking part!" The event, though, seems to be somewhat cathartic for the community, as resigned to the fact that Jorgos will not be leaving, they look on the bright side. Foreign workers, they realise are good for Germany as they raise production levels and the money stays in the country. Elisabeth is now viewed as a shrewd business woman as she can charge more than the going rate for her spare room as foreigners are more desperate and are a bit stupid. She is even planning to get a false wall built in her flat so that she can move another one in.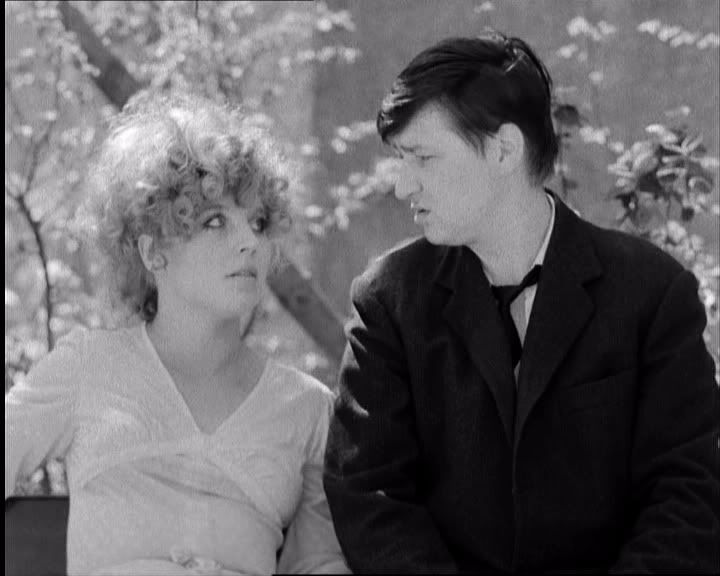 At the end of the film, two of its chief characters, Erich and Marie, both have a journey to look forward to, his into the army and hers to visit Jorgos' homeland. On a metaphorical level, though, Fassbinder seems to be, perhaps, suggesting that all young German's stand at a similar fork in the road, either to take the route of perpetuating Fascist aggression or to seek out a more egalitarian society where people do not belong to one another and no attempt is made to police their behaviour. As it stands, at least in this social grouping, in spite of us seeing a new post-war generation of young adults, the attitudes which led to the rise and initial success of National Socialism are still prevalent. "Katzelmacher" even begins with a quotation from German writer and actor, Yaak Karsunke: "It's better to make new mistakes than to perpetuate the old ones to the point of unconsciousness."