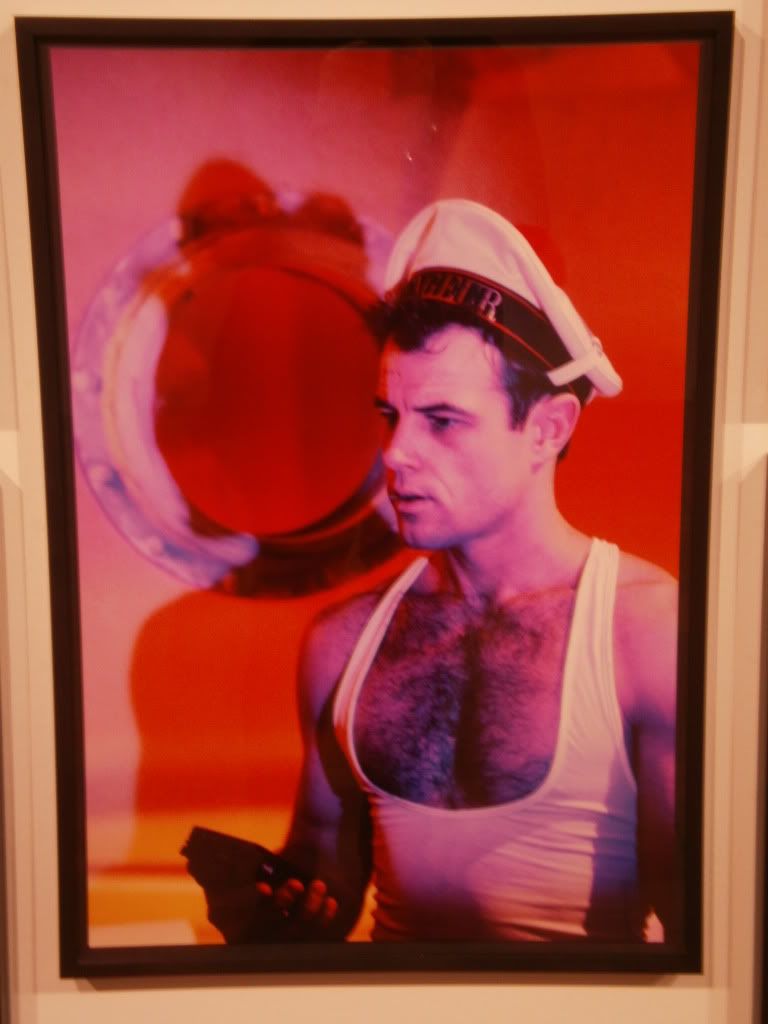 My most recent visit to Berlin also tied in with the city hosting its annual film festival, which is always a bit of a bonus. Apparently, Angelina Jolie and Brad Pitt were in town, although our paths never crossed, just as I never bumped into Madonna
, Joe Dallesandro and a host of others on previous coincidental sojourns. Maybe I'm going to the right places - well, possibly not with regard to the latter. Anyway, to get to the point, one highlight and probably tied in with The Berlinale was an exhibtion at the VeneKlasen Werner gallery (Rudi-Duschke-Strasse 26) of photographs taken on the set of Rainer Werner Fassbinder's cinematic adaptation of Jean Genet's novel "Querelle" which had been completed but remained unedited upon the director's untimely and sudden death in June 1982. Now, anyone familiar with myself or German Bite magazine will know that Fassbinder rates extremely highly in the pantheon so not calling in was never an option.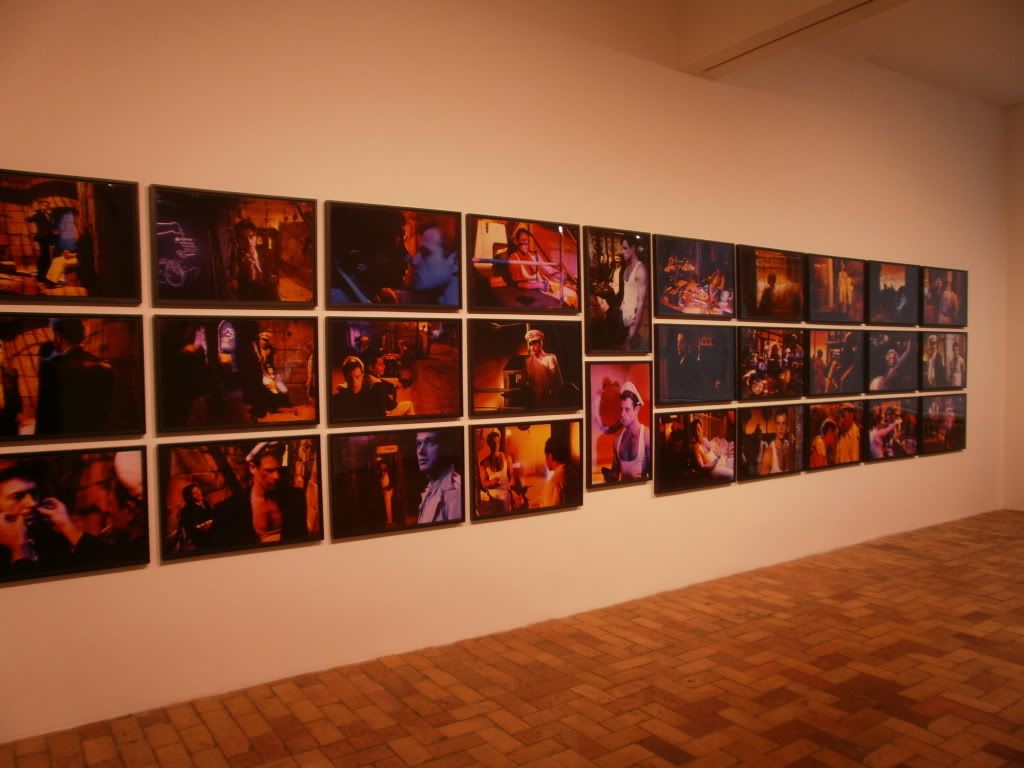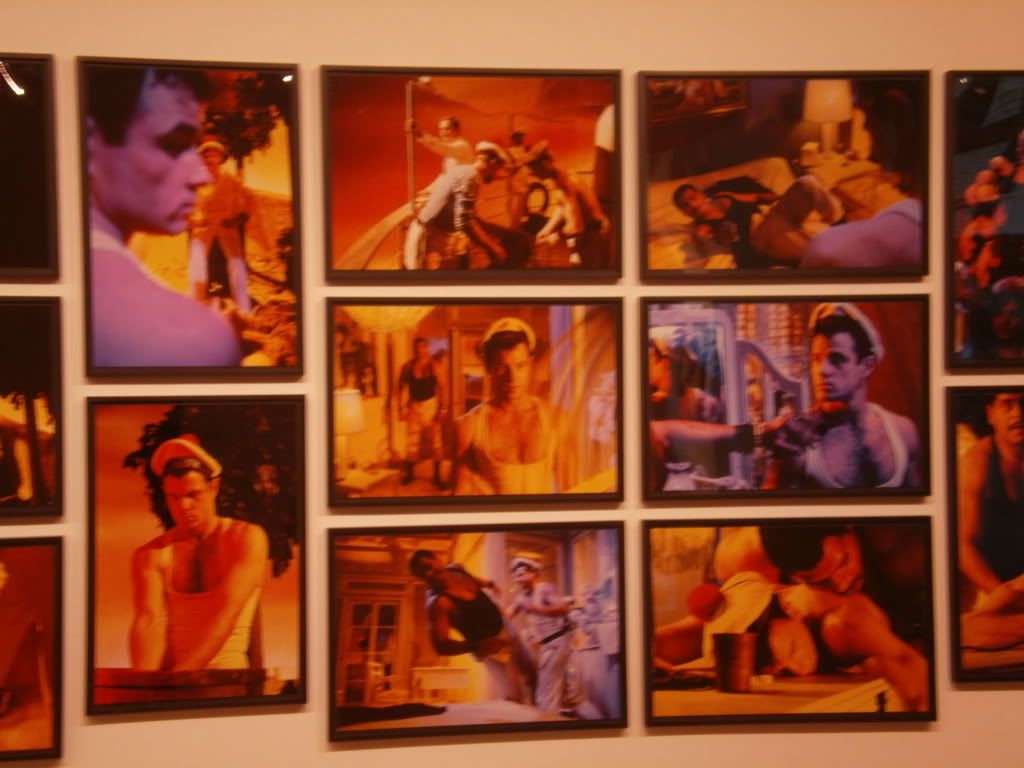 Well worth the visit it was, too, as along the very lengthy walls of

the three galleries ranged an enormous number of colour drenched photographs, uniform in size, although not always in dimension, many offering stills from the film, so many that its narrative could probably be retraced quite comprehensively by anyone familar with it and who had the time to be bothered, these also being peppered with occasional images not so directly recognisable from the final product. Superb they are, every single one I'd have quite happily brought away and hung on one my own walls, instantly bringing to life Fassbinder's unique, dark, fantasy vision of Genet's Brest, where the young, attractive Querelle has arrived by ship with a stash of opium, thus entering into a corrupting environment of perpetually smouldering male sexuality (and a tiny bit of female, too, in the shape of Jean Moreau whose cock obsession more than matches the men's at times), duplicity and betrayal, whispered intrigue and murder, all this played out on a wholly studio constructed set, complete with a plethora of phallic imagery, including bell-ended quayside masonry and walls smattered with cottage-style drawings and messages - one piece which made me chuckle read "Kilroy was here" or some such; maybe you need to be British to appreciate the joke. All this is then fantastically filtered through saturated tangerine and pinky blue hues, the stylised, artificial splendour of which I can only, off the top of my head, find parallels with in some of Kenneth Anger's oeuvre or maybe "Pink Narcissus", certainly nothing before or since which has had such far-reaching ambitions and a wide, international audience in mind.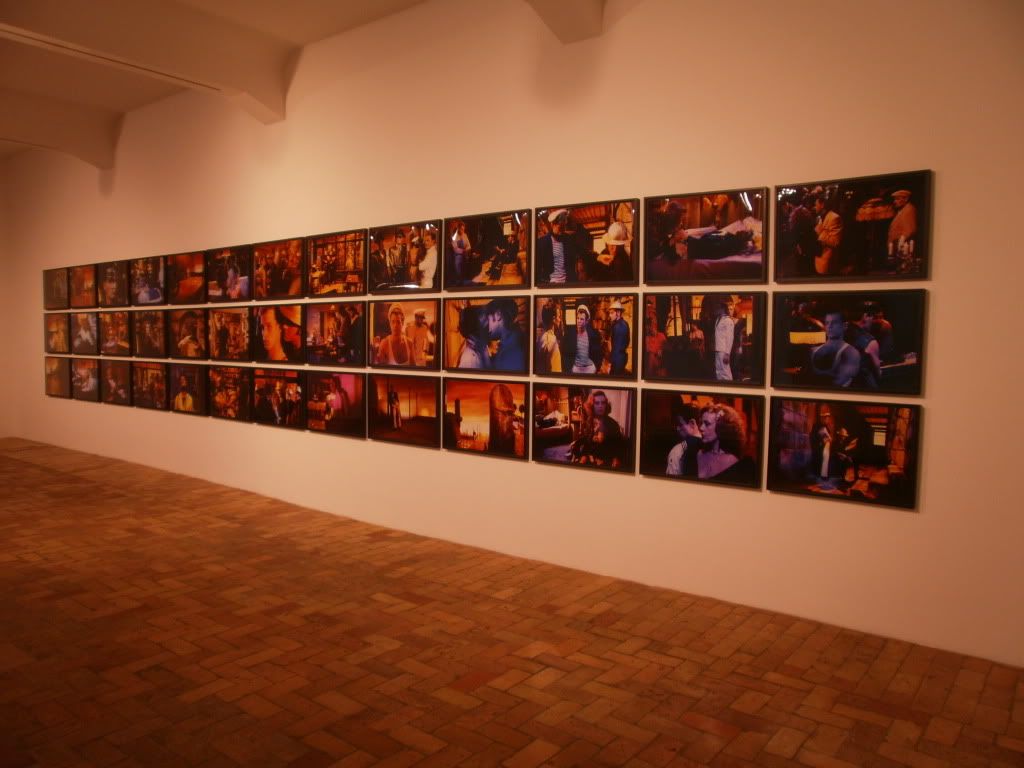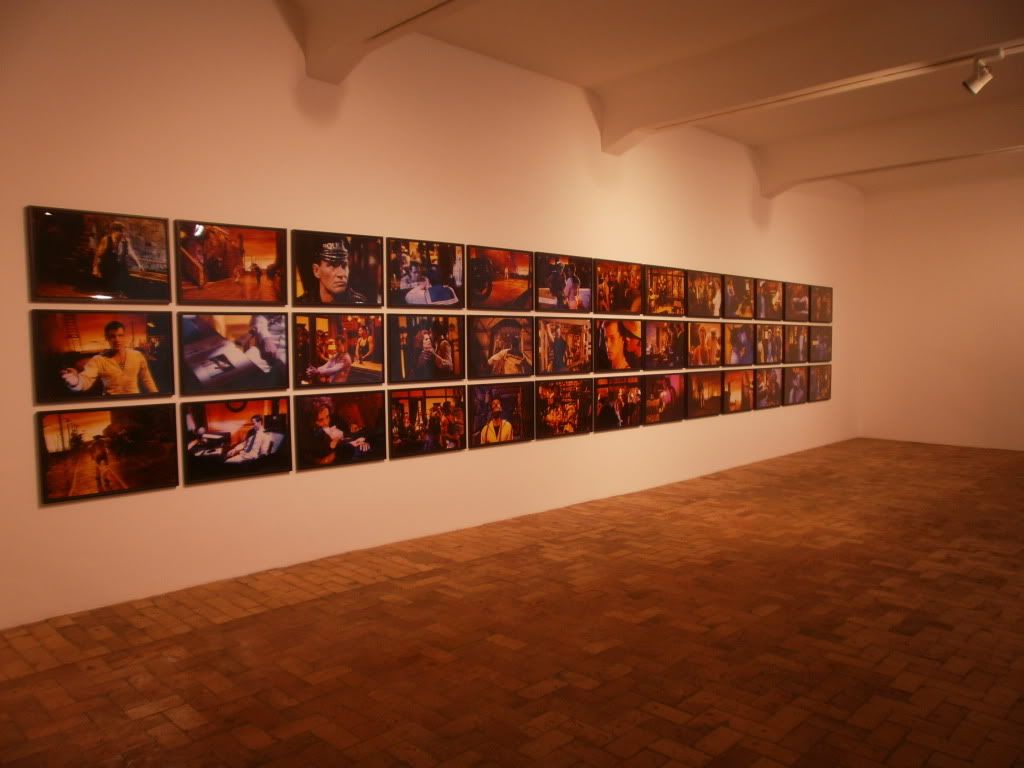 To almost top it all off and for those with a bit of time on their hands, in an equally capacious fourth space - quite fittingly a dark room at the rear of the whole shebang - they had constructed a small cinema where the film in its entirety was showing daily at 1400h. My travelling companions and I, being lucky like that, arrived just in time to catch the majority of it, even though we'd all seen it loads of times before but still enjoying the opportunity to relive favourite and familair elements: the iconic (I hate this word) image of Brad Davis in his pompommed sailor's cap, taut, scoop necked vest and matching white bell-bottoms; the game of dice he plays with man mountain bar owner Nono (played by Fassbinder stalwart

Günther Kaufmann

), the losing of which leads to him having to take it in the tradesman's as a "forfeit"; Jeanne Moreau at her finest, seemingly confined to the aforementioned smoked-glassed bar/brothel with its anachronistic space invader machines, singing lines from Oscar Wilde's "The Ballad of Reading Gaol" and reading her tarot cards, her final insight suggesting the whole film has been a figment of hers, somebody's, everybody's imagination; the very handsome, gentlemanly Franco Nero pacing around the decks of his ship, The Vengeur, privately recording his repressed attraction for the socially inferior Querelle into a tape recorder, whilst around him his queeny crew - including the late,great Frank Ripploh of "Taxi Zum Klo" fame, to keep the Berlin thread going - rather balletically pull on ropes or diagonal through the shot carrying out what look like pointlessly essential tasks;

Hanno Pöshl in the dual roles of Querelle's brother Robert, with whom he shares an unstated sexual connection, and the helmetted, side-burned Gil with whom he identifies because he has similarly committed a murder and who he says he will help to escapefrom the clutches of the police, because he fancies him, but ends up betraying with a Judas kiss; and Burkhard Driest (who also co-wrote the screenplay with RWF) in the role of Mario, the pock-marked police officer who looks more like something out of an early eighties New York S&M bar like The Anvil than someone from down the local cop shop with his leather cap and waistcoat. All of this is beautifully coupled with Peer Raben's perfect soundtrack, his contribution nearly always being an essential ingredient of a good Fassbinder film in my book.
Even better, though, at 1600h daily, they were also showing the rarely screened feature length documentary "The Wizard of Babylon", directed by Fassbinder's producer Dieter Schidor and featuring a lot of footage filmed on the set of "Querelle", as well as insightful interviews shedding light on the working relationships on set, a seemingly contented or possibly diplomatic Ms. Moreau who says she was enjoyed the whole experience, Brad Davis who surprised me with his campy, primadonna-ish attention seeking and Burkhard Driest who holds back nothing in expressing his displeasure at the way he has been treated by the director. Perhaps most interestingly, it also includes footage from Fassbinder's last ever interview, filmed just hours before he breathed his last and, as he lights one cigarette after another and speaks in a slurred manner which suggests that the dying process may have already begun, some of his words seem spookily prophetic, as he admits to seeing parallels between himself and his protagonist who has made a pact with the devil - as we know, Fassbinder made forty-three films in not much over a decade so that one of his repertory, Peter

Märtesheimer, I believe, once said, "he turned out movies like other people roll cigarettes." As is often the case, he died right on the cusp of major international fame, having received his first Golden Bear with "Veronika Voss" and enjoying the first tastes of having begun to break the American market, such as partying with the likes of Andy Warhol and Jackie Onassis, an imminent appearance of his fizzog on the cover of "Time" magazine and a developing chance of winning best director at the 1983 Oscars. I once read something where the writer drew parallels between Pasolini, who was murdered before "Salo" was premiered, and Fassbinder, the conclusion being that both directors had taken themselves to places of such intensity that careers beyond these points seem unimaginable. It's a very convincing argument.
Finally, by way of a souvenir, visitors could take away a little, almost pocket-sized booklet including a number of reproductions of photographs from the film and its set, as well as the rather fascinating facsimiles of correspondence dating back to 1978 between Dieter Schidor and other directors, Sam Peckinpah, John Schlesinger and Roman Polanski, which indicate that Fassbinder was in no way initially favoured for the role, even though I'd always thought that Genet's novel, along with

Döblin's "Berlin Alexanderplatz" and Fontane's "Effi Briest", represented a kind of holy trinity of texts which had obsessed him as a youngster and he saw himself as destined to adapt. The former very nearly took the bait, it appears, which would have made for a very different world, methinks.
Now, I was going to encourage anybody who reads this and is able to visit the exhibition to do so. However, I've just looked and seen that its rather short run finished yesterday which is a bit disappointing. Maybe it will crop up again somewhere else. If it does, I recommend it most highly. I got an awful lot out of my visit, including a desire to dust down a couple of my Genet novels.