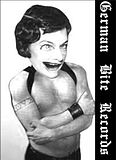 I've absolutely loved Leeds' Rent Boys since I very first saw them at one of their earliest gigs a couple of years or so ago, upstairs one night at The Cockpit in said city where, in front of a small gathering of friends and the occasional stray, they blasted through an already accomplished set - this was only their second gig, I think - with such absorbing energy as I'd not experienced for a very long time, if ever, perhaps. Although the music was clearly punk, garage, trash, whatever you want to call it, inspired, it was clear that Rent Boys already had an
ambition and intelligence which was going to transcend such labelling from their very outset. Although they sounded on the one hand fresh, spontaneous, absorbing and vital, it was also obvious that a good deal of thought had been given in advance as to how theirs was going to be a more textured, treated and developed sound than many of the bands with whom they've since played or with whom I've heard people try to compare them or pin on them as influences. I've seen their sound described in writing as "sexy sick garage noise" and "glam goth", both of which I like as they do capture a good proportion of what Rent Boys are about, but there's also something else there, something more experimental which goes beyond the confines of their conventional vocals, guitars, bass and drums line-up, something more extreme so that live I often forget they're a guitar band, as the overall effect can feel as though they're using pure electronics with the same intensity as certain Throbbing Gristle tracks, for example, whilst also bringing to mind people like The Birthday Party and early Jesus and Mary Chain much more so than US-style punkers or those of a more earnest bent who seem to be the flavour of the day en ce moment.
Quite a number of subsequent gigs have followed the one mentioned above, including at least two visits to Berlin where they've always gone down well, trips over The Pennines to Manchester and, more recently, Liverpool which has seen their northern audience grow apace, a recent nine date tour of France which got all the right Gallic tongues wagging, I believe, and several successful trips down to London, including an early gig at The Horrors' Cave Club in July 2010 and a more recent performance involving a bed, I was told, at home of the hipsters Glam Racket, all of which keep the invitations down to the capital rolling in. Plus, of course, they regularly turn out for the home crowd, the same faces and a few more appearing at every gig, as Rent Boys shows are always worth braving the cold for, not just for the music, but the whole event itself where these growing exhibitonists, who have a strong appreciation of the absurd and a lack of fear of being in touch with their feminine sides, put every effort into making each performance a memorable assault on all of the senses, most gigs being a kind of post-punk, idiotic gesamtkunstwek, if we want to get a little Wagnerian about it, but oh-so effective, affective and addictive, too. After a period of gigs at which monster-sized, polystyrene ball filled soft toys were thrown around like missiles through the shards of stroboscopic light which cut through the dry ice - said stuffing would then rain down copiously, leading to a room full of ruined drinks and a rather big cleaning up job for somebody at the end of the night - Rent Boys seem keen to take their shows in another direction now, whilst retaining the intensity and unpredictabiltiy of those that have gone before. Last Saturday at Santiago's in Leeds was no exception as, just before they launched into their first number, a sheet separating the audience from the all white, ultra-violet lit and dry ice enfused room in which they played was torn down to allow access to the band who, dressed all in white, heads covered, faces painted and wearing white sunglasses, appeared like a mad scientists, angels performing in the afterlife hybrid. The television studio from the original version of "Charlie and the Chocolate Factory" sprung to mind, too, somewhat. Somebody - was it the little Japanese art student, I wonder - managed to film it quite successfully, somewhat of an achievement amongst all of the chaos, although unsurprisingly some of the sound quality has been lost. My ears were ringing while Wednesday, as we say in Yorkshire. Here they are that night doing their debut single "Gang Love" which came out about a year ago on Sex is Disgusting Records, followed by a new, more melodic number interestingly called "Sod".
So, following two blisteringly pounding singles on other labels, - the aformentioned "Gang Love" and the more recent "XXX Communicate"(Death Pop) - conversations which probably stem back to that early gig in autumn 2009 and a little delay in production, German Bite Records is proud to launch iself with a new 7" single, "Shoot Your Shot". No, it's not a cover of the Divine classic, although it does share some of the same seedy aesthetic and a desire to heave people out of their seats and up to dance, but rather a record which is bound to delight those already familiar with the Rent Boys experience, albeit one that develops with each new release and performance, whilst no doubt bringing on board new recruits. Stingingly abrasive, whilst possessed of a wry intent to entertain, the single blasts out of the speakers like a nuclear spring-cleaning device, guaranteed to purge the room and its listener in just two and a half minutes. Flip it over and change the speed down to thirty three and a third rpm
and a much more spacious, dubbed out, trippy and diabolic Rent Boys can be heard on "I think...", one that brings to mind The Pop Group more than Die Electric Eels, whilst sounding nothing like either, and suggesting a band as eager to evolve and confound as they are to simply thrill and amuse.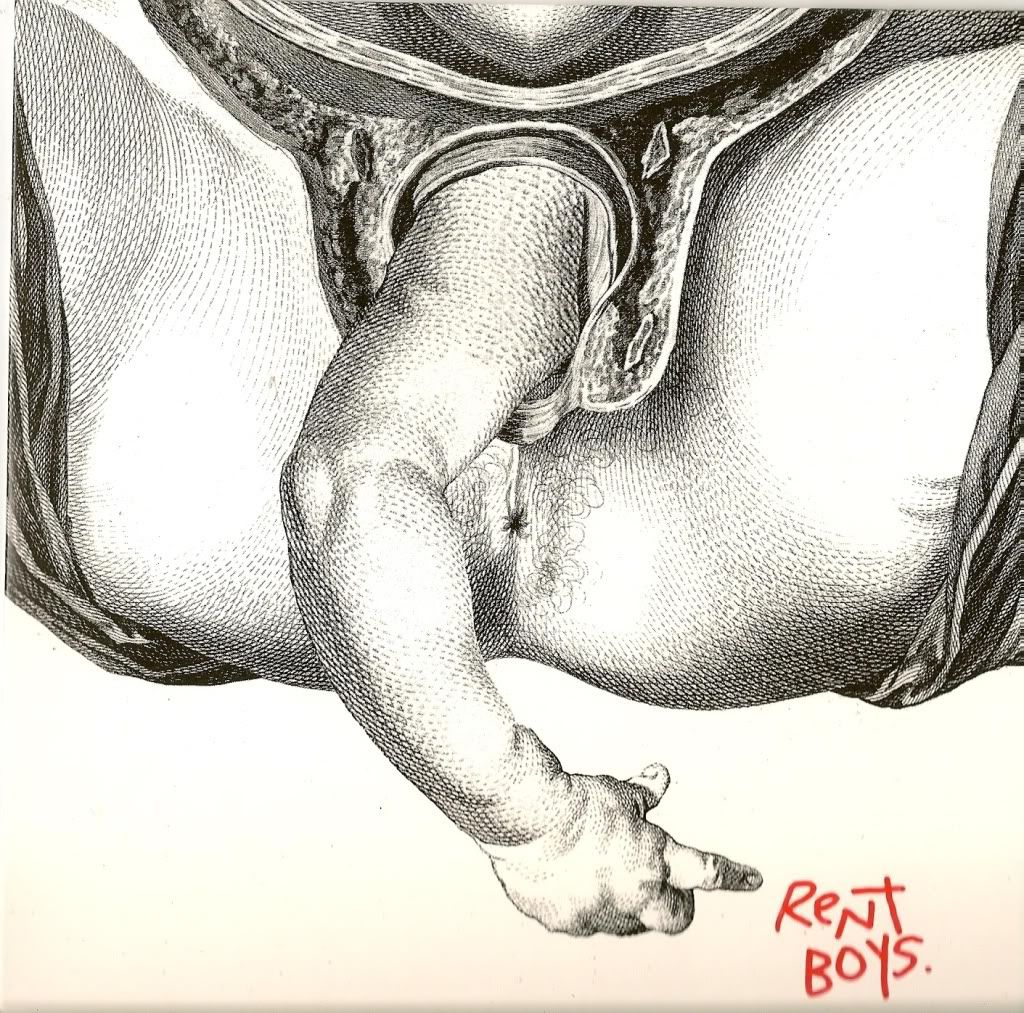 Already possessed of a record buying public extending across the Atlantic, throughout Europe and over to Japan, "Shoot Your Shot", limited to 500 copies on 7" only and each containing a unique, handmade insert, is guaranteed to continue to delight the discerning listener. Get yours now whilst stocks last. Why not be completist and try to collect all five hundred?
I'll keep updating this post with details of stockists but, in the meantime, if anybody wants a copy, let me know and I'm sure I can get one to you for £4 plus whatever postage and packaging works out to where you live. You'll have to be able to pay me by Paypal, I guess.
Here's the video they made for the single. It reminds me a little of The Bachelor Pad who were one of my very favourite bands of yesteryear.

Finally, before I go, I should mention that, unlike last time they played at Santiago's in September 2010 when the amazing Val Denham did the honours, Rent Boys were supported by Sniffs who are coming along extremely nicely, augmented by a new, handmade and extremely powerful oscillator, which looks like a landmine, and a couple of new tracks aired for the first time. Fingers crossed for BISS02 sometime later this year.

Copies are now available in Jumbo Records in Leeds and from Norman Records Mail Order. I've just sent some to Piccadilly Records in Manchester, too, so they should be out on the racks, too.