As well as those who had turned out to flaunt their wares at the film festival, another name hot on people's lips when I was in Berlin was Gerhard Richter whose
retrospective show "Panorama", staged to commemorate his eightieth birthday, opened at the Neue Nationalgalerie that week. It's the same one that finished recently at Tate Modern in London and, I believe, is moving on next to The Pompidou in Paris for the summer months. I'm quite a fan but had been unable to get down to London for it so was very pleased to spot it listed in Zitty magazine, deciding to go along and have a neb - as had half the city by the looks of the queues at the kiosk and the people milling around with carrier bags containing the catalogue.
I had quite high expectations as I waited to pay my eight euros to get in but, when I left an hour or so later, I felt rather disappointed with what I had seen, this partly being down to the crowds but also to the show itself. Over the years, I think I've probably been a bit spoilt by seeing more concentrated groupings of his work, smaller in number but more focussed in certain periods or genres, at places like The Lenbachhaus in Munich, The Museum-Ludwig in Cologne and, a few summers ago, at The National Portrait Gallery in London, and for this reason the panoramic nature of the Berlin show, as belied by its title, failed to click with me really. Richter's is a large and varied output compared to a lot of other artists and "Panorama", I suppose understandably, offers a flavour of this multi-facetedness, providing various smatterings rather than anything much to get your teeth into - early pop inspired works; the
smudgy black and white works from the sixties which were seemingly directly replicated from photographs and postcards in order to solve the problem of having to find a subject matter; the large, often multi-coloured abstracts, the production of which has often involved dragging the paint around with a squeegee and which can sometimes look like the works of a less controlled Bridget Riley; sculptures made out of glass and mirrors, which I must admit to almost walking past as though they were part of the furniture; endless paintings consisting of charts of little squares of colour; and the hyper-realistic, almost photographic paintings from the eighties and nineties such as the oft replicated "Betty"(1988) and the candle which appeared on Sonic Youth's cover for "Daydream Nation". I don't want to sound too critical of this exhibition. There was something there to please everybody, I guess, but I came away a little bit bored, feeling as though someone who can ordinarily arrest my attention had been presented in a rather anodyne, highly palatable manner, geared towards mass consumption for the polymathic, newspaper devouring classes and sales at the gift shop, which as mentioned appeared to be doing a roaring trade.
To counteract my slight dejection, I was delighted, therefore, to find out that his cycle of paintings "October 18, 1977" was showing across town at The Alte Nationalgalerie on Museum Island, these being amongst my favourite works by any artist ever and, ordinarily housed at MOMA in New York, usually feeling a little too out of reach, except for books and the internet.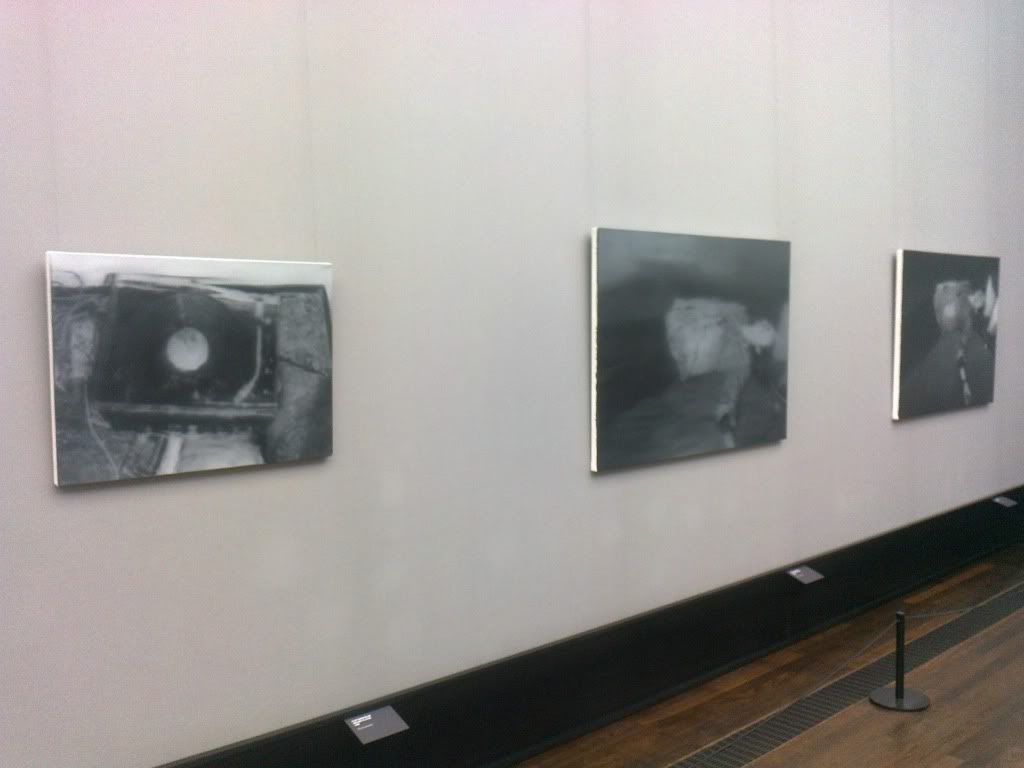 For anyone not familiar with them, the fifteen canvases, painted just over a decade after the occurence of the events that provide their subject matter, concern themselves with events surrounding the morning on which Red Army Faction members Andreas Baader and Gudrun Ensslin were found dead in their prison cells at Stammheim Prison, Stuttgart, and two further members, Jan-Carl Raspe and Irmgard Moeller, were also found dying or injured in their rooms, this having been explained by the authorities as a kind of suicide pact, although anyone reading around the events will see that many people believe that they were, in fact, murdered by the state they had dared to confront.
They're an extremely interesting group of paitings, in my view, not least because, like his work from the mid-sixties, which Richter seemed to have left behind by this point, they are copied from existing images, these related to the morning in question and events surrounding it, some of which would have been taken in the cells by prison staff and most of which, if not all, the German public will have been familair with through their appearance in the media. They also fall into interesting sub-groupings, with some of the canvases, in some cases practically reproductions of partners or in others more individual elements, forming clusters attached to different particpants in the drama. So, along one wall, there is a kind of triptych of portraits of Gudrun Ensslin, entitled "Confrontation 1" through to "Confrontation 3", cropped from photographs taken of her as she went to attend an identity parade at Essen Prison shortly after her arrest in 1972. She then appears again in a solo image, this one much more blurry and almost abstract on a first glance, as she was found hanging from the bars of her cell window.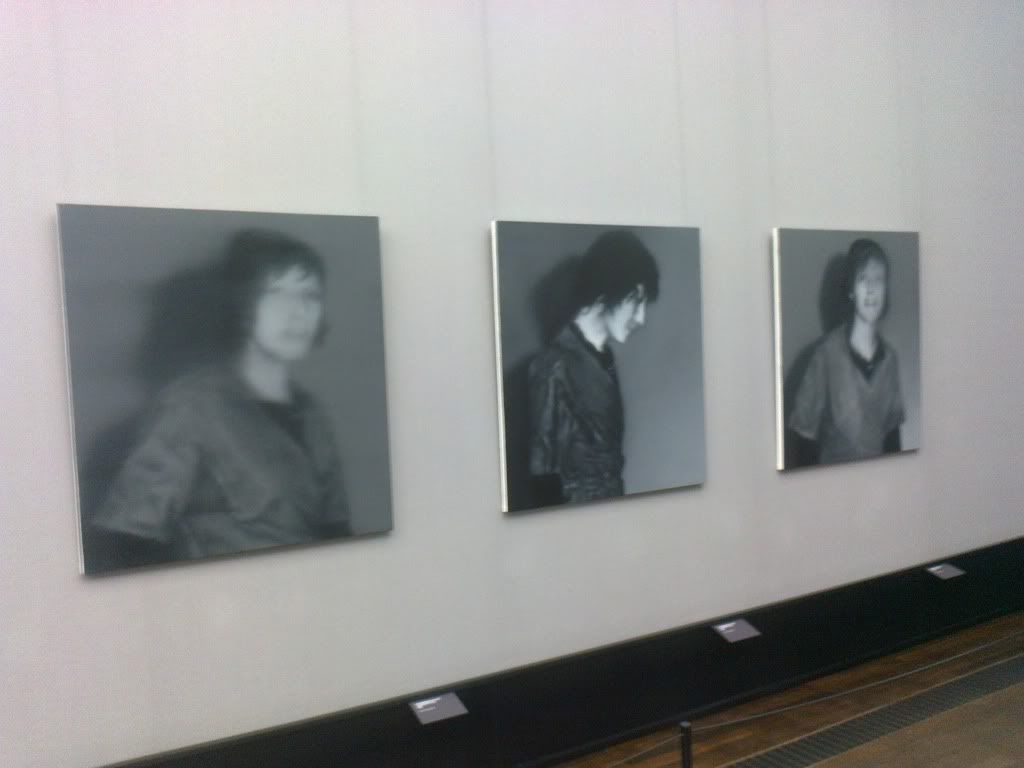 Another group of three almost identical images, all called "Dead", take as their subject matter the head and shoulders of Ulrike Meinhof, as she had been cut down by prison staff a year or so earlier, the rope which brought about her demise still being visible round her neck. As with many of the other images, Richter has done away with any extraneous detail and has focussed in unequivocably on his subject matter for maximum impact. Another image of Meinhof, entitled "Youth Portrait" and based on what looks like a school or college portrait, sits on its own near one of the entrances to the space in which the paintings are exhibited. Similar to Meinhof, Andreas Baader is depicted in two almost identical canvases, "Man Shot Down 1" and "Man Shot Down 2", these showing him lying dead on the floor, having shot himself in the head, a dark shadow around his head presumably being the escaped blood. Two accompanying images, "Cell" and "Record Player" give a silent record of how he passed his time incarcerated in Stammheim and the room in which he died. The latter would definitely appear in my very top paintings were I ever asked to draw up a list. Apparently, as well as providing entertainment, the record player also allegedly provided a hiding place for the gun used in bringing about his death. The final, less intimate and almost almost indistinguishable images depict outdoor scenes, two showing Holger Meins being arrested and made to undress in front of an armoured military vehicle and another equally blurred scene showing the massively attended funeral of those mentioned above, footage of which appears in the Fassbinder related film "Germany in Autumn".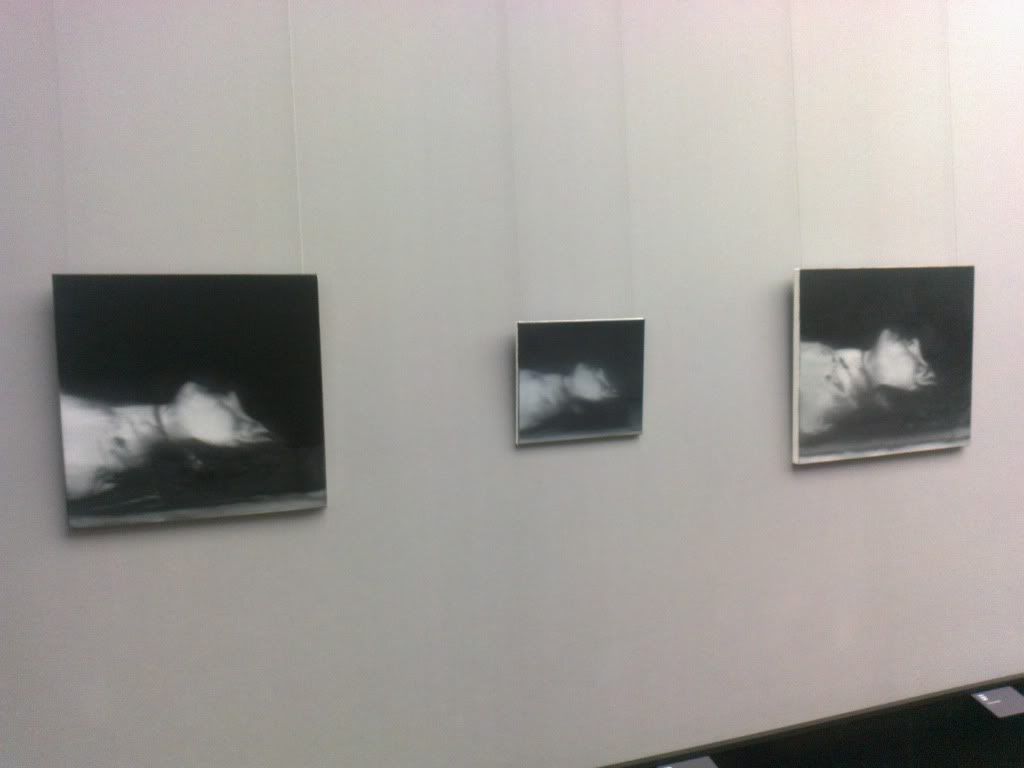 Another aspect which proves both fascinating and appealing about these paintings is their ambiguity, as they seemingly refuse to comment one way or another on what they depict, the individuals and associated scenes appearing objectively and unsentimentally as faded, blurred ghosts from German history, the already familiar nature of most of the images further adding to their confused purpose. The feathery lack of clarity in their presentation also raises unanswered questions, too, with regard to Richter's intentions. Is it a comment on the lack of certainty regarding the perpetrators of the deaths, something which will presumably never truly be known but will remain contested, or maybe a manifestation of the lack of commonality and certainty in people's attitudes towards The Red Army Faction, their intentions and actions? Also, why are some images more blurred than others?
As far as I know, Richter has never commented on his intentions but the paintings seem to have a lot in common with other earlier works such as "Uncle Rudi"(1965) which factually, but similarly blurredly, reproduces a full-length photograph of a presumably beloved relative in Nazi uniform, "Aunt Marianne" which reproduces a family snapshot of a relative who was murdered as part of the Nazi's eugenics programme or paintings from the same period of allied and German bombers, which re-present unsettling, almost taboo aspects of national history back to the viewer whilst refusing to overtly comment. A group of smudgy, simplistic yearbook portraits of student nurses who were murdered in their dormitory, also from the sixties, seems to do a similar job and draw parallels with some of Warhol's grittier works such as his race riots, electric chairs and car accidents. In this respect, too, the exhibition's placing, in a space within the old national gallery usually populated with scenes of national heroism, packs a similar ambiguous and ironic punch.
This exhibition runs, I believe, until May and comes very highly recommended. I walked round and round in a small circle for quite a while breathing it all in and then felt quite odd as I drew myself away to have a quick look round other highlights of the gallery ( Arnold Boecklin, Lovis Corinth, Max Slevogt, Max Liebermann et al) before going to meet a friend.