Billie Ray Martin is somebody who never fails to fascinate and who, over the last twenty years or more, has kept reappearing with one project or release after another of invariably high quality and impeccable style. Whether it be her clutch of hits with Electribe 101 which blended a sophisticated electropop with Chicago house beats as the 1980s morphed into the nineties, her powerful dancefloor cover of Throbbing Gristle's "Persuasion" which she produced with Spooky in 1993 (The Chameleon Mix is simply amazing), her monster worldwide hit of 1995 "Your Loving Arms", the 2003 Hot Skates 3000 single "No Brakes on My Rollerskates" (This time the stand out mix is by S-Express man Mark Moore), her "Dead Again" 12" of the same year, "Je Regrette Everything" the track on which she collaborated with DJ Hell in 2005, last year's "Sweet Suburban Disco" single with a brilliant remix by good old Vince Clarke or her more recent reworkings of Cabaret Voltaire's "The Crackdown" and "Just Fascination", anything she releases is guaranteed to be worth sitting up and taking maximum notice of, all combining her richly soulful voice and thoughtfully sequenced electronics which often point cleary towards the dancefloor, albeit somewhat more subtly in some cases more than others. It's no wonder she's been dubbed somewhere as "The Queen of Electronic Soul".
The Opiates, one of her most recent projects, on which she collaborates with the Norwegian musician Robert Soihem, is no exception either and is probably, in my opinion anyway, one of the very best things she's ever done and that's coming up against some pretty stiff competition. They first appeared about three years ago with a four track 10" EP titled "Anatomy of a Plastic Girl" after its lead track and which featured the addictively danceable "Candy Coated Crime" which first drew me in and, like so much of what she does, I presumed after all this time that it had been yet another one-off collaboration in her ever expanding canon. But no: they're back with a new EP, "Rainy Days and Remixes", featuring "Anatomy of a Plastic Girl" remixed by Chris and Cosey, and a full album "Hollywod Under The Knife" which is phenomenal from start to finish. It's barely been out of my player over the last two weeks, doing battle for prime position with the fantastic S.C.U.M. album which can't be praised enough either. Recorded in her city of origin, Hamburg - I wonder if she knows three of my other favourites: Andreas Dorau, Holger Hiller and Felix Kubin.Wouldn't it just be lovely if they were all friends? - and coming accompanied by a sleeve and booklet featuring photographs by swishy Turner Prize winning photographer Wolfgang Tillmans, the nine tracks (plus an extra, gloriously elongated version of "Candy Coated Crime") are shining examples of why many people have come to love her, beguiling lyrics populated by a series of isolated, introspective, deluded or downright mad personas and characters over bubbling, pulsing electronics, all this combining, in places quite cinematically, to create gorgeously evocative atmospheres and moods.
On one track "Silent Comes The Night Time", the urban heat is so tangible that one can practically feel it wafting in through the gap in the curtains from the darkness outside and on another "Rainy Days and Saturdays" the feeling of gloomy ennui, the result of an empty day spent alone with no company but self-analysis, is horribly infectious. Elsewhere "Reality TV" is an absolute gem, too, its poppiness and unashamedly brash, astringent synthiness making it sound like the fifth single Yazoo should have but never did release and "Oprah's Book of the Month Club (Part Two)", "Jalousies and Jealousies" and "Anatomy of a Plastic Girl", as is the case with the track just mentioned, weave tales of rather unsuccessful, hollow celebrity aspirations, as is belied by the album's title and also somewhat obliquely reflected in Tillmann's accompanying images. It's a total masterpiece, albeit one that looks likely to be almost totally overlooked.
When I was in Berlin a couple of weeks ago, I was delighted to see that they (she) were performing as part of the "Kometenmelodie" club night at The Kantine am Berghain. So, armed with tickets we'd picked up the day before, myself and a companion walked rather confusedly through the pitch blackness of a Friedrichshain night, towards a rather desolate seeming dead-end where we then followed a series of dimly flickering lights across some scrubland, a bit like a secret trail laid out for those willing to put a bit of effort into their initiation, until we reached the quite busy venue hidden in what seemed like an unpopulated rather dead, industrial landscape.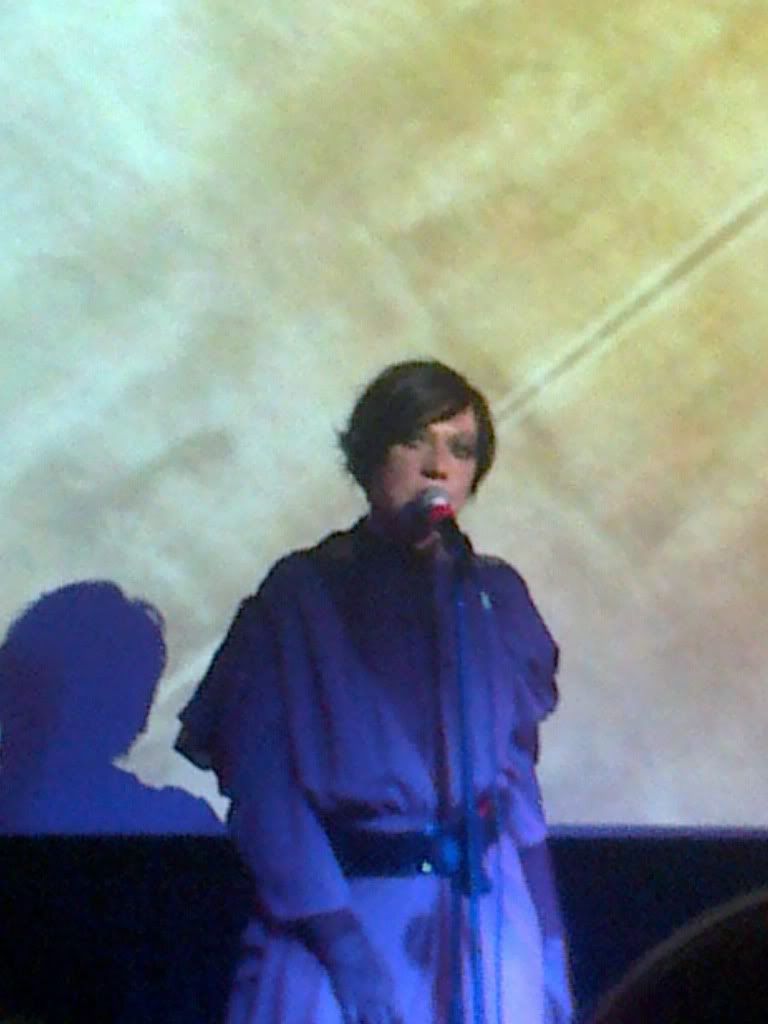 When she first arrived on the quite dimly stage, illuminated mainly by film projections which towered above her, and kicked off procedings with the aforementioned "Reality TV", which also served as one of the encores, too, she had quite long curly hair which came as quite a surprise as I tried to work out when she'd had the time to grow it since I last saw a photograph of her. However, as song number two, "I'm Not Simone Choule", unfolded, accompanied by scenes from Roman Polanski's 1976 film "The Tenant", things became a bit clearer. I'd not previously twigged when I got the 10" single but Simone Choule is the previous inhabitant of Polanski's character's apartment and the person who he slowly becomes in his mind, the wig Ms. Martin was wearing picking up on his transformation and the whole theme of personas which runs through the album, as well as looking a little like the curly mop sported by Isabelle Adjani in the film, although in her case accessorised with googly Sunnie Mann style glasses, as she appeared on the video sceen applauding and encouraging Monsieur Trelkovsky/Mademoiselle Choule as he jumped not once but twice from his high up tenament window onto the glass canopy and hard courtyard below.
Then, off came the wig in the very best Fuggerstrasse tradition - she didn't smudge her lipstick up her cheek, though - and a more recognisable Bille Ray Martin, having called up to the stage anyone else in the room wearing a wig, completed the set with a much more familiar appearance. Flanked on the right-hand side by Roi Robertson of Mechanical Cabaret, who was providing the musical accompaniment in the absence of Mr.Soihem with the aid of a laptop and a rather covetable little Jen synthesizer, she then worked her way through practically every track on the album, all accompanied by very effective short films, one specially for each track, until the climax in the form of a stunningly long version of "Candy Coated Crime" which morphed temporarily into Donna Summer's "I Feel Love" at one point, our heroine rising more than admirably to the challenge. My companion was beside himself as, in fact, probably was I. It was extremely good. Here's a couple more pictures of her and a couple of clips filmed a few days earlier at London's Bear Pit, which sounds a brilliant place, and the HMV Store on Oxford Street.