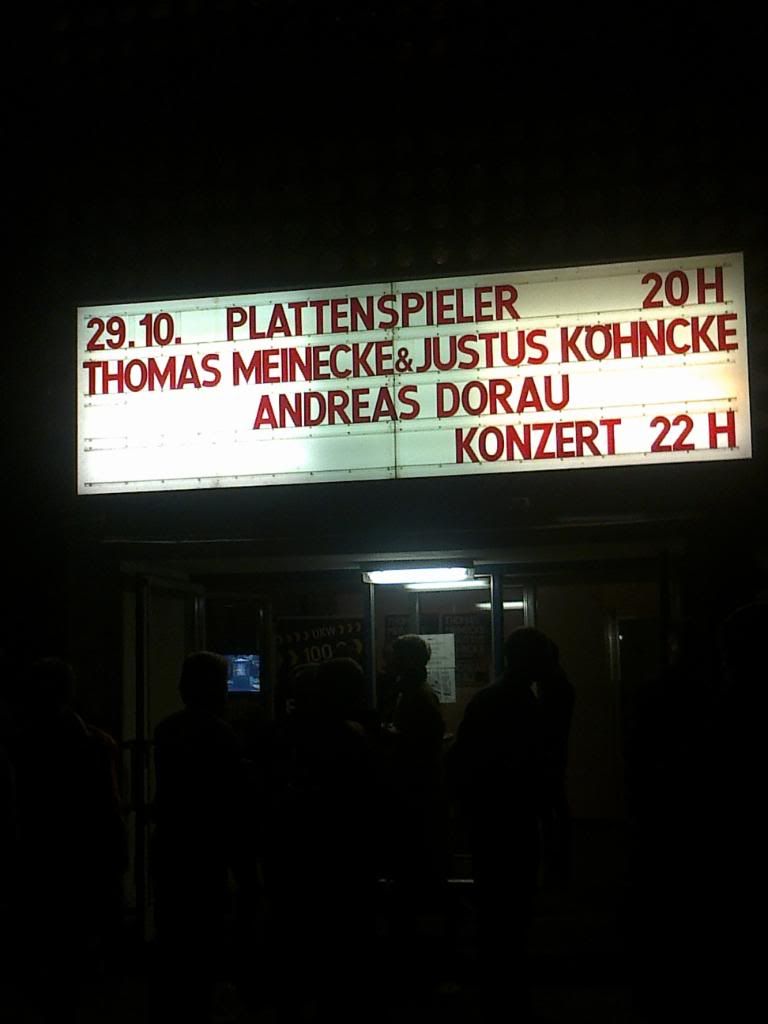 Regular readers of this blog will have seen me mention Andreas Dorau on a couple of occasions previously and most noticeably when his latest album "Todesmelodien" was released early in the summer and I posted a rather rushed review with some initial thoughts. They'll also be familiar with the fact that he's someone I think is wonderful and whose career I've followed quite closely for the last couple of decades and more besides. My excitement, then, when I saw that he was playing in Berlin on a Saturday night will come as no surprise. Given that the chances of him ever coming to perform in Britain are so slim as to be practically none, I got straight on the blower to the box office of the Hau 2 theatre in Kreuzberg to bag myself some tickets and then the Lufthansa website to organise some travel.
It was worth every penny, too, as he was absolutely astounding, much better than I could ever have dreamt. Dressed in a dark suit with black tie, funeral attire to pick up the death melodies theme of the album, this outfit also being worn by the jolly drummer and laptop maestro who accompanied him, he was like a hyper enthusiastic dynamo as he danced energetically around the stage, a bit like someone's uncle or best man at a wedding reception, delivering slightly manic renditions of favourites old and new.
There had been an event on prior to the performance, "Plattenspieler", where his mate Justus Köhncke and Thomas Meinecke had been playing some of their favourite tunes to what looked like quite a packed house. When I peeped round the door they were playing Burt Bacharach's "What The World Needs Now Is Love" with the cover of "Portrait in Music" projected on a large screen above the DJ decks. As this overan slightly, it was about twenty minutes past the advertised time of 2200h when a new set of people and a dog - I kid you not; it lay on the floor and watched the show as its owner danced circles around it - entered the hall and within five minutes Herr Dorau and band were on the stage and launching into a version of "Inkonsequent" which must have been approaching double the speed that it is on the album, at least it seemed that way, maybe I was over excited like almost everybody else in the room by the looks of things, Wolfgang

Müller's lyrics being delivered much more forcefully and boisterously than in their recorded context. And this set the tone for the bulk of the next hour and a half or so as he followed this with an amazingly lively rendition of one of the highlights of "Todesmelodien", the electro disco "Und Dann", which almost raised the roof only minutes into the set, the scene resembling and sounding like a crazed acid house happening. Down near the front people were going completely crazy, the manicness of their dancing something I've not seen for a very long time and this only escalated when track number three, an old "hit" "Das Telephon Sagt Du" from 1994's "Neu" album kicked in. Meanwhile, the centre of attention bopped and marched around the front of the stage, all this achieved through the help of a long microphone lead, as he leaned over close towards his audience, first at one side of the stage, then the middle, then the other, practically rasping out the words and letting out cheers of encouragement in a manner which clearly betrayed his post-punk origins and the pleasure he was deriving from playing to such an enthusiastic crowd. He moved so quickly, in fact, only the flickering strobes slowing him down, that it was almost impossible to capture a picture of him that wasn't blurred and here's some evidence.
The rest of the set then comprised most of the livelier moments of the most recent album, highlights being the two lead tracks - I guess they would have been singles in more innocent and better times - "

Größenwahn" and "Stimmen in der Nacht", and these were accompanied by "Es War Hell" and "Gehen (Baby Baby)" the second of which had his German fans singing along with such joyous abandon that's rarely seen these days. He's clearly a bit of a hero to quite a lot of people other than moi which begs the question why he hasn't had more mainstream commerical success aside from his 1981 Die Doraus und Die Marinas hit "Fred Vom Jupiter" and 1997's "Girls in Love" which I believe made the top ten in France. This latter track was also included and although partly delivered almost acapella when a lead from the laptops stopped working temporarily it barely mattered as everybody in the room knew how to fill in the gaps admirably. "So Ist Das Nun Mal" from this album also featured favourably, too, as did "40 Frauen" and "Im September" from 2005's "Ich Bin Der Eine Von Uns Beiden". Then, after two encoures, the final song, a surprise in the form of "Nordsee" from his debut "Blumen Und Narzissen" album, perhaps a clue that he was about to disappear back to Hamburg, was performed, the drummer who had looked like he had been having the time of his life swapping his sticks for an acoustic guitar for the finale. It was absolutely fantastic and he must have been completely exhausted by the end of it - I'm feeling a little fatigued just reliving it. It's no wonder he had to disappear at one point for a few minutes, leaving the rest of the band on stage whilst he presumably nipped to the toilet or for some refreshment.
Finally, I must make reference to the stage dressing, too, which consisted of a panelled screen behind the drummer, a banner in front of the table on which the laptops lay, a large canvas suspended from the ceiling and a large cutout in the foreground, all decorated with cartoon paintings of dead musical heroes, again picking up on the idea of "Todesmelodien". At one juncture he tested the audience's knowledge of who they depicted, affirming and/or correcting their suggestions: Karlheinz Stockhausen; John Cage; Nico ("oder

Christa Päffgen"), Jacno ("aus Elli und Jacno oder Stinky Toys"), Divine and Peter Christopherson ("aus die Gruppe Throbbing Gristle") featuring amongst them. It all makes such complete sense; four of these feature quite highly in my pantheon, too.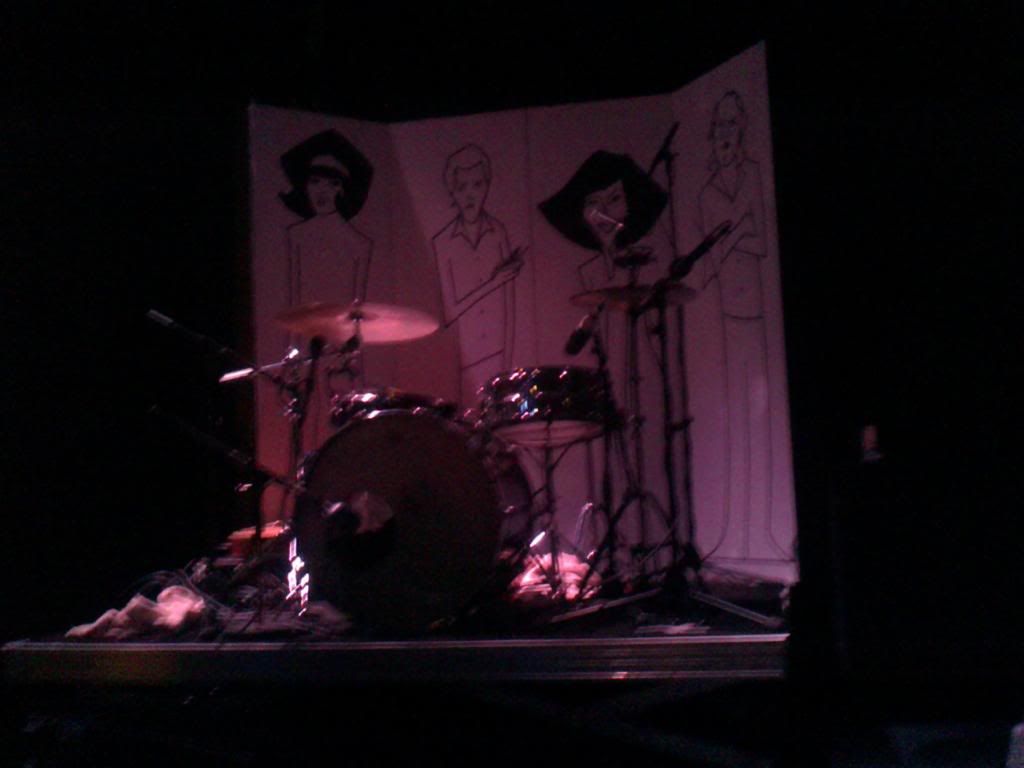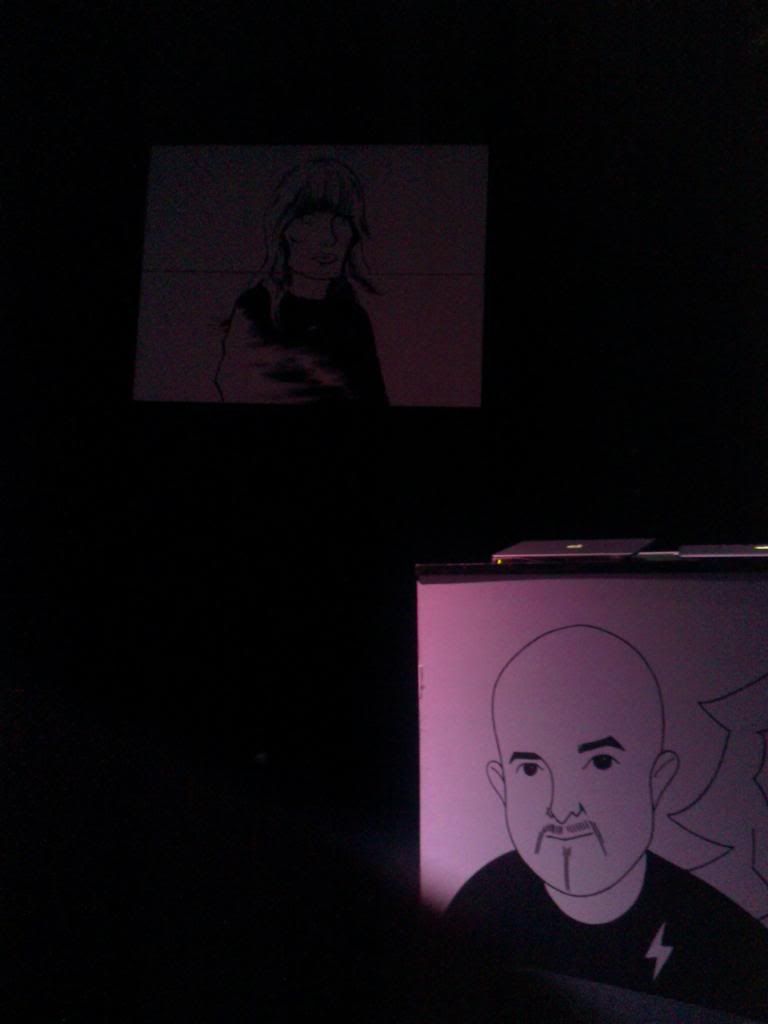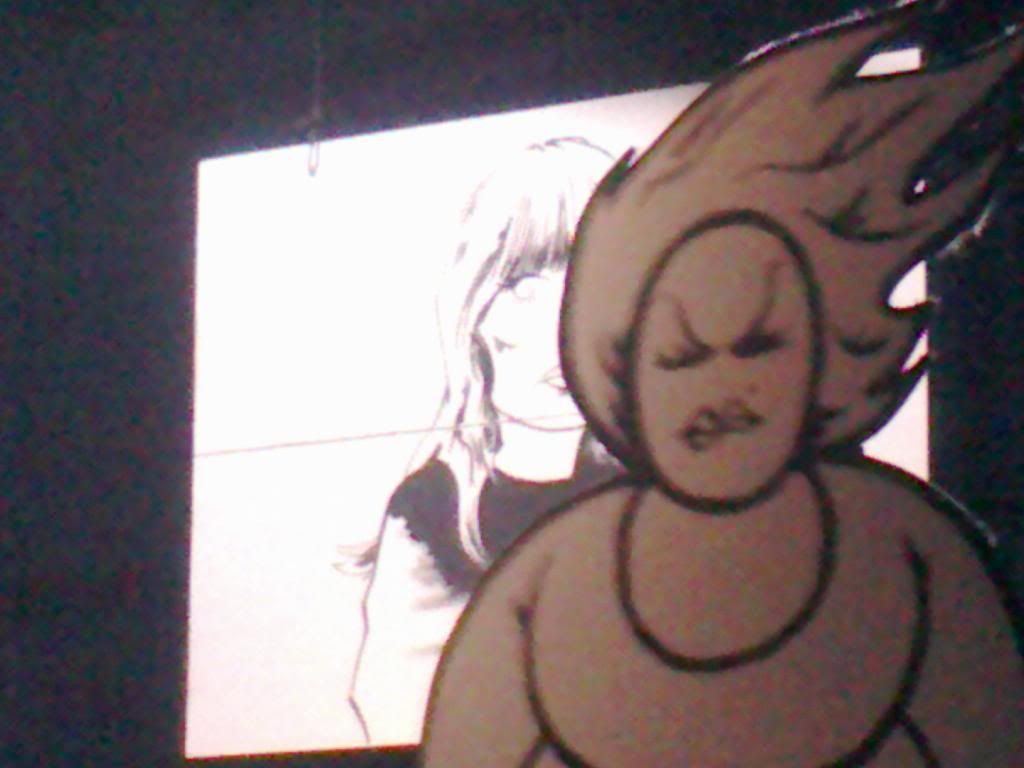 Andreas Dorau - what a brilliant man and what a brilliant concert, one of the highlights of my year, if not my life, if I want to get a bit over the top, which I think I might well do, actually.