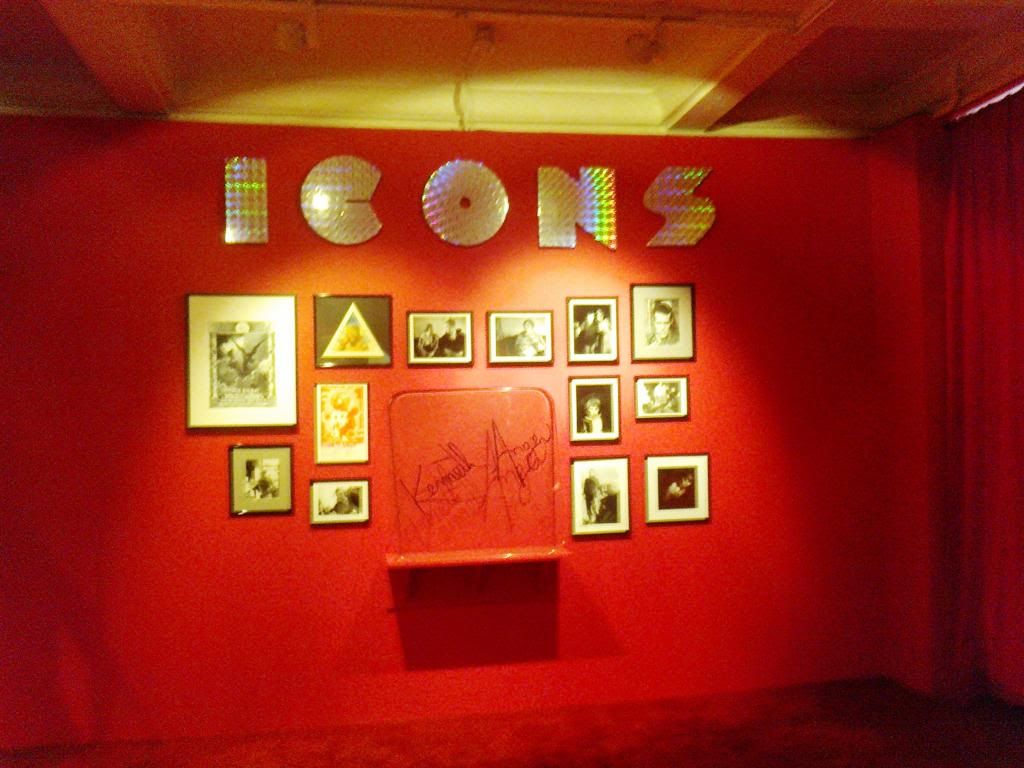 I had a few days down in London last week, catching up with people and getting round to see some of the brilliant exhibitions currently showing. Alongside the Kurt Schwitters retrospective at Tate Britain, my twin highlight was a small two room collection of filmmaker/artist/writer Kenneth Anger's memorabilia at the Sprüth Magers Gallery, just round the corner from swishy Cork Street and upmarket Berkeley Square in Mayfair.
According to the press release, this is Anger's second outing at the gallery, the first from three years ago having focussed more on his filmic output than this one which, alongside a peppering of exhibits related to his own work, ostensibly collects together photographs, newspaper clippings, scrapbooks, letters and paintings assembled and archived over the decades by the man himself. Unsurprisingly, these reflect his notorious fascination with the Golden Age of cinema and the film industry which informed his entertainingly scurrilous "Hollywood Babylon" books, a much more rewarding read than any dullard celebrity mag of our own epoch, and which dates back to a time when, as a young boy, he used to visit film sets with his costume designer grandmother and he allegedly played the role of the Changeling Prince in Max Reinhardt's 1935 celluloid version of "A Midsummer Night's Dream".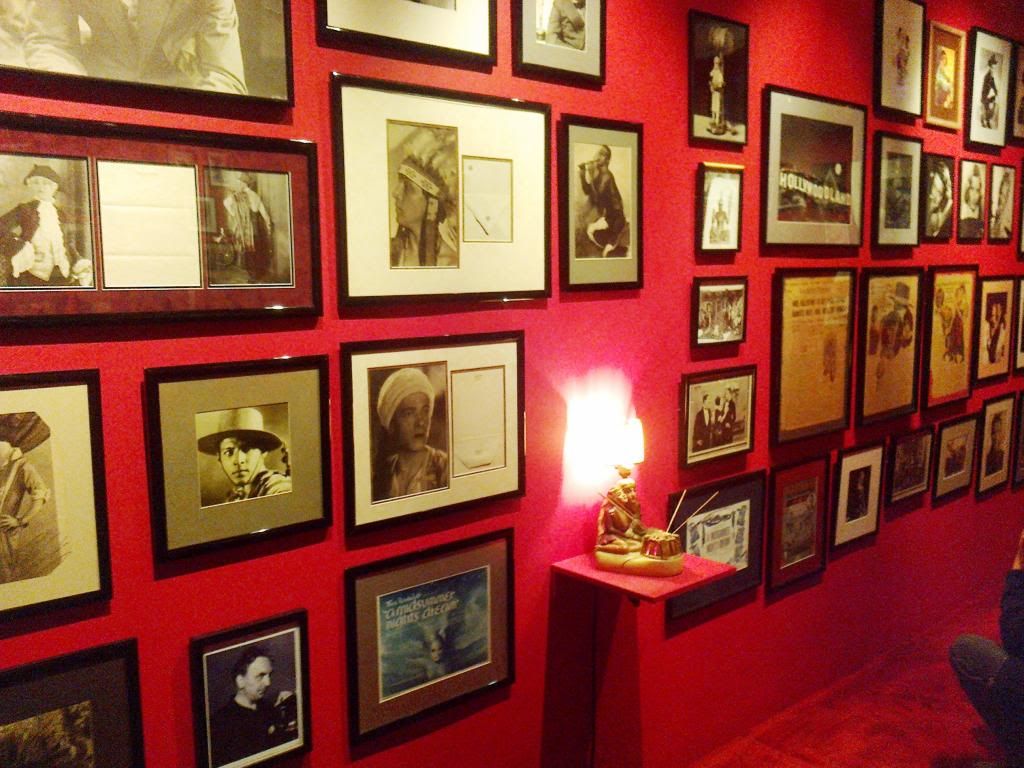 Like so much great art, Kenneth Anger's oeuvre is a double-edged one, the films being visually beautiful, often balletic and poetic, whilst also frequently feeling dangerous and subversive at the same time, the books doing a similar job in turning over the glamorous gemstones of Hollywood superstardom who are the subject matter at the tip of Anger's pen to reveal a simultaneous, less public underside of decadence, desperation and squalor. This is the mood of the exhibition, too, as before the bell is even pressed to gain admittance, the black painted shop window front presents the visitor with a plush red curtain, closed and shrouding the contents of the gallery from external view, this overlaid by the artist's signature boldly emblazoned across the window in gold, all combining to connote that a hidden and slightly sinister world of luxury and celebrity lies beyond. The feeling is also a bit like arriving at a theatrical undertakers, perhaps in an episode from the sixties Batman television series or a Vincent Price film, where some kind of fantastic sideshow mystic will offer dubious insight into an exotic world of non-everyday experience. This superb impact must be an intentional one as it sets the scene highly aptly and in a showmanly fashion ready for what lies beyond the adjacent doorway, a few steps up from the pavement and its pedestrian (no pun intended) world of parked-up Boris bikes.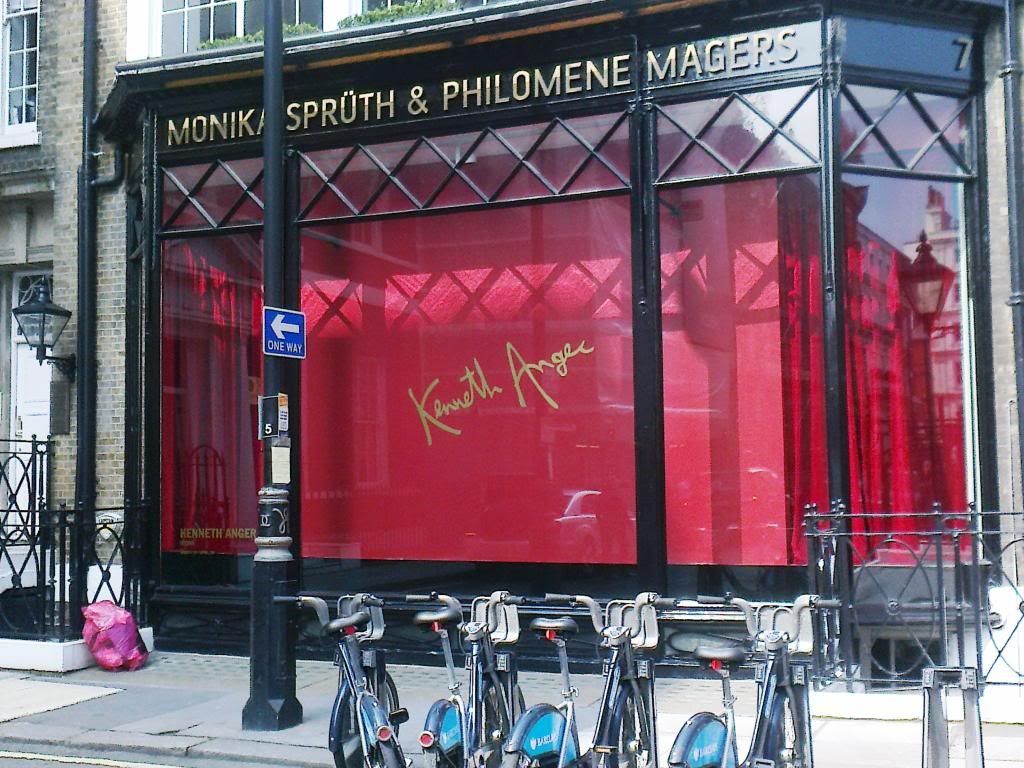 Once inside, the rooms into which no external, natural light is permitted are contrastingly painted and equally theatrically, one midnight blue and the other crimson, to reflect the way the collection was displayed in Anger's Los Angeles home, this also creating an ambience both reminiscent of a plush funeral parlour and an occultist's den. On the walls are mainly displayed old publicity photographs of gods and goddesses of the silent age and early talkies, all uniformly framed in black for maximum dramatic impact, these complimented by their letters and frayed, dated newspaper reports, mainly from the 1920s, which detail their public exploits. In amongst images of people like the bullwhip-toting cowboy Lash Larue, his signature insciption alluding to his obvious trademark, Bette Davis and Barbara Stanwyck, screen lothario Rudolph Valentino is the obvious star of the first (crimson) room as he appears repeatedly along one wall, both photographically and in print. As anyone who has read the short chapter about him in the first "Hollywood Babylon" book will know, his reputation and story was one that has especially fascinated and fed the imagination of Anger, this resulting from his powder wearing effeminacy and the scandal caused when other young men influenced by his stardom followed suit, his questionable virility and alleged preference for dominant female partners which led to him more than once marrying those of more inverted proclivities and his mysterious death at the age of thirty-one, officially from peritonitis - or was it arsenic poisoning at the hands of a jilted lover, a bullet from the gun of an irate, cuckolded husband or the effects of syphilis reaching the brain which brought about his premature shuffling off? Add to this the cod fascist, black-shirted guard who stood watch by his open coffin, the black lead, autographed Art Deco dildo he gave as a present to fellow cinema idol and "close friend" Ramon Novarro, this apparently serving as the weapon used to murder its recipient decades down the line, and the reactions of distraught fans following his death, suicides abounding and a mysterious Lady in Black who took flowers every year on his anniversary to the mausoleum where he was laid, and the appeal becomes obvious. The rather more forgotten and, therefore, obscure twenties screen beauty Billie Dove is also a rather unsettlingly ubiquitous presence here, through publicity shots, newspaper clippings under glass and, most strikingly, a few examples of the rather unaccomplished yet vaguely ominous (perhaps only because of the context in which they hang) paintings, mainly portraits, that she produced following her early retirement from film stardom. These reminded me a little of those you see of vengeful, dead relatives in horror b-movies whilst also emanating a similar vibe as the creepy "The Lady With Crying Eyes" painting to which Joe Meek apparently attributed so much significance. This is especially true of a saturated blue depiction of a clown, at once both hopelessly kitsch and rather uncanny.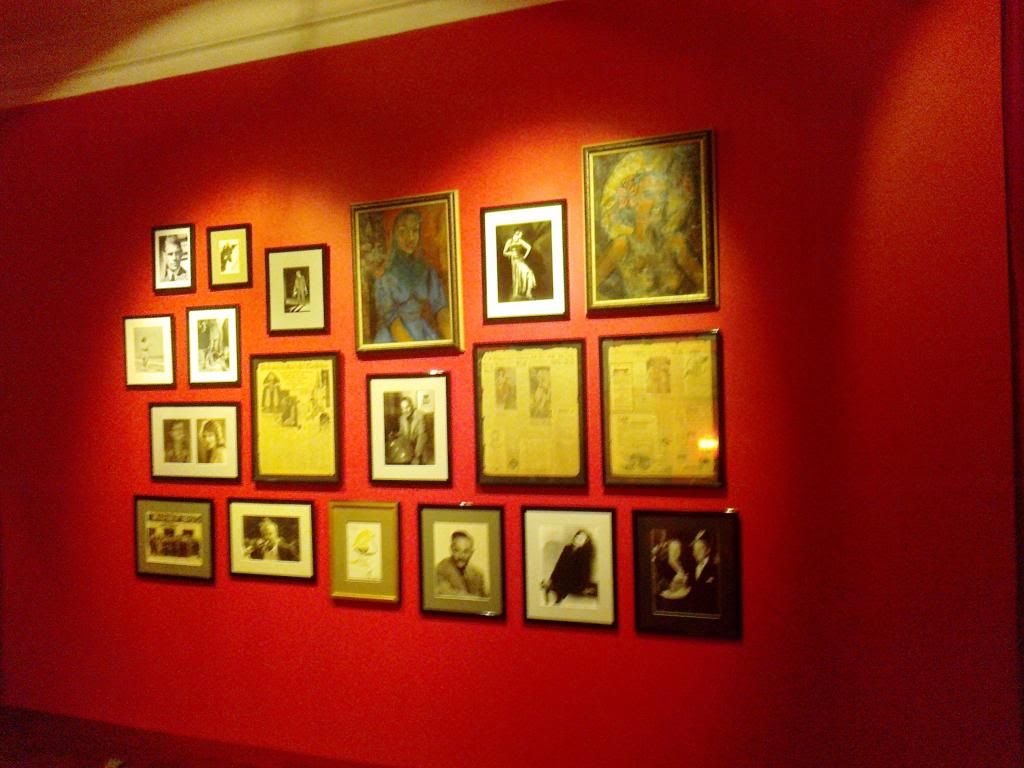 In the midnight blue room, the theme shifts somewhat, a little away from the collection, although this is still much in evidence, and a tad more towards the man himself. Although there is less to look at, the ambience darkens with the colour scheme and a bier-like glass cabinet sits along one wall, this containing assorted ephemera including items related to Anger's films, such as a rather covetable t-shirt featuring The Scarlet Woman from "The Inauguration of the Pleasure Dome". Compared to the crimson room, the walls here are more sparsely decorated. In one photograph the director stares out at the viewer, hands stuffed in his trouser pockets, in the background an Egyptian style poster for his film "Lucifer Rising", similar to the one in the first room of the exhibition. Beside him is a photograph of the exploding Zeppelin airship, perhaps alluding to his friendship with the "diabolic" Jimmy Page. Diagonally across from these, the wall is dominated by a set of neon Hollywood Babylon lips, perhaps dating back to the 1970s, although maybe later, as I believe a similar set or perhaps these exact ones were used as the logo for his last London exhibition. Anyway, they add a further fairground sideshow aspect to an otherwise slightly otherworldly ambience.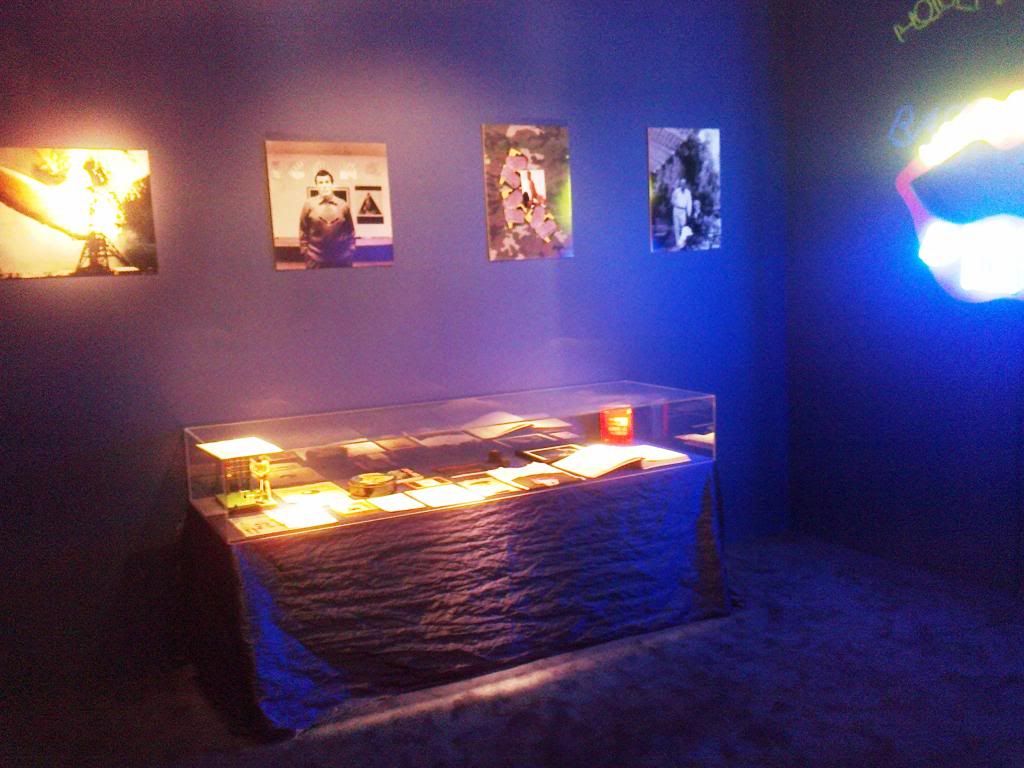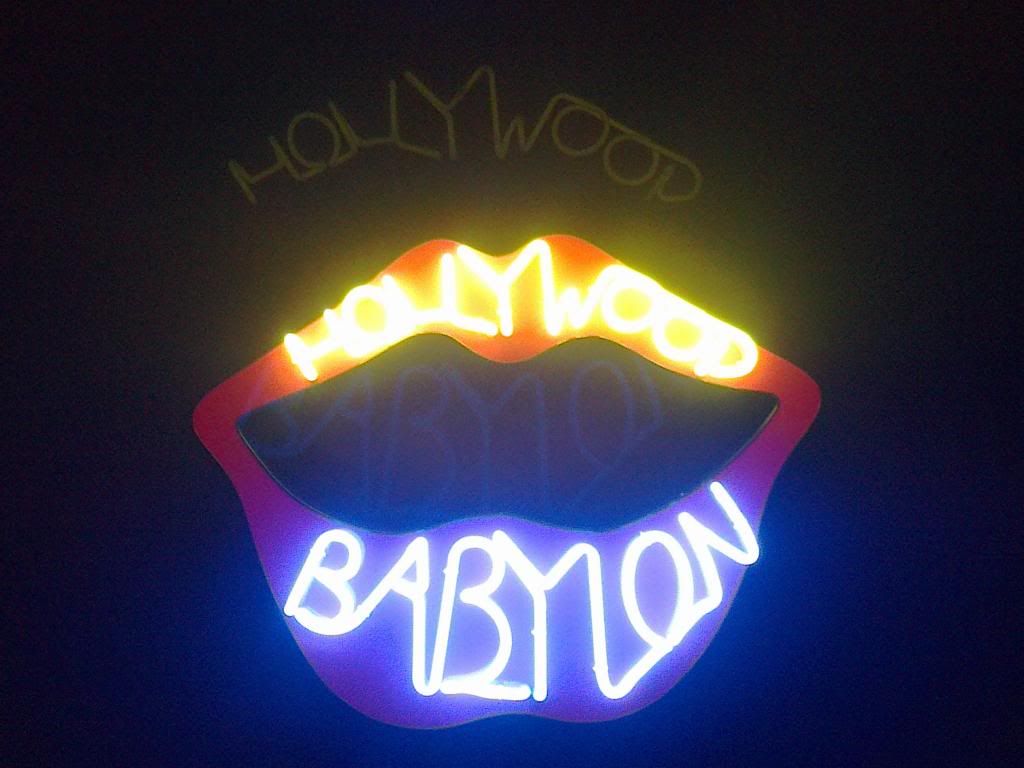 As often happens with these things, I've visited towards the end of the run – see the "Querelle" photography exhibition in Berlin – and this one now has less than a week left before it closes on, I think, 20th April. If anybody reads this in the meantime, though, and is in London, it comes with the strongest of recommendations. If not, I guess it may travel. It has already done a short stint at their Berlin branch earlier this year, prior to coming to London. Maybe it will move on somewhere else. According to the schedule on their website, they have a Kraftwerk exhibition on in Berlin, too, throughout the summer so they seem to be a window on which to keep an eye.