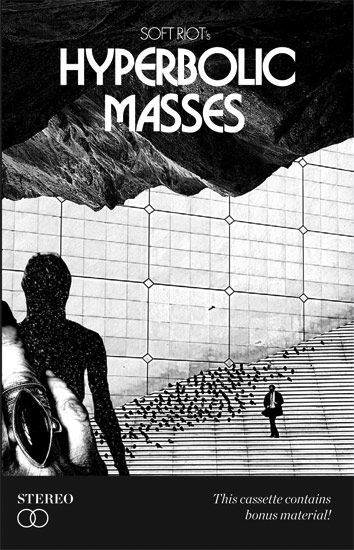 Soft Riot have been mentioned on here a couple of times now without receiving any of the individual attention they deserve. So, it's an enormous pleasure to now say a few words about their recently released cassette album, "Hyperbolic Masses", a copy of which passed into my hands a few weeks ago. I'm mightily pleased it did, too, as it's truly wonderful.
I used the word "their" above when, in fact, I should say "his" as Soft Riot is a one-man band in the form of Canadian, but living in London, JJD (Jack Duckworth, would you believe?) who, he says on his website, has been doing band things for a decade and a half, "starting off in the mid-nineties in North America's vibrant art-punk/hardcore underground through to the revival of synth-based post punk music just over a decade or so ago."

Again, cribbing from his website, it says that Soft Riot initially functioned as an occasional studio project amongst his other activities until rising to prominence early in 2011 with their first release, this soon followed by the earliest examples of the Soft Riot live experience which, unfortunately, I'm still to catch but which sounds to be rather a spectacle with him commanding no less than three synthesizers, on-stage mixing and various effects, all accompanied by what is enticingly described as "atmospheric on-stage lighting".
The sound he describes as, "drawing inspiration from synthesizer-based film soundtracks of yesteryear, drones, early EBM, minimal wave, a bit of synthpop and a heavy dose of throbbing arpeggiated rhythms," thereby creating, "a science-fiction heavy sound that narrates the listener through today's fractured post-modern world with hints of black humour," and this is a pretty good summation or distillation of what's to be found on the eight tracks which comprise "Hyperbolic Masses", four on each side, just like in the good old days.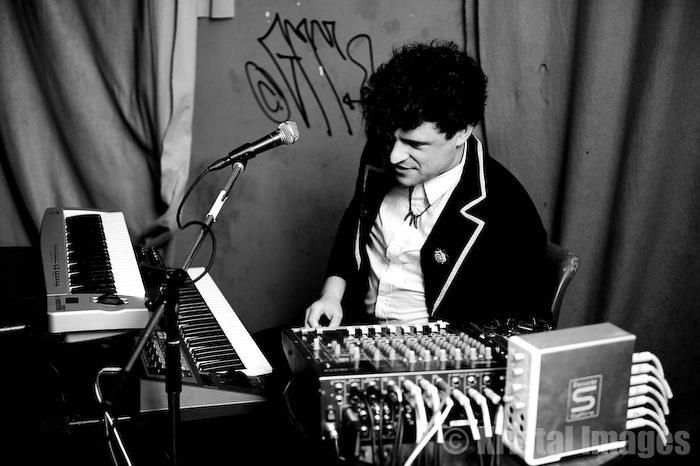 So, with that description, my job has been done for me already, by the look of things, although a quick trawl through some of the tracks will hopefully add to what's been said above. These start with "Another Drone In Your Head" which I believe was released as the lead track on a recent E.P. or something. I get very confused with all this MP3 download culture. Anyway, it begins, rather unsurprisingly given the title and lyrical content, with a bit of a drone before a stately, crunching rhythm starts up, this supported by a pounding, confident bassline over which a vocal, almost conspiratorial in delivery at times, and swathes of more strident electronics slash across and weave in and out of the audial field. It rather reminds me of Cabaret Voltaire during their transitional phase in the run-up to their leaving Rough Trade and making the move to Some Bizzare/Virgin around the end of 1982. They're quite an influence I would imagine as track number two, "There Just Isn't Enough Time", an accomplished, rather funky and propulsive number with whip crack beats, bubbling electronics and punchy, rhythmically delivered vocals sounds like it would have sat very comfortably on their 1983 album "The Crackdown".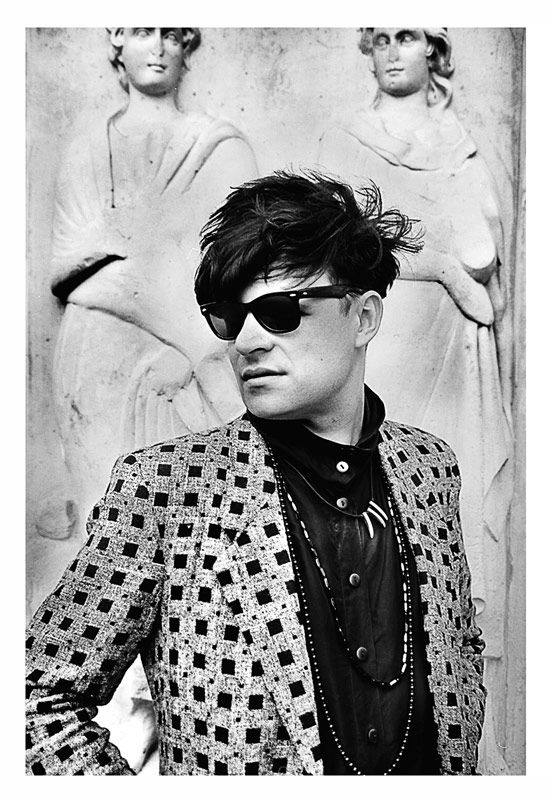 This isn't to say that JJD's music is totally derivative of its forebearers, though, as it still has a very contemporary feel to it rather than sounding like it has been lifted directly out of the eighties, as well as a well-crafted poppier element which is definitely the case with the track just mentioned and the one that follows, "You Can't Please Everyone". This is probably my stand-out track and, I believe, would have made a fantastic single in the days when these things mattered. The fact that he's made a video for it probably belies an intention that it be taken this way, too. It begins quite gently but ominously with eerie, science fictiony chords, a bit like Dopplereffekt on their "Myon-Neutrino" single, but soon develops into a much more layered, sophisticated and quite wistful entity which puts me in mind of people like The Associates, Blancmange and Depeche Mode at their most thoughtful and yearning. "Write Yourself Into The Void" which ends side one, aside from a short excerpt from "Jubilee" with Jack Birkett in the role of Borgia Ginz opining about his rise to power, does so in a similar vein of highly engaging, unobvious and textured electropop.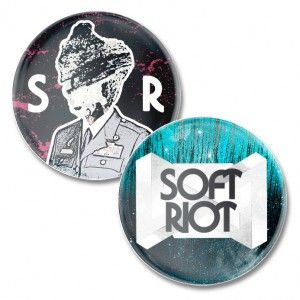 Turn it over and Side Two is equally impressive, "Some Abstract Terror", retaining many of the qualities of the two songs that ended the first side with the track that follows, "You've Got To Use It", being moodier, more sequencer based and reminiscent of what used to be called funky alternatives in some quarters during the early to mid eighties; people like D.A.F., Hula and Cabaret Voltaire (again!) spring to mind when listening to it, although it directly apes none of these. "Do Less" which comes next seems to have a foot in both camps as it pulses and pricks along like a kind of cinematic, dance-orientated pop number and then proceedings end with the rather dystopian soundscape of "How Can You See Them?" which again brings the starkness of Dopplereffekt back to the table, as well being reminiscent of things like Throbbing Gristle's "E-Coli", the S.P.K. track "Genetik Transmission" from their "Leichenschrei" album or German Bite favourite Fad Gadget on "Arch of the Aorta". It's a perfect, minimal palette cleanser after the richness which has preceded it.
The cassette which contains some previously released material, as well as some being outed for the first time round, is intended to act as a bridge to forthcoming new material and, maybe for this reason, comes in a hand-numbered limited edition of seventy five copies, each with an individual download code for those who haven't got a cassette player or the means to transfer from it to their Ipod, MP3 player or whatever it is they use. The download does, though, come in an impoverished form compared to the three-dimensional object, and rightly so, as it does not include the additional incidental music and film extracts which segue one track into another on the physical release. I would, therefore, strongly recommend getting one whilst they're still available from www.softriot.com as the inlay card informs the purchaser that these tracks will never be released as this collection again. And why is it a cassette rather than a record or a CD? On his website, JJD explains all, this basically boiling down to ease and cost of reproduction, durability, physical interaction and sound quality.
I wish I'd written this piece a few days earlier now, as he's just been on a bit of a jaunt around the continent with Noi Kabat, taking in Berlin, Budapest, Vienna and Prague, plus possibly Brussels and Leipzig. However, they played their final date last night, I think, so I can't encourage anybody living in any of these places to go out to see them. I think there is another tour being lined up for later in the year, though, possibly with Lebanon Hanover whose track "Die World" has been given a rather radical Soft Riot "Ice Cave" remix.
I think we're going to hear a lot more about Jack Duckworth and Soft Riot in future. I certainly hope so as he's a real talent deserving to be recognised. He does rather brilliant surreal collages, too, which remind me a bit of John Stezaker in places and which act as a perfect visual compliment to the music. So, he gets a double thumbs-up from German Bite.