According to Curt Vile in "The Gadget in the Twentieth Century", a five page A4 photocopied biography sent out by Mute Records at the end of 1982, "Frank Tovey, back in the late fifties and early sixties, was a pretty funny kid. He even won an award for it once, an award provided by a trust fund set up by eccentric millionaires who realised that pretty funny kids were a vital part of our nation's heritage. In 1962, Frank Tovey was made "The Pretty Funniest Kid Of The Year" and was given a hula-hoop, a Davy Crockett hat and a whole litter of nodding dogs." However, as the story goes, this early notoriety was short-lived because "In '63, Tovey lost his title to a manic-depressive eight year old who looked exactly like Lana Turner, despite being of the male gender."
A much more probable account of his childhood, though, is that Francis John Tovey was born in London's East End in 1956, his father, with whom he shared his Christian name, having a shellfish shop in Bow, where the young Frank used to work on Saturdays in order to save up to buy his first musical instruments, a flute, a violin and an electric piano. However, as he told Steve Taylor of "The Face" in December 1980, these early forays into musicality were none too fruitful : "As soon as I'd learnt three notes, I'd get bored and give them up," his experiments with the electric guitar proving to be the most disastrous: "I got bored with that, too, took it to bits and connected it up to an amp and some speakers. I blew the lot up."
In Tovey's obituary from "The Independent" newspaper, for the man died suddenly and tragically in April 2002, Pierre Perrone writes of him growing up "obsessed with Marc Bolan, David Bowie, Lou Reed and Iggy Pop", in addition to which, an old school friend, Michael Vale, talks elsewhere of the pair of them avidly listening to John Peel in their youths, picking up on the new, experimental German bands such as Amon Düül, and it was this passion for left-field pop and beyond

which led to Frank joining a few bands during his teenage years. In line with his attempts to master musical instruments, though, the outcomes were not to prove happy ones. "Everyone wanted to play like real musicians" he complained to Steve Taylor, whilst a more tempered version of events was provided in an interview with "Smash Hits" in February 1982: "I tried to learn guitar but never got beyond two or three chords. I just couldn't play as well as many other others could play and I couldn't sing as well as I'd like to either – I just didn't have much confidence in my voice. It was then that I started experimenting with tape loops and things – out of pure necessity. But I gave it all up when I was 16, at which point I discovered the art of mime and ways of expressing myself without using my voice."
And so, temporarily putting music behind him, Frank Tovey enrolled at St. Martin's College of Art in 1974, progressing to Leeds Polytechnic the following year in order to pursue a degree course in Fine Art, where he was apparently the only student in his year group who specialised solely in performance. Curt Vile, though, provides an alternative version of events, as he states: "Several worthwhile citizens who were acquainted with Tovey during the period are prepared to swear under oath that (he) spent the years 1975 to 1978 in Sicily, jumping out of birthday cakes clad only in a g-string at private Mafioso functions. Cleverly, he left a trained dog named Oscar to impersonate him...There are even rumours that the real Frank Tovey died horribly in 1977, foolishly climbing into a cake before it had been cooked rather than afterwards." He does, however, concede that the masquerading dog enrolled at Leeds, according with this aspect of the story, and Marc Almond, who studied on the same course, but in the year below, remembered his presence there when writing his autobiography "Tainted Life" a couple of decades later: ""There were others putting on performances, too. One of them was Frank Tovey, who went on to become Fad Gadget and made a number of albums for Mute Records. Frank's one-man shows were mime-influenced (having studied with Lindsey Kemp), suitably dark (underlit, usually) and disturbing (nudity, sexual swear words, simulated sex – you know the sort of thing)." Another fellow student at the time was Hugo Burnham of The Gang of Four, with whom Tovey struck up a friendship, and in these circles he also came to know another Leeds band, The Mekons, allegedly lending them his tape recorder so that they could record early demos which they then sent on to John Peel. Music, therefore, was not entirely relegated to the background in Leeds and, in 1978, Tovey had another go at forming a band, this time called The Fans, with some Poly friends. However, this again proved to be a short-lived affair with Frank wanting to move on to pursue something a bit more experimental than their standard 'pop-punk' approach.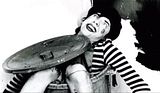 Graduating that summer, Frank Tovey then returned to London, where he took up casual labour in a bedding warehouse whilst he and his girlfriend, Barbara Frost, lived in shared accommodation which included amongst its other tenants Edwin Pouncey, who would go on to become a successful music journalist, as well as a celebrated cartoonist/illustrator under the alias Savage Pencil. And it was in this cramped environment that the musical exploration that would lead to the earliest Fad Gadget demos took place, Tovey having to work and record inside a small cupboard due to lack of space. "When I returned to London, I set myself up in this small cupboard within a council flat. A lot us shared the flat, so the only space I could find was inside the cupboard, where I had a cheap electric piano, a little drum machine and a cassette recorder," he explained to the Smash Hits journalist, whilst Steve Taylor in "The Face" got the gory details : "I could just get my piano and tape recorder in there. The only trouble was I couldn't get enough air in, so by 11 o'clock at night I was getting really dizzy and realised I was starting to suffocate." One of the early songs which emerged at this time and went on to become a Fad Gadget favourite was "The Box" which evokes these claustrophobic surroundings and the nausea and panic they seemingly brought

on, Tovey weaving them into an equally oppressive, impressionistic narrative populated by an anonymous man and accompanying dog. Would you call it Kafka-esque? "Let me out. I can't stand the dark anymore," he repeats throughout the song in ever increasing degrees of intensity until it then reaches an abrupt climax and "crash!" it finishes. Other songs dating from this period include embryonic versions of "Back to Nature", "State of the Nation", "Coitus Interruptus" and "Salt Lake City Sunday", all of which would find their way onto early Fad Gadget releases. These demo versions, however, which are a little primitive compared to their final realisations, finally came into the public domain themselves a few years ago, as part of the "Fad Gadget by Frank Tovey" two CD and two DVD box set issued by Mute, and they serve as already quite accomplished indicators of the individual and experimental tendencies that Tovey was beginning to gestate.
Housemate Edwin Pouncey was suitably impressed with what he heard seeping out into the wider community, later going on to state that "Frank was doing these extraordinary things in the cupboard where he was performing on an ironing board using the most primitive equipment," also stating that this was probably partly inspired by the music being played in the flat at the time, this including Kraftwerk, Barbara Frost's collection of David Bowie albums and "T.V.O.D.", the pioneering electronic pop single released that year by Daniel Miller on his own Mute Records imprint, under the guise of The Normal. Miller being an acquaintance of Pouncey, the latter then encouraged him to give the tape a listen and the rest, as they say, became history.
To add a bit of flesh to the bones, though, Miller, apparently, had no intention of starting a record label at this point nor did he have any real plans to even record a follow-up, expecting the record to come out, sell a few copies and then disappear, adventure over. However, in the time-honoured tradition, he had put an address on the back of the sleeve in order to appear as a real record company, this being his mother's house where he was then living, and then, when the record went on to sell in quite sizeable quantities and become lauded as an instant classic from the intelligent end of the emerging electropop genre, demo tapes from wannabe labelmates began to arrive in the post. As none of these appealed to him, though, again there were no plans to continue with Mute, until Fad, that is. As Miller explains to Pouncey in the "Frank Tovey by Fad Gadget" documentary, "I was really immediately blown away by them (the songs on the tape). It was much better than anything I had heard that had been sent through in the previous six or eight months." And so you could say that Frank Tovey was inadvertently responsible for the resultant phenomena which became Mute Records, which over the last thirty years has gone on to have enormous commercial success with artists such as Depeche Mode, Yazoo, Erasure, S-Express, Nick Cave and the Bad Seeds, Moby and Goldfrapp, as well as releasing influential, yet much less popular, artists such as D.A.F., NON, Diamanda Galas and Einstürzende Neubauten who almost definitely would, otherwise, not have found such an understanding, supportive and high profile outlet for their music.
According to Miller, their initial meeting was planned to take place at the offices of Rough Trade in Ladbroke Grove, although Frank Tovey remembered it slightly differently : "My flatmate said he knew Daniel Miller so I arranged to meet him at a Monochrome Set gig. I got kind of pissed and fell behind the drum kit so we didn't meet that night. I met him at Rough Trade later." The outcome of this meeting, though, was that Miller offered to help Tovey record his first single "Back to Nature", coupled with "The Box", as well as release it as a 7" single on the label. As for the name Fad Gadget under which it was released, this dates back to the time of the demo tape, prior to Tovey's meeting with Miller, a fact which, therefore, disproves Curt Vile's take on events, as he states that the single was "released under the name of Fad Gadget, rather than that of Frank Tovey...due to an unfortunate error on the part of the typesetter, a partially blind Cantonese nun who spoke very little English and had been employed by Mute under the Positive Discrimination scheme which was then popular." In fact, Tovey spoke on several occasions about the origins of the Fad Gadget moniker. For example, in an NME interview with Paul Morley in January 1982, he explained : "When I tried to think of names for this, everything sounded really pretentious so I picked the phrase Fad Gadget because I thought it was so throwaway. It was saying this is disposable, take it or leave it. If you can get something from it, all well and good but, if you don't, chuck it way." Elsewhere, in a television interview from 1984, he says the name was ".meant to sound like some product you'd find in the supermarket, kind of throwaway."
The single, released in September 1979 and which begins and ends with synthesized approximations of tropical bird cries, is a powerful, yet catchy and highly cohesive, five minutes or so slice of electronic pop music which still sounds incredibly fresh and exciting thirty years down the line, a driving bassline, memorable melody and finger-click rhythm making it, in my view, equally as, if not more so, commercial than what Gary Numan was topping the charts with around that time. However, here emerges the awkward paradox at the core of Fad Gadget which meant that major commercial success was something that would constantly elude him. Writing in 1991 for the sleeve notes of the CD reissues of Fad Gadget's albums, Biba Kopf points out that "Unlike early songs of Gary Numan, John Foxx and The Human League, Fad Gadget's first single sidestepped the already clichéd coupling of electronics with robotics and/or alienation," and it was Tovey's constant refusal to submit to the prevailing trends of the period or to glibly follow paths already more successfully trodden which stopped him developing into the household name he may otherwise have become. Instead, for his debut single, Tovey took the unique theme of people's deluded and, to him, foolish attempts at getting "Back to Nature". As he explained to Akiko Hada for "Zigzag" magazine in 1981, "'Back to Nature' is about people who go camping and think they are going back to nature when they take all those artificial products with them."

Straightaway, the satirical voice that characterises much of Tovey's oeuvre comes confidently to light:

"Back to nature, caravan on Canvey Sands. Back to nature, glucose-filled and programmed to respond...It's going to rain all night, but we'll be alright. Underneath the geodesic dome, infra-red heated just like home, sitting in the shade of a rubber tree, I'll kiss you and you'll kiss me" The words are now legendary in certain circles!
Although the single missed the Top 40 by a mile, it certainly didn't go unnoticed, becoming an instant underground classic, establishing itself in a small canon of important electronic singles from the era, all released on small independent labels, "Being Boiled" by The Human League, "Nag, Nag, Nag" by Cabaret Voltaire and "United" by Throbbing Gristle to name but three, "T.V.O.D./Warm Leatherette" by The Normal, "A.C.C."/"Paralysis" by Robert Rental and "Private Plane" by Thomas Leer to name three more. According to Paul Morley, "you could tell he was in control of something even at the very beginning" and, to quote from an early label biography sent out by Mute, "The single received excellent reviews and was very popular in discos all around the country." Back in Leeds, for example, Marc Almond remembers its release, "When Frank brought out his first track 'Back to Nature' it was around the time I was a DJ and I played it with pride (and a little envy, I confess) – I loved it and it filled the dancefloor – everyone loved it." Another young fan was Dave Gahan from Depeche Mode, who speaks in the aforementioned DVD documentary of going to a club called Studio 21 in Covent Garden and first hearing and loving the single there, a year or so before they became labelmates. Boy George, too, writing in his autobiography "Take It Like A Man", talks of going to Birmingham in 1979 to live temporarily with future Sigue Sigue Sputnik frontman Martin Degville, describing their varying music tastes thus : "We were both mental about music. Martin loved northern soul and dub reggae like The Scientists and early Aswad. I preferred post-punk electro like Cabaret Voltaire and Fad Gadget." The single was also a staple in Rusty Egan's record box at the time, if recreated dancefloor playlists from Billy's and The Blitz can be believed, and Toyah was also a fan, placing it in her all-time Top 10 in a 1980 issue of "Smash Hits", although I don't think we'll shout that titbit of info from the rooftops, just now, if you don't mind.
To top things off, the record was clothed in a fantastic black and white sleeve featuring photographs of a naked Frank Tovey taken by Barbara Frost, the sharp contrasts in her images making him appear half-human, half-sculptural, harking back to the Bauhaus photography of Herbert Bayer or of the Italian Futurist Bragaglia. This was, again, an aspect of the record which impressed Paul Morley, as he states: "From the first moment he
began to make his music and package it, you could see that he was interested in film and Surrealism, art, in a way that all the great post-punk people were. They were feeding things into the music that came from outside music." Thus, it became very clear at the very beginning that imagery and a certain theatrical element were going to be integral to the Fad Gadget experience.
Just prior to and around the time of the single's release, Fad Gadget (for it was, at this time, still a solo project) played his earliest gigs, the first of these taking place on 18th July 1979 at The Moonlight Club in West Hampstead, where he shared the bill with The Monochrome Set (yes, them again – he even appears in one of their videos dressed as a clown and banging their drummer's head against his kit, apparently) and Manicured Noise. However, these early gigs were not great successes, sometimes because of poor attendance - he told Steve Taylor, for example, that only three people turned up to watch him when he supported The Monochrome Set and Essential Logic at a caravan site in Bognor - but mainly because he felt restricted, being stuck behind a keyboard which he had to look down upon so as to be able to play along to the backing tapes, this negating the possibility of interaction of any kind with the audience - not really something towards which a graduate in Performance Art aspires.
So, as Daniel Miller explains in the documentary, "He decided to put a band together with the two Belgian guys, Jean-Marc Lederman and Philip Wauquaire (and) he was liberated from playing keyboards and (having to) operate things.." and thus began a catalogue of energetic, unpredictable and, to those who saw them, memorable performances. Fellow Mute recording artist and collaborator, Boyd Rice, recalls : "He was a great performer. You know, the other people doing electronic music were kind of standing there cold and emotionless where he was being over the top, running around the audience screaming, yelling at people. I don't think the like of that has been seen in electronic pop since." Dave Gahan from Depeche Mode was also there at early shows, taking notes, it seems, "He was like what I wanted to do, what I wanted to be...become this other thing ...I didn't have to be myself and he represented a fantasy that I had about being a performer..." A gig review by Gavin Martin in the NME from January 1982 adds some more detail, "He jumps into the audience, rolls on the floor and sticks the microphone half way down his throat. He opens his trousers and showers (the audience) with pubic hair. He licks round a hamburger and throws it to the throng," and stories abound of incidents of damage or self-injury at Fad Gadget shows, the most famous of these probably being a gig at the Paradiso in Amsterdam where he went out into the audience and made a flying leap, proceeding to land flat on his heels on a set of steps, snapping tendons in both legs in the process. The story goes that he was so high on adrenaline that the pain did not initially register such that he managed to crawl back on stage, using a tunnel under the main auditorium, and finish the show but, when his legs swelled afterwards, it became clear that the remainder of the tour was a write-off. Another famous incident occurred at the Clarendon in London in late 1980 where Tovey decided to play electronic drum with his head during the opening track, managing to gash it open in the process. The head was bandaged, the performance completed, with photographers from "The Face" on hand to capture it for posterity, and off went Frank to Charing Cross Hospital where he is reported to have alarmed fellow patients who saw his blood-stained white costume and took him for one of the doctors fresh from theatre. On the wonderful CD/DVD compilation which I keep mentioning there are several examples of live performances and in one, recorded at The Mudd Club in New York in 1981, you can see him hanging from the lighting rigging, beating his chest and making animal noises with the microphone jammed firmly into his mouth. Boyd Rice is right. I don't remember Gary Numan, Andy McCluskey or Alison Moyet behaving in such a manner; much more Lux Interior or Iggy Pop than Phil Oakey, you must agree.