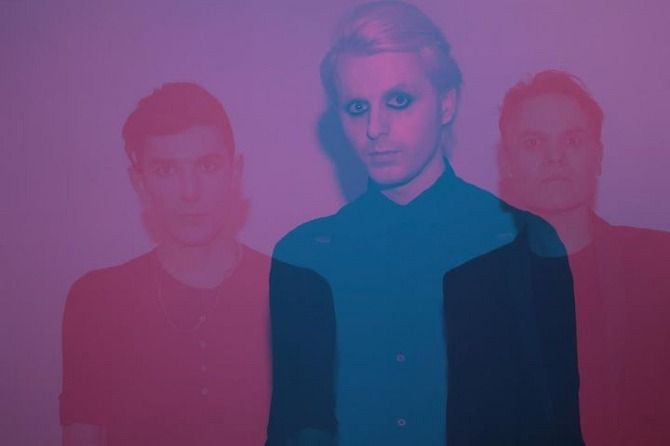 Nõi Kabát, whose name regular readers will have seen mentioned on here previously, are a trio who were initially formed and gestated in North London, although they're now geographically a little disparate with one member living in Budapest and the other two still back home in the UK. Consisting of vocalist extraordinaire Dee Rüsche, who also has a penchant for bashing anything inorganic which may be lying around on the stage, Owen Pratt on a host of electronic equipment and Jonas Ranssøn, whose drumkit adds a thundery, natural undercurrent

to their otherwise potentially sterile soundtrack, they've been together for a number of years now, beavering away, mainly in private, at first venturing out only tentatively and occasionally to test, as well as to begin to establish, their audience.
They're perfectionists, you see, based on my understanding, and they believe that nothing should be taken out of the oven and served up for public consumption until what they've produced fully reflects their intended design and, as a consequence, there are only a few Nõi Kabát songs in circulation. Very occasionally, one of this tightly monitored clutch dripped out to friends as an email attachment and last year a highly limited two track cassette was released, setting the scene for what was to follow. The stronger of these songs, the punchy "I Corrode", which is possessed of a similar perky funk to an all-time favourite of mine "Co Co Pino" by D.A.F., then cropped up again earlier this year on the compilation album "And You Will Find Them In The Basement" which harnessed together eight examples of "synthesized transmissions from London 2010-13", and also included two subjects of previous FS/GB features, Lebanon Hanover and Soft Riot.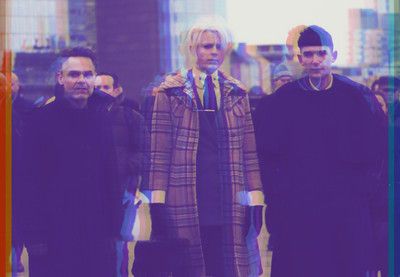 In fact, as things have developed, it's in the company of the latter that Nõi Kabát have completed two European tours, one in 2012 and another in 2013, where they've picked up and met up with other like-minded souls en route. The most recent of these took place in the early summer and took in destination points such as London, Paris, Antwerp, Utrecht, Berlin, Prague, Vienna, Budapest and Cologne, the itinerary clearly reflecting their strongly European infused sensibility, which is coupled to supremely majestic proportions with a love of the sharp astringency and rich bassiness achieved using analogue synthesizers and a penchant for melodrama, as belied by a live cover version of Shangri-La's "Remember (Walkin' in the Sand)". Finding out about their shared love of The Associates, whose sound they do not emulate but whose aesthetic and intent are gloriously echoed, was no surprise whatsoever.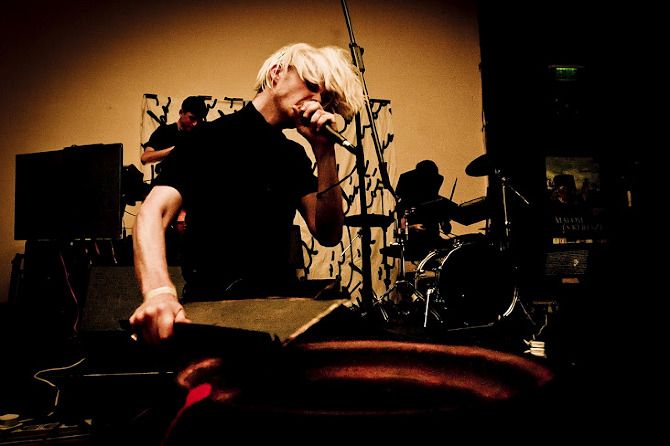 Like Billy Mackenzie's, although not scaling the same peaks (who else could? Not even Tatty Heed from Bronski Beat could pull it off with such aplomb), Dee's vocals have something of the ambition and integrity of Bowie's about them, what I most enjoyed about the sketches of songs he produced several years ago under a different moniker, and, in my imagination, he creates the kind of sound I would hear were one of the stately statues residing in any of the European cities Nõi Kabát have graced on their travels to suddenly step down from its plinth and burst into song. Vowels are stretched almost crooner-like in places and the voice soars confidently to quite lofty heights, this layering a heart-felt warmth and passion across what could otherwise be possibly viewed as cold and a little austere. This said, though, the music has a sequenced, danceable vitality and occasionally propulsive beat which can make it reminiscent of the powerful, electronic sounds which pounded out of Belgium in the mid eighties. In their own words, they "draw inspiration from constructivism, futurism, 70s Science fiction and noise theory to create a sound reminiscent of the early industrial pioneers." They go on to say "they combine noise from their environment with the sounds of esoteric electronic drums and analogue keyboards in an attempt to create an authentic yet newly reconfigured sound. Their electronic repertoire harks to a new and obscured age, vocals acting as counterpoint to that of their machines." Quite a mouthful but I get, mostly, from where it is they come.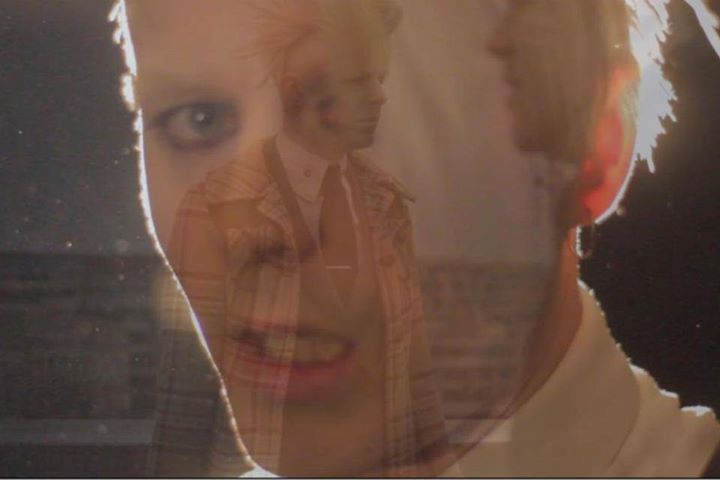 At last, over the summer, a real Nõi Kabát record was finally released, a white vinyl 7" single on the Berlin-based Aufnahme + Wiedergabe label, limited to 300 hand numbered copies and sold out, I believe, on pre-orders prior to its release date. Have no fear, though, it's still available in the infinitely inferior download format, and a second batch of 200 black vinyl copies is due imminently, I believe.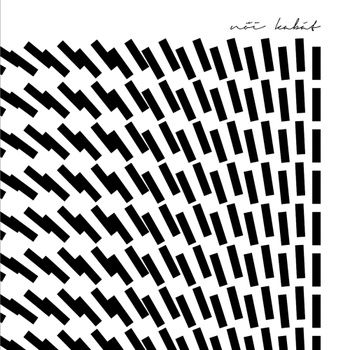 Face A features "Make Room! Make Room!" which has nothing to do with the Fad Gadget single whose title it doubles, nor does it sound anything like it before the fingers of plagiarism start to be pointed. In fact, it is apparently inspired by the book which was made into the film "Soylent Green" in which chunky Charlton Heston's character investigates a murder in a not-so-futuristic world beleaguered by over-population, pollution and increased temperatures caused by The Greenhouse Effect.

According to an interview with the band I cribbed from elsewhere on the World Wide Internet:

"It is generally a story of overpopulation and the decadence in decay that would facilitate." Throw in references to Romy Haag, Edgar Allan Poe and "Journey to the Centre of the Earth" and out comes a love song, apparently. The full

interview, I must pronounce, is well worth a read, too:
http://invisibleguy.wordpress.com/2013/09/14/interview-with-noi-kabat/
The song begins a tad ominously, as may be expected given its theme,

with a thrumming bassline and gently pounding drums before melody, vocals and other electronic flourishes enter into proceedings to create a wonderful pop song of romantic, elegiac and heart-rending proportions, all masterly crafted and executed. A memorable and addictive beauty it is, indeed, which would stand out from the crop in any era, the perfectionist touch of the connoisseurs who made it greatly appreciated in these quarters and very much in evidence across its four minutes or so duration. This isn't a single which will slip easily into the recesses of the record box, bought and soon forgotten, then unearthed years down the line, but rather one to continually cherish at the forefront of your consciousness. There's even a little segment of EBM intensity towards the end of it, for those who like it a bit harder, as the world crosses temporarily into a zone of chaos, out of which the poetic, hopefulness of the vocalist draws these threads together once more for a dramatic climax performed on a teetering precipice.
Flip it over and Face B offers up "Industry" which is a little faster paced but just as impassioned, the lyrical concern this time being that "some men work in industry; some men work so hard; whilst others they do nothing; they do nothing; they do nothing but live off the sweat of others." The imagery, although given a twist, reminds me of the sleeve to Depeche Mode's "Construction Time Again" or Test Department's "Compulsion" 12". I'm taken back to 1983 certainly, although not so much by the sound. Quite fierce, machine gun sequencer begins proceedings this time with a more martial, production-line beat adding further strength and order but then it's soon time for the other elements to arrive on the scene, killer chords and the voice aforementioned, here probably at its peak, all combining to create an extremely accomplished piece of semi-electro-pop which doesn't one bit sound like a track off the debut single produced by an independent, d-i-y ensemble working without a great deal of financial backing. How times and possibilities have changed. It's not hard with this coming out of the speakers to appreciate the eager anticipation which awaited its release.
Each time I play the single I vacillate between the two sides in choosing a favourite, always a sign of a memorable record in my book. Here are clips of both performed live which will allow you to decide for yourself or perhaps you'd like to join me in my bitter-sweet dilemma. Unfortunately, I've yet to see Nõi Kabát live, our paths always seem to diverge at that crucial moment of connection, but our time will come and when it does it will be explosive. Meanwhile, as promised a moment ago...
Something else sits in the pipeline, too, with a Zagreb connection, but more of that very soon. In the meantime, let's wallow in enjoyment of what we've got thus far.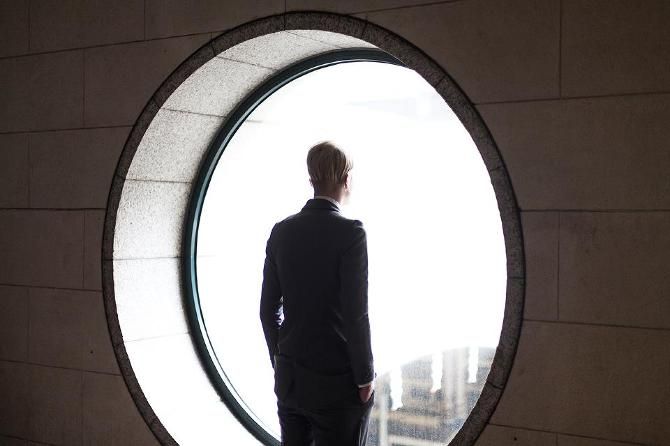 STOP PRESS: Here's an promo video for "Make Room! Make Room!" which I didn't think was available.