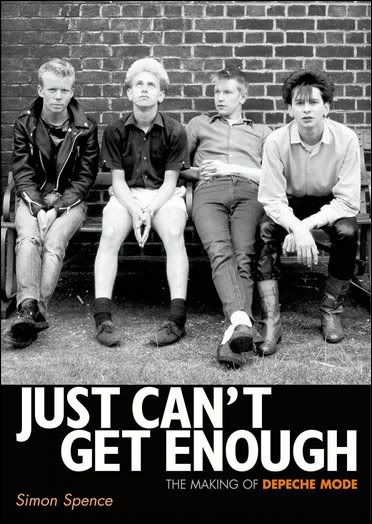 Mention of James Nice's "Shadowplayers" in my last entry also makes me think of another tremendous book which I finished recently, Simon Spence's "Just Can't Get Enough: The Making of Depeche Mode" which is equally detailed and focused, written by someone with a similarly evident enthusiasm and fascination for his subject matter and, although in paperback rather than hardback, also published in very satisfying proportions so that it's a pleasure to simply hold in the hand.
As the title suggests, the book takes as its subject the nascent Depeche Mode, tracing their development upto the release of their fifth album "Black Celebration" in 1986, the point at which they were poised to meteorically transcend their opening five years of British / European stardom and become the global, stadium-sized super group which they remain until the present day, a point also before the American influence began to seep into their sound as it had so obviously done by the close of the decade. Interestingly, this was also the point at which my eye began to drift from the band, having previously been an ardent follower of their every move and someone who bought each new record during the week of its release, if not on the day. I do, however, remain a fan, I must say, and even travelled to Munich and Manchester to see them last time they toured.
In the initial stages of the book, Spence is at great pains to explain the band's originating from Basildon as being of enormous significance to their sound and outlook, their adoption of synthesizers and electronic technology being a mirror to the post-war new town whose brand new houses, shopping precincts and purpose built industrial estates offered a similar freshness and split from the past to those families who initially moved there from areas in the east of London as did this sparkling new ultrapop to almost everything that had gone before when first heard in 1980-81. On the back cover, singer Dave Gahan is quoted as having once described DM as " a new sort of band from a new sort of town".
The first hundred pages or so, therefore, provide a kind of potted history of the town, as well as tracing the developments of Vince Clark, Martin Gore, Andy Fletcher and Dave Gahan upto their first performance together - under the name of Composition of Sound - in June 1980, their set around this time still including a number of cover versions such as "Mouldy Old Dough", "I Like It", "Then I Kissed Her" and "The Price of Love", as well their own early compositions, some of which, "Ice Machine", "Tora! Tora! Tora!" and "Big Muff", turned up on those initial releases. Gore was also playing in a band called French Look at the time, often on the same bill, which included Robert Marlow who released some of the songs from their set as a solo artist a few years later on Clarke's short-lived Reset Records, consideration of which is always a rather interesting diversion. Through interviewing people like the aforementioned Marlow and Alison Moyet, as well as other key players from Basildon at the time, Spence manages to provide a fascinating and essential keyhole into the town during this era, this including the importance of Christian youth groups on the teenage Clarke and Fletcher, and to a lesser extent Gore, the area's punk, soul and eventual "futurist"scenes, as well as some of the early bands therein such as sixth-former Gore's Norman and the Worms and Moyet's The Vandals.
By the end of 1980, Depeche Mode were playing regularly at venues such as Croc's nightclub in Rayleigh and in London at The Bridgehouse in Canning Town, balancing their synths on beer crates and this, as we know, is where Mute Records boss Daniel Miller saw them supporting Fad Gadget, thus kick-starting a relationship which still continues over thirty years down the line. In fact, this part of the book is particularly interesting as it charts the band's decision to go with the relatively new independent label and retain artistic freedom rather than sign up for the huge advances being offered by the major labels also chasing them at the time but keen to mould them into something which would no doubt have been much more ephemeral - quite canny decision making, especially considering their tender ages. All were still under twenty, I think, or at least thereabouts. Fletch, as they call him and whose input into the band is often rather nastily played down, seems to have been the prematurely sage factor at the time. Clarke's then girlfriend, Deb Danahay, who I remember running the Yazoo Information Service when I was a schoolboy, also seems to have been keen to influence the decision towards Mute, being quite a fan of "Warm Leatherette", "Back to Nature" and "Ricky's Hand" like the best of us.
At this stage, whilst also explaining the deals made to distribute Depeche Mode in various international territories, artwork decisions, Clarke's departure just prior to the release of their debut album and with their first few "Top of the Pops" appearances just under their belts, Gore's switch to the role of main songwriter and the addition, initially on a temporary and jobbing basis, of Alan Wilder, Spence begins to peddle a parallel narrative in telling the story of the early years of the Mute label and its limited roster at the time, something I have to say has obsessed moi since the day I received a label biography from them in very early 1983. So, whilst the focus stays primarily on the band, other voices such as that of Boyd Rice and DAF's Robert Görl weave into the picture, offering new information and perspectives regarding the period, and peripheral stories are told regarding early Mute artists such as Robert Rental and The Silicon Teens, as well as Rice's NON and the first incarnation of DAF over in Düsseldorf. Linked in to the latter, the beginnings of the German connection, so important to Depeche Mode during the first part of the eighties, is also introduced through the voice of Moritz Reichelt of Der Plan and Warning / Ata Tak records, he also having designed the sleeves for 1982's "See You" and "Meaning of Love" singles
The years 1982-84 saw Depeche Mode maturing away from their initial teenybop, pop sound and, through singles like "Leave in Silence", "Get The Balance Right" and "Everything Counts", as well as their second and third albums "A Broken Frame" and "Construction Time Again", towards becoming a darker, more experimental entity than would have first been envisaged and whose insistence on remaining on an independent label and to not pander to corporate expectations began their drift into near invisibility in the eyes of the British media, in spite of being one of the most successful bands the country has ever produced. It's always struck me as strange how nauseating tosh such as U2, Blur and a hundred others always receive these lifetime achievement awards and so on yet the much more internationally successful and genuinely influential Depeche Mode, who have also consistently been appearing in the British charts for over three decades, remain a name practically unspoken. I am rather glad, though, as it has led to them retaining a good degree of their cutting edge and integrity. I said a while ago that they remind me of The Horrors and Siouxsie and the Banshees and here, again, I say it as one always feels/felt with these three bands that they are primarily fans of music themselves, with pretty impeccable tastes, too, prior to making their own which almost serves as a necessary by-product.
Anyway, I digress so let's jump to Berlin, always a good idea, where Depeche Mode were recording and, Martin Gore with his A-level in German especially, were spending a great deal of time around the middle of the 1980s, Spence providing another invaluable insight, this time into life in the city during the period and the band's place in it, the voices of people like Gareth Jones who recorded them at Hansa Tonstudios, Gudrun Gut and Beate Bartel adding to the tale which now also references clubs like Dschungel and bands like Palais Schaumburg, Liaisons Dangereuses (whose Chrislo Haas is, once again, heralded as the unrealised genius of the period) and Einstürzende Neubauten whose influence on the Depeche Mode sound at the time and since cannot be overstated and who, indirectly, brought metal bashing onto prime-time television in Britain and elsewhere around the world. To me, it's all fascinating and brings new information to the table, even though I thought I'd read almost everything there could be to read about this kind of thing before.
At this time, Gore's dress sense deviated into leather butchers aprons and skirts, studded leather torso harnesses, black nail varnish and seethrough black silky tops, probably another reason the conservative British media took against the band, although single titles like "Shake the Disease", "Blasphemous Rumours" and "Stripped" won't have helped either - let's hear The Saturdays cover one these, hey! - and his presence at the mid-week fetish night "Skin Two" around the time is detailed by none other Genesis P-Orridge-Breyer - all the German Bite favourites are cropping up here in the Depeche Mode story, it seems. Here, anyway, the pair would hang out together, with the likes of Soft Cell's Dave Ball and journalist Betty Page (yes, her again - see SALT piece) and would, it seems, whip the occasional bottom before heading home of a night. Again, a short peek into another, as yet, undocumented area of pop culture is unveiled by Spence.
Which brings us more or less to the point where the book closes with a very definite sense of the end of an era as their "Black Celebration" tour grossed $100 million dollars with a 40% or thereabouts profit and, in spite of us being told that some band members still lived in Basildon and, to this day, have retained very "feet on the ground" links with old friends there, they certainly, as a fan, began to be feel more and more distant with every release. Mute had also moved to much bigger premises on Harrow Road and their release schedule increased and diversified year by year so that the cottage industry feel, albeit with international success, seemed finally to be over, too.
Well, teary-eyed nostalgia aside, I want to thoroughly recommend "Just Can't Get Enough" to anybody with an interest in the band and the period and, even though it deals with the poppier end of the experimental / electronic/ industrial music crowd from the period, like I say, in providing a context for Depeche Mode, Spence has gone some way towards writing a biography of the early period of Mute, as well as offering quite broad insights into the late seventies/early eighties "futurist" scene, early to mid-eighties Berlin and a whole lot more besides. It's a superb book which brought so much back to me and provided even more which was new besides.
Here's Depeche Mode doing "Photographic" and "Puppets" on BBC television during that golden period.