Nan Goldin first came to my attention when "I'll Be Your Mirror", her autobiographical film, was shown late one night on British television very soon after it was made in 1996. Luckily, I had the video recorder whirring and I have had the opportunity to watch it over again on numerous occasions and, as time has passed, she's someone whose work and aesthetic I've grown to love, if that's the right word to be using.
The story goes that Goldin started taking photographs in the late 1960s and during the early 1970s when she documented Boston's gay and transsexual community, the fruits of which endeavour provided the material for her first solo show held in the city in 1973. Later in the decade, she studied photography at The Boston School of Fine Arts where she moved away from her earlier black and white work to begin producing the richly coloured images with which she is now associated and developing that which has been referred to as "The Goldin Style". Rarely using natural light, she more usually illuminates her subjects through the careful manipulation of flash and then, using a technique called Cibachrome, she apparently prints from slides in order to achieve the saturation and vibrancy of colour which is one of the reasons her work is so instantly distinguishable from other photographers. I once accidentally bought a slide film in a Munich chemist and then, when I put it in to be developed in Boots back in England, as well as a telling off for potentially messing up their chemicals, I got holiday snaps with a Goldinesque tinge.
Anyway, in 1978, shortly after graduating, Goldin moved to The Bowery in New York and began to photograph and document the post-punk world in which she found herself, hard drug usage, heavy drinking and violent relationships being characteristic of her circle's lifestyles and, consequently, the resultant work. When people talk about Nan Goldin, they often make the point about her work being highly autobiographical and personal as the subject matter is drawn from her immediate environment and a large cast of friends, some still living, some now dead, who populate her oeuvre. The phrase "snapshot" is also used a lot, too, as the images often have the unposed casualness of a quick snap which captures the fleeting moment rather than the carefully considered and arranged compositions of other art photographers. She, herself, has even said, "My work originally came from the snapshot aesthetic...Snapshots are taken out of love and to remember people, places, and shared times. They're about creating a history by recording a history." A connection has also been made here by some to the fact that Goldin's sister committed suicide when the photographer was fourteen years old and that this has provided a highly personal motivation for wanting to capture and preserve the transient lives of those around her. Certainly, when one looks at her work, the awareness of such loss is never far away, as her photographs often feature "the ghosts" of those who have now passed on, as many of Goldin's friends lost their lives to AIDS over the last twenty-five years or so. Probably the most famous of these is ex-John Waters acolyte Cookie Mueller with whom the photographer shared a friendship from 1976 to 1989. The series of fifteen photographs "Cookie Portfolio" which I once saw in Amsterdam are particularly moving, as they show the subject enjoying a night out with friends in one image, laughing uproariously in another, then later marrying the Italian artist and jewellery designer Vittorio Scarpati, going on to be captured standing physically drawn beside the coffin of her now dead husband who had succumbed to the disease and then, seven weeks later, lying peacefully in her own casket. Gaunt, hollow eyed men looking hauntedly at the camera or sharing dwindling time with loved ones are also recurrent in her work. The effect, though, is never sentimental, simply glances into life as it is unfolding like stills taken from a documentary.
When I was in Berlin a couple of weeks ago, I was extremely pleased to find out that a show of her work was on display at the Berlinische Galerie, the 72 works exhibited being the product of several visits she made to the city from 1982 onwards and, in particular, her prolonged stay there when she was provided with a grant to go and work in Berlin in 1991. This was a previously undiscovered aspect of her work for me and what made it a particularly pleasing surprise was that, amongst portraits of people like Blixa Bargeld from Einstürzende Neubauten, the actress Tilda Swinton and other less known friends, were a small number of images featuring members of one of my very favourite bands of all time Die Tödliche Doris. Unbeknownst to me before I saw the show, she enjoyed quite a close friendship with them, struck up during her earliest visits to Berlin, Goldin living for a while with band member Käthe Kruse and going on to collaborate in the mid-nineties with Wolfgang Müller on a work called "Blue Tit". In one, Nicholas Utermöhlen, who also died of an AIDS related illness in 1996, and a boyfriend are seen drinking at Berlin post-punk hot-spot Dschungel whilst in more intimate pictures Käthe Kruse is seen stepping into the bath in 1984 and almost a decade later posed with her daughter, Edda.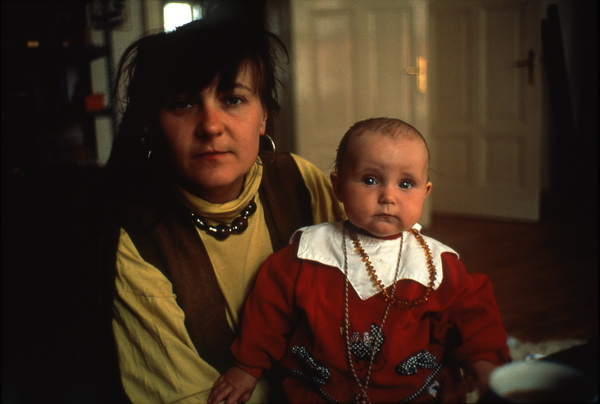 Describing the show as "an intimate visual diary" and stating at a press conference that "the best years of my life were here in Berlin", the images fit thematically into Goldin's more familiar American work with friends out enjoying the city's nightlife or in quieter moments reflected in mirrors, lying in bed or captured breakfasting. One also sees the demise of her friend Alf Bold, a founder of the Berlin Film Festival, who first brought her to Berlin and exhibited her "Ballad of Sexual Dependency" slideshow there in 1984, as AIDS took hold over him during the early 1990s. There are self-portraits, too, including a particularly striking one of her reflected in the mirror of her blue bathroom and another with bruised and bloodshot eyes after being beaten up by a lover. Empty rooms also figure quite hauntingly, such as a bedroom with a blood spattered wall in a squat she shared in the Kreuzberg district in 1984, as well as photographs taken on excursions to places as diverse as the Marzahn housing estate in East Berlin or trips to Bavaria and Salzburg with friends. Interestingly, the photograph "Edda and Klara Belly Dancing" (1998) which depicts Käthe Kruse's young daughters and Goldin's god-daughters, one clothed and the other naked with her legs apart, was on display without any inkling of fuss or hysteria at potential paedophiles getting off on it, as it was when she tried unsuccessfully to include it in a show at The Baltic in Gateshead a few years ago.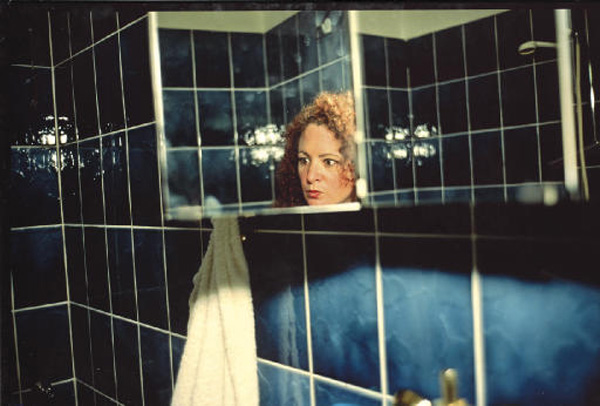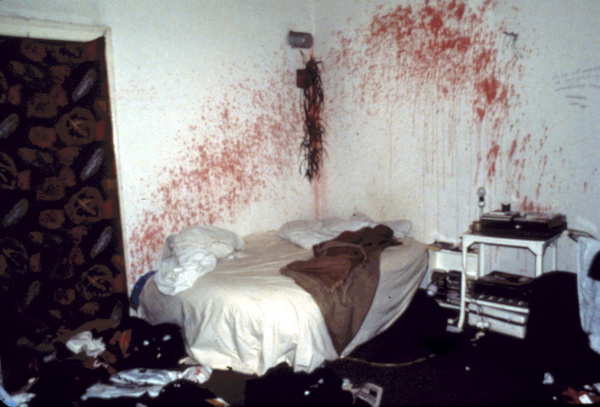 The show is on until the end of the month and, if anyone is in Berlin, I can't recommend it highly enough. It's only relatively small but is extremely powerful and evocative. It's a brilliant gallery, too, for anyone who hasn't been before, with an excellent permanent collection on the second floor and a fantastic programme of temporary exhibitions. There was an interesting installation by Ed and Nancy Kienholz called "The Art Show" on when I was there, as well as an exhibition by the photographer Arno Fischer which was excellent, too.

I've also seen brilliant shows of work by John Heartfield and Marianne Breslauer there so it's always worth a visit.
I should also mention that I was accompanied to the show by my extremely talented photographer friend Kathrin Ollroge who lives in Potsdam. Why not have a look at her website and buy some of her work whilst you're there?
http://www.gallery-22.com/